Epson Stylus Photo RX595 printer
Epson Stylus Photo RX595 printer CD DVD tray layout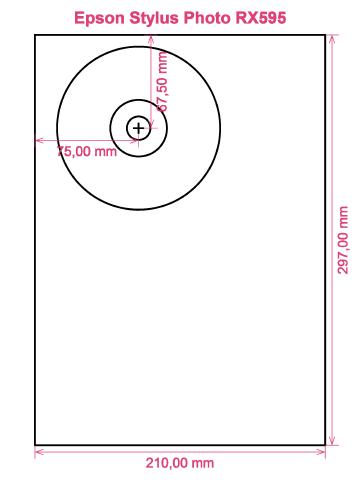 How to print labels on Epson Stylus Photo RX595 printer
Once you have tried the RonyaSoft CD & DVD Label Maker, simplicity will be the word that comes to mind - you will definitely be amazed at how simple it is to download the label creation software programme by clicking on the link underneath and within just a couple of moments you will be printing fantastic CD or DVD labels on your Epson Stylus Photo RX595 printer.
However that's not all that's on offer with this brilliant CD label creation software. RonyaSoft may have made this software as easy as possible to use, but the results would suggest differently when you see the standard of printed CD and DVD labels. This CD, DVD & Blu-ray labels software has options galore for making professional and classy labels! However for making CD, DVD & Blu-ray labels isn't all when you know you can make CD, DVD & Blu-ray inserts and covers too and notice RonyaSoft have a load of templates you can use.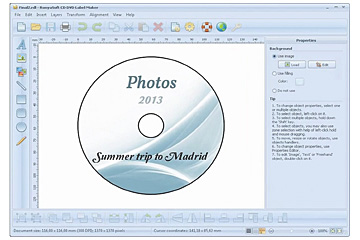 We also mentioned this software was fantastic to use. Well, we know that if you feel you are not 'tech-savvy', once you have tried the RonyaSoft CD DVD label creator software, you will feel as clever as any professional graphic artist as you start creation loads of CD/DVD covers, CD DVD labels and Blu-Ray DVD inserts:
Hit the 'Download' button and installation for the CD DVD labeling software program is automatic.
Opt for your favorite design from any of the predesigned CD label and covers templates.
Alter the design of the label according to your wishes.
Click on the 'Print' button to start running off your unique DVD or CD printed label after you have entered Epson Stylus Photo RX595 in to the print settings dialog. Don't forget to inspect that the latest printer driver is installed.
Be proud of yourself for what you have created!
The RonyaSoft label making software uniquely gives you and your Epson Stylus Photo RX595 printer everything you could want for personalizing so many great CD or DVD surprises.
Have you ever noticed how a personally made gift really matters to someone you love? Why spend money on expensive presents that anyone can buy, when with the RonyaSoft CD & DVD label design software, you can save a fortune on gifts and seem ten times more thoughtful?
How about these for possibilities:
You are at your brother or sister's twenty-first birthday. It is an incredibly special moment in their life and one they will forever remember when they become older. What smarter way to assist them reminisce about their special day than for you to take lots of pictures and video clips of the day, from start to finish, insert them all on a CD, DVD or Blu-ray and present it to them as an individual way of demonstrating how proud you are of them. It will enhance the day for them and it will have cost you next to nothing, save for a couple bits of paper, a blank CD, DVD or Blu-ray and a dash of ink from your Epson Stylus Photo RX595 printer.
Use funky images and snaps to to create Blu-ray, CD or DVD covers and create CD DVD labels to easily spot your CD's and DVD's.
Have to store photos cataloged? Put a topical photo on the CD label or DVD case cover.
It's safer to store all your photos on your computer or a memory stick, but print a picturesque label to put on a CD or create a CD box cover and insert and make a physical library of all your memories.
Are you looking for a new way to make you stand out when applying for work. Do you want to seem different from the rest of the competition. Do you want to shock your prospective employers with a showcase of yourself on a DVD with a classy printed DVD label and printed DVD case designed for each application?
How many blank CD's have you created with pictures on them, yet you can't remember what? These days are now over if you utilise the RonyaSoft CD & DVD label create software program to rapidly and effectively run off a few labels on your Epson Stylus Photo RX595 printer.
DVD label maker software runs on Windows OS, including popular Windows 7 and Windows 8 versions and works with a wide range of CD DVD label printers, eg: Canon iP4300, Canon iP8500, Canon MG5370, Canon MP780, Epson 2100 4000PX, Epson Artisan 800, Epson Stylus Photo PX660, Epson Stylus Photo R280, Epson Stylus Photo R350, Epson Tray Type #2, HP Photosmart C5388, HP Photosmart Premium, Yurex MantraJet 1050 and others.
DVD label making software supports a wide range of CD DVD label providers, eg: Anker CD DVD, Avery 7225 CD DVD Label, Avery J8750, CD LabelCorp Custom CD DVD (5x9 sheet), Data Becker, Herma 5079 CD DVD Label, Kyso US, Lorenz Bell LB6082, Neato CD DVD 2-up with core spine, Printec AnyLabel V3771 V3773, UBL CD DVD 2-up, Zweckform J8676, Zweckform L7760 and others.