Epson Stylus Photo R290 printer
Epson Stylus Photo R290 printer CD DVD tray layout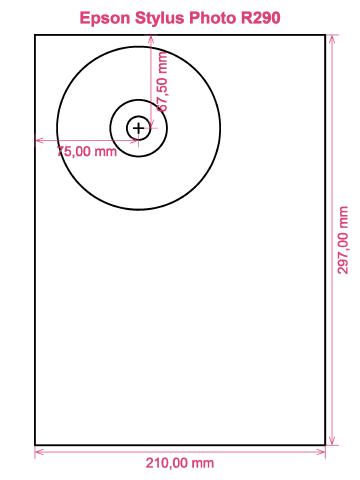 How to print labels on Epson Stylus Photo R290 printer
Once you have only used the RonyaSoft CD DVD Cover Maker you will understand how simple and wonderful it is - 'user convenient' takes on a completely new understanding! Within a few moments of downloading the CD DVD labeling software program by clicking on the link, you will be running off brilliant Blu-Ray CD DVD labels on your Epson Stylus Photo R290 printer.
However don't switch off there, as you may miss the bigger picture for your new CD/DVD label design software. RonyaSoft haven't gone to such efforts just so you can print off a list of tracks on a CD or a film title on a label. No! This CD DVD label printer software will offer you so many alternatives for Blu-ray, CD or DVD label making to allow you to print attractive labels. Plus, the CD DVD label making software can also assist you to create Blu-ray, CD or DVD boxes and box inserts utilising predesigned Blu-ray, CD or DVD templates.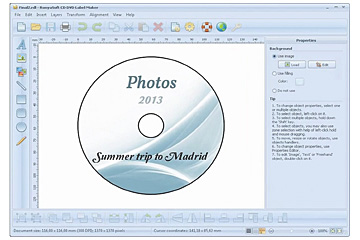 We also indicated this software was great to work with. Well, we understand that if you worry you are not 'tech-aware', when you have tried the RonyaSoft CD and DVD label maker software, you will feel as clever as any professional graphic artist as you begin making lots of Blu-ray, CD or DVD covers, disc labels and Blu-Ray inserts:
Click on the 'Download' button and installation for the CD DVD labels software is automatic.
Pick out your favorite design from any of the predesigned CD label and cover templates.
Add any of your own design ideas to create the CD /DVD/Blu-ray label extremely personal.
Start printing your unique CD and DVD label after clicking the 'Print' button, after selecting your Epson Stylus Photo R290 as the right printer being used. Always download the latest free driver updates.
Be proud of yourself for what you have created!
Maximize the potential of your computer and Epson Stylus Photo R290 printer where you can now produce a fantastic array of CD DVD labels, inserts and covers, to create lovely surprises.
There is nothing better than receiving a gift which demonstrates someone cares enough to make something special for you. Save on costly shop-bought presents and with your first gift to someone special you will have covered the cost of your RonyaSoft CD & DVD labels software.
What about these wonderful suggestions:
You're at a wedding and you take plenty of un-staged photos or video clips of all the guests looking cheerful and having a ball. Select your finest, burn them on to a disc and give it to the bride and groom as a thank you for the invitation to their marriage. They will remember you for the thoughtful and personal touch. And what did it cost you to make one of the most unique presents they will have received during their wedding? - The price of a blank disc, two pieces of paper and a splash of ink from your Epson Stylus Photo R290 printer. Fab huh?
Use scenic photos to print CD and DVD covers or print disc labels for your compilation CD's - thunder, sunshine, rain, a calm sea, a rainbow...
Opt for a pic of your pooch or cat on the cover and CD and DVD label so you can easily identify which CD your pet's photos are all compiled.
Memories shared always last longer - download your photos of a do on to a CD and design a label, cover and insert, then send to all who were there!
Keen to stand out from the throng when anxiously trying to impress even before you have been offered a job interview? Produce a superb looking CD rounded off with printed case cover, printed insert and printed label to make a great impression.
RonyaSoft CD DVD Cover Maker is the perfect software addition to use with your Epson Stylus Photo R290 printer so download it instantly and get those imaginative creative juices flowing!
CD label maker software is compartible with Windows Platform, including popular Windows 7 and Windows 8 versions and supports a wide range of CD DVD surface printers, eg: Aleratec Robojet AutoPrinter 100, Canon iP4940, Canon MG5320, Canon MP640, Canon Pro9000 MarkII, Epson PM-870C, Epson Stylus Photo PX700W, Epson Stylus Photo R265, Epson Stylus Photo RX560, EZ CD Print 5700, HP Photosmart C5293, HP Photosmart D5363, Yurex MantraJet 1150-XL and others.
CD label maker software supports a wide range of CD DVD label providers, eg: A-One F2A4H-3, 29173, 29174, APLI 10328, Avery Maxell J87361, Boma LS001HIG, DECAdry OLW-4899, D-Tech CD DVD, Kyso A4, LabelWhiz LW30700, Neato Full Coverage CD DVD 2-up, Polyline NCD465, Verbatim CP-3174, Zweckform L6015, Zweckform L7678 and others.