Canon MX925 printer
Canon MX925 printer CD DVD tray layout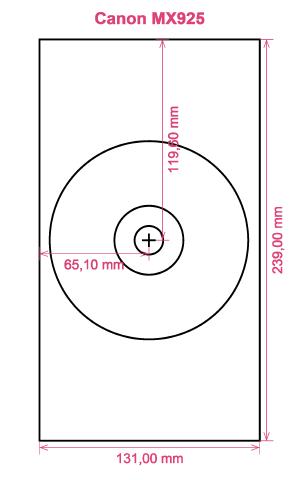 How to print labels on Canon MX925 printer
When you have actually used the RonyaSoft CD & DVD Label Maker you will willyou realize how effective and easy it is - 'user convenient' takes on a totally new understanding! Within just a couple of minutes of downloading the CD & DVD labeling software from the link below, you will be printing off great CD and DVD labels on your Canon MX925 printer.
However don't stop there, as you may miss the best point of your new CD/DVD label designing software. RonyaSoft haven't gone to such extremes just so you can print off a list of tracks on a CD or a film title on a label. No! This CD & DVD labels software will provide you so many choices for Blu-ray, CD or DVD label creation to allow you to make attractive labels. In addition, the CD & DVD label making software can also help to print Blu-ray, CD or DVD covers and box inserts with the help of our Blu-ray, CD or DVD templates.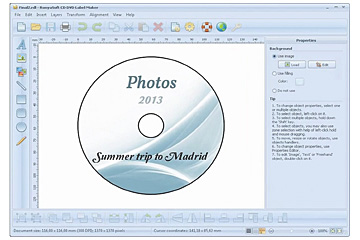 How simple do you like labeling to be? A few clicks of a mouse is enough for you to then be producing your own CD labels, CD, DVD and Blu-ray box covers and Blu-Ray DVD box inserts. You don't have to be a tech 'nerd' to 'click' with this simple to download labels creation software, just try it and see for yourself!
Download and install CD and DVD Label Maker software program for free to try.
Pick out your favorite design from any of the great CD and DVD label and covers templates.
Add any of your own design ideas to make the CD /DVD/Blu-ray label even more personal.
Print the new label by clicking the 'Print' button. Never forget to specify your Canon MX925 printer during the design process and to use the latest free version of the driver.
Smile!
The RonyaSoft label making software immediately gives you and your Canon MX925 printer all you could want for personalizing so many great CD or DVD gifts.
There is nothing better than getting a gift which indicates someone cares enough to make something special for you. Save on costly shop-bought presents and with your first gift to someone special you will have covered the cost of your RonyaSoft CD DVD and Blu-ray labeller software.
How about these for ideas:
You're at a wedding and you take loads of un-staged photos or video clips of everyone looking cheerful and having a ball. Pick your best, burn them on to a disc and give it to the bride and groom as a thank you for the invitation to their wedding. They will love you for the sweet and personal touch. And what did it cost you to create one of the most unique presents they will get during their wedding? - The cost of a blank disc, few pieces of paper and a drop of ink from your Canon MX925 printer. Fab huh?
Use funky images and pics to to make CD and DVD box covers and make CD labels to easily identify your CD's and DVD's.
Do you enjoy being practical? Why not create new styles for the CD or DVD covers for your collection?
Memories shared always last longer - download your snaps of a party on to a CD and make a label, cover and insert, then present to all who were there!
Need to stand out from the masses when keenly wanting to impress even before you have been offered a job interview? Make a professional looking DVD rounded off with printed case cover, printed insert and printed label to make a brilliant memorable impression.
How many blank CD's have you lying around with something on them, though you can't remember what? These days are now long gone if you utilise the RonyaSoft CD & DVD label print software to quickly and effectively run off a few labels with your Canon MX925 printer.
DVD label making software is compartible with Microsoft Windows System, including Windows XP, Windows Vista, Windows 8 and works with a wide range of CD DVD label printers, including: Canon iP4300, Canon iP5200, Canon MG8120, Canon MP780, Custom Printer, Epson EP-704A, Epson Stylus Photo 1500W, Epson Stylus Photo R200, Epson Stylus Photo R350, HP Photosmart C5200 series, HP Photosmart D5100 series, HP Photosmart D5400 series, Yurex MantraJet 1050 and others.
DVD label design software supports a wide range of CD DVD label stocks, including: Ace 61300 series, APLI 10329, Avery J8570, Champion CD DVD, DECAdry OLW-4797, Esselte Dataline 12426 CD DVD labels, IGEPA EA-CD-ROM2Q, Memorex 1 sided, MicroApplication 5015 A4, PressIt, Quill, Zweckform J8776, Zweckform L7760 and others.