Epson Stylus Photo T50 printer
Epson Stylus Photo T50 printer CD DVD tray layout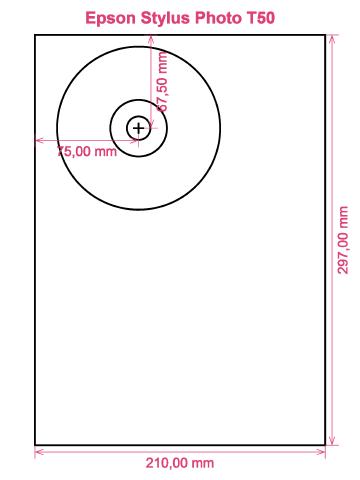 How to print labels on Epson Stylus Photo T50 printer
Once you have correctly used the RonyaSoft DVD Label Maker you can understand how effective and straightforward it is - 'user convenient' takes on a totally new meaning! Within a few moments of installing the DVD labelling software programme from the link below, you can be producing CD and DVD labels and covers using your Epson Stylus Photo T50 printer.
Hold on as there's plenty to this CD, DVD and Blu-ray label software than first meets the eye. Simple and easy to use doesn't mean simple results, but more professional appearing CD, DVD and Blu-ray labels than you would expect. This compact disc label maker program gives you a multitude of choices and has plenty of CD, DVD and Blu-ray label and cover templates already installed, not just for printing CD DVD labels, but also CD and DVD covers and inserts to round off the professional look.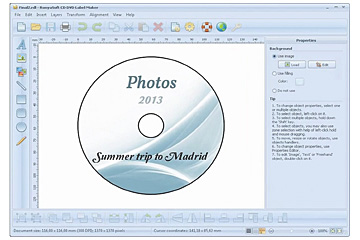 We also said this software was great to employ. Well, we realize that if you sense you are not 'tech-aware', once you have tried the RonyaSoft CD DVD label maker program, you will feel as smart as any professional graphic artist as you begin creation plenty of CD/DVD/Blu-Ray covers, disc labels and Blu-Ray DVD inserts:
To automatically download the Blu-ray/CD/DVD label creation program, click on the 'Download' button.
Pick out your favorite design from any of the great CD label and cover templates.
Click on the 'Print' button to commence your unique CD and DVD printed labels after you have entered Epson Stylus Photo T50 in to the print settings dialog. Don't forget to inspect that the latest printer driver is installed.
Smile!
The RonyaSoft label making software immediately gives you and your Epson Stylus Photo T50 printer everything you could desire for personalizing so many great CD or DVD gifts.
Anyone will tell you that a surprise with a personal touch, something thoughtful, will forever be appreciated far more than something costly, so you will have more than paid for your DVD labels design program, as soon as you give someone a present.
Think about these fantastic suggestions:
Life is all about memories, and some of the best ones we have are of family days spent together. Everyone has a camera and everyone has their own set of pictures, but what excitement to make a collection of the 'best of' photos from everyone and then print a few copies on to a CD-disc, print your own special labels and covers using the RonySoft label printing software for CD's and DVD's and your Epson Stylus Photo T50 printer and send them as a surprise gift to each member of the family who was present.
Chose your favourite photos and pics to design CD/DVD/Blu-Ray covers and design disc labels.
Choose a pic of your pooch or cat on the cover and CD & DVD label so you can easily see which CD your pet's photos are all stored.
Memories shared usually last longer - download your pics of a do on to a CD and print a label, cover and insert, then send to all who were present!
Are you seeking a novel way to make you stand out when applying for jobs. Do you have to seem different from the rest of the applicants. Do you want to impress your prospective employers with a demonstration of yourself on a DVD with a professionally printed DVD label and printed DVD box specifically for each application?
The RonyaSoft DVD Label Maker is superb for using with your Epson Stylus Photo T50 printer, so there's zero to stop you instantly from commencing your own brilliant print shop!
CD label printing program supports Microsoft Windows Platform, including Windows XP, Windows 2003, Windows7 and is compatible with a wide range of CD/DVD/Blu-ray surface printers, including: Canon i865, Canon iP4920, Canon MG6270, Canon MP830, Canon MP950, Epson Artisan 800, Epson Stylus Photo 1400, Epson Stylus Photo R285, Epson Stylus Photo RX610, Epson Tray Type 1, HP Photosmart C5324, HP Photosmart D5468, Yurex MantraJet 1100 and similar.
CD label making program supports a wide range of CD/DVD/Blu-ray label providers, including: Alpinter A4, Avery 5691, Big W, Boma LS301-HI CD DVD, DECAdry OLW-4899, Diamond D7660S, HP CDX-8040A, LabelGear Bulk CD DVD 81312, Online Labels O9985, ProLabel CD458B, Ryman, Worldlabel WL-OL5025, Zweckform L7760 and similar.