Canon MP990 printer
Canon MP990 printer CD DVD tray layout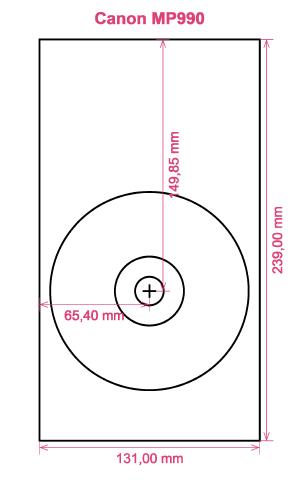 How to print labels on Canon MP990 printer
Only when you have tried the RonyaSoft CD & DVD Label Designer that you should discover how really great it is to use fantastic prints - gone are the days when you have any fears of not being able to make the most of modern technology! Within no time at all of starting to use your CD & DVD labeler software programme you can be printing CD and DVD labels and covers on a Canon MP990 printer.
Don't stop there though as there's plenty to this CD, DVD and Blu-ray label software than instantly meets the eye. Simple and easy to use doesn't mean simple prints, but more professional style CD, DVD and Blu-ray labels than you would expect. This disk label designer program gives you loads of choices and has plenty of CD, DVD and Blu-ray label and cover templates already installed, not just for printing CD and DVD labels, but also CD, DVD & Blu-ray case covers and case inserts to round off the professional look.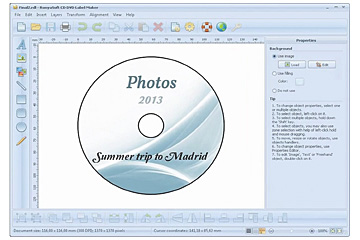 How simple do you like label making to be? A few clicks of a mouse is enough for you to then be running off your own CD labels, CD and DVD case covers and CD DVD case inserts. You don't need to be a tech 'nerd' to 'click' with this simple to download label creation software, just have a go and see for yourself!
Click on the 'Download' button and installation for the CD & DVD label software program is automatic.
Opt for your favorite design from any of the preloaded CD and DVD label and covers templates.
Alter the design of a label according to your liking.
Print the new label by clicking the 'Print' button. Never forget to specify your Canon MP990 printer during the setup process and to install the latest free version of the driver.
Smile!
Improve the potential of your computer and Canon MP990 printer where you can now run off a fantastic array of CD & DVD labels, case inserts and case covers, to make lovely surprises.
Anyone will tell you that a gift with an unique touch, something nice, will normally be appreciated far more than something bought, so you will have more than paid for your CD & DVD label make program, when you give someone a present.
Have a go making some of these:
You're at a wedding and you take lots of un-staged photos or video clips of attendees looking cheerful and having a ball. Select your finest, burn them on to a disc and give it to the bride and groom as a thank you for the invitation to their wedding. They will adore you for the thoughtful and personal touch. And what did it cost you to make one of the most kind gifts they will get during their wedding? - The money for a blank disc, two pieces of paper and a splash of ink from your Canon MP990 printer. Cool huh?
Chose your best photos and pics to make CD and DVD case covers and make CD labels.
Need to have snaps cataloged? Put a topical photo on the CD label or DVD case cover.
It's easy to store all your photos on your computer or a memory stick, but design a picturesque label to put on a CD or create a CD case cover and insert and establish a physical library of all your memories.
Make an unique video for work applications and design an appealing box with a smart CD DVD label to add the finishing touches.
The RonyaSoft CD & DVD Label Designer is ideal for using with your Canon MP990 printer, so there's nothing to stop you now from starting your own brilliant print shop!
Blu-ray label creation program is compartible with Windows Platform, including Windows XP, Windows 2003, Windows7 and works with a wide range of CD/DVD/Blu-ray label printers, eg: Canon iP4000, Canon iP4950, Canon MG6240, Canon MG8220, Canon Pro9500 MarkII, Epson PM-G700, Epson Stylus Photo P50, Epson Stylus Photo R2000, Epson Stylus Photo RX700, Epson Tray Type 1, HP Photosmart C5293, HP Photosmart D7560, Trace Affex CD-Artist and others.
Blu-ray labels making program supports a wide range of CD/DVD/Blu-ray labels, eg: A1Pro 3-up, APLI 10329, Avery L7760, CD LabelCorp Custom CD DVD (5x9 sheet), CoolBeLa LS001, Global Star CD DVD (5x9 sheet), Koral A4 CD DVD 2-up, LabelWhiz LW61300, Online Labels OL1200, ProLabel CDJG458, Verbatim CP-3174, WriteAway CD DVD, Zweckform L7676 and others.