Epson Stylus Photo RX700 printer
Epson Stylus Photo RX700 printer CD DVD tray layout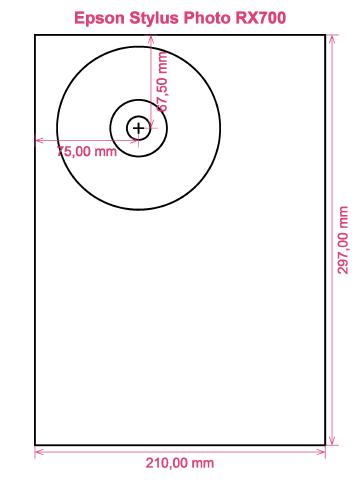 How to print labels on Epson Stylus Photo RX700 printer
It is not until you have tried the RonyaSoft CD Label Maker that you should discover how incredibly great it is to operate brilliant results finishes - never again will you be afraid of being unable to make the most of modern technology! Within moments of downloading the CD labelling software programme you will be printing Blu-Ray CD DVD labels and covers on your Epson Stylus Photo RX700 printer.
However don't turn off there, as you may be missing the larger picture for this CD/DVD label making software. RonyaSoft haven't gone to such efforts simply so you can print off a list of tracks on a CD or a film title on a label. No! This CD & DVD labels designer software will offer you so many different options for Blu-ray, CD or DVD label printing to assist you to design professional looking labels and covers. Plus, the CD & DVD label creation software can also help to make Blu-ray, CD or DVD covers and box inserts using predesigned Blu-ray, CD or DVD templates.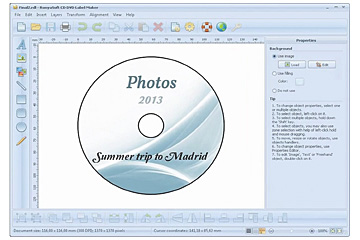 We also indicated this software was simple to use. Well, we realize that if you feel you are not 'tech-aware', when you have employed the RonyaSoft CD & DVD label maker software, you will feel as clever as any professional graphic artist after you commence creation loads of Blu-ray, CD or DVD covers, CD labels and Blu-Ray/CD/DVD inserts:
Click on the 'Download' button and installation for the CD DVD labeller software program is automatic.
Opt for your favorite design from any of the predesigned CD and DVD label and cover templates.
Add any of your own design ideas to make the CD or DVD label really personal.
Click on the 'Print' button to begin your unique CD and DVD printed labels after you have entered Epson Stylus Photo RX700 in to the print settings dialog. Do not forget to inspect that the latest printer driver is installed.
Smile!
Enhance the potential of your computer and Epson Stylus Photo RX700 printer where you can now print a fantastic array of CD DVD labels, inserts and covers, to create lovely surprises.
Have you ever noticed how a personally made gift really matters to someone you love? Why spend money on costly presents that anyone can buy, when with the RonyaSoft CD label making software, you can save a fortune on gifts and become ten times more thoughtful?
Think about these for suggestions:
You are at your brother or sister's twenty-first birthday. It is an incredibly special day in their life and one they will fondly look back on when they are older. What smarter way to assist them reminisce about their special occasion than for you to take lots of pictures and video clips of the occasion, from start to finish, insert them all on a CD or DVD and present it to them as your own way of saying how proud you are of them. It will complete the day for them and it will have cost you next to nothing, save for two bits of paper, a blank CD or DVD and a dash of ink from your Epson Stylus Photo RX700 printer.
Use jazzy images and pics to to make CD & DVD covers or make CD labels to easily pick out your CD's and DVD's.
Do you like being practical? Why not create new images for the CD & DVD covers for your collection?
Memories shared always last longer - download your photos of a night out on to a DVD and design a label, cover and insert, then give a copy to all who were present!
Need to stand out from the crowd when keenly trying to impress even before you have been offered a job interview? Produce a fantastic looking CD finished off with printed box cover, printed insert and printed label to make a brilliant memorable impression.
RonyaSoft CD Label Maker is the ideal software extra to use with your Epson Stylus Photo RX700 printer so download it instantly and get those imaginative creative juices flowing!
Blu-ray labeller software supports Microsoft Windows OS, including Windows XP, Windows 2003, Windows7 and works with a wide range of CD/DVD/Blu-ray label printers, eg: Canon i865, Canon iP4920, Canon MG5310, Canon MP500, Canon Pro9500, Epson Expression XP-800, Epson Stylus Photo P50, Epson Stylus Photo R280, Epson Stylus Photo RX580, HP Photosmart C5275, HP Photosmart C5550, Microboards Print Factory, Trace Affex CD-Artist and others.
Blu-ray label printing software supports a wide range of CD/DVD/Blu-ray label providers, eg: Agipa 119624, Avery 8696 CD DVD Jewel Case, Avery L6046, Boma LS001HI, Compulabel 312840, DECAdry OLW-4902, HP CDR3000A 3-up, LabelWhiz LW30500, Plain Paper, Printer Creations, Stick-It, Zweckform C9780 DVD, Zweckform L7860 DVD and others.