Epson L800 printer
Epson L800 printer CD DVD tray layout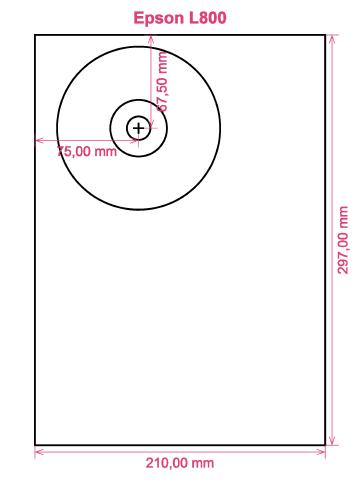 How to print labels on Epson L800 printer
It's after you have had a go with the RonyaSoft DVD Cover Creator that you will realize how incredibly easy it is to operate great results finishes - never again will you worry about being unable to make the most of modern technology! Within no time at all of starting to use the DVD label software program you should be printing CD and DVD labels on the Epson L800 printer.
Yet that's not all that's available with this exceptional CD labels design software. RonyaSoft may have made this software as easy as possible to use, but the results would suggest differently when you see the standard of printed CD or DVD labels. This CD and DVD labels printer software has choices galore for printing professional and classy labels! Yet for printing CD and DVD labels and covers isn't all when you know there are CD and DVD box inserts and box covers too and realize RonyaSoft have a load of templates you can use.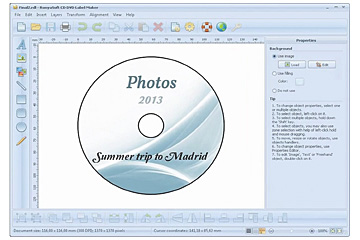 How clever do you want your label creation to be? A few clicks of a mouse is enough for you to then be running off your own CD/DVD/Blu-ray labels, CD, DVD and Blu-ray box covers and CD box inserts. You don't have to be a tech 'nerd' to 'click' with this simple to download labels design software, just use it and see for yourself!
Highlight the 'Download' button and installation for the Blu-ray/CD/DVD labeling software is automatic.
Pick out your favorite design from any of the predesigned CD DVD label templates.
Alter the design of the label according to your needs.
Click on the 'Print' button to start running off your unique CD printed label after you have entered Epson L800 in to the print settings dialog. Do not forget to ensure that the latest printer driver is downloaded.
Smile!
All you need to turn your PC and Epson L800 printer in to a little personal gift factory is a bit of imagination.
There is nothing nicer than getting a gift which indicates someone cares enough to make something special for you. Save on costly shop-bought presents and with your first gift to someone special you will have covered the cost of your RonyaSoft CD & DVD labeling software.
Have a go creating some of these:
You're at a wedding and you take lots of un-staged photos or video clips of everyone looking relaxed and having a ball. Choose your favorites, burn them on to a disc and send it to the bride and groom as a thank you for the invitation to their special day. They will adore you for the thoughtful and personal touch. And what did it cost you to produce one of the most unique offerings they will be given during their wedding? - The cost of a blank disc, few pieces of paper and a drop of ink from your Epson L800 printer. Fab huh?
Use mood photos to print CD, DVD and Blu-ray box covers or print CD/DVD/Blu-ray labels for your compilation CD's - thunder, sunshine, rain, a calm sea, a rainbow...
Opt for a pic of your pooch or cat on the cover and CD and DVD label so you can easily see which CD your pet's photos are all compiled.
What a disaster if you have your laptop and memory stick destroyed - where are all your photos stored? Make extra safe you don't lose all recorded memories of those moments in your life - just print off some cool CD DVD labels, burn your snaps on to a disc and store everything safely where you can see it.
Are you searching a new way to make you stand out when applying for work. Do you need to seem superior from the rest of the competition. Do you need to shock your future employers with a showcase of yourself on a DVD with a classy printed DVD insert and printed DVD cover made for each application?
How many blank CD's have you created with something on them, yet you can't remember what? These days are now long gone when you use the RonyaSoft DVD label print software to rapidly and easily run off a few labels with your Epson L800 printer.
CD labelling software runs on Microsoft Windows Operational System, including latest Windows 7 and Windows 8 versions and is compatible with a wide range of disc label printers, including: Brother MFC J835DW, Canon MG5250, Canon MG6120, Canon MP800, Canon MP970, Epson PM-D750, Epson Stylus Photo 1410, Epson Stylus Photo PX830FWD, Epson Stylus Photo RX595, EZ CD Print 6500, HP Photosmart D5100 series, Rimage Everest II, Trace Affex CD-Artist and similar.
CD labels creation software supports a wide range of disc labels, including: A1Pro 3-up, Avery 8931, Avery 98124 98149 STOMP, Compulabel 312636, DECAdry DLW-1824, Herlitz A4, Hisago CJ4843S CD DVD (A5), Media Food Universal, Mirage CD DVD, Printec AnyLabel L3771 L3773, Techworks, Worldlabel WL-OL5050, Zweckform L7760 and similar.