Epson Stylus Photo PX700W printer
Epson Stylus Photo PX700W printer CD DVD tray layout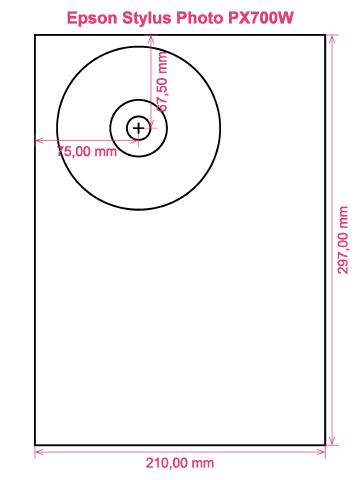 How to print labels on Epson Stylus Photo PX700W printer
Only when you have had a go with the RonyaSoft CD & DVD Label Maker that you can realize how incredibly simple it is to operate great results finishes - never again will you worry about being unable to make the most of modern technology! Within no time at all of downloading our CD & DVD labeler software you should be printing CD or DVD labels on the Epson Stylus Photo PX700W printer.
However that's not all that's on offer with this brilliant CD/DVD labels making software. RonyaSoft may have made it all as simple as possible to use, but the outcome would suggest differently when you see the impressiveness of printed CD or DVD labels. This Blu-ray, CD or DVD label software has choices galore for creating professional and classy labels! However for creating Blu-ray, CD or DVD labels isn't all when you know you'll need Blu-ray, CD or DVD inserts and covers too and notice RonyaSoft have a selection of templates you can use.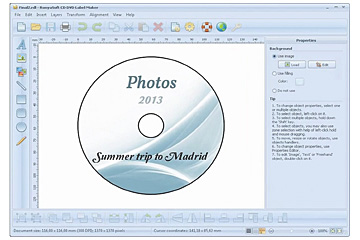 How simple do you need labeling to be? A few clicks of a mouse is enough for you to then be running off your own disc labels, CD, DVD and Blu-ray covers and CD & DVD inserts. You don't require to be a tech 'nerd' to 'click' with this simple to download label making software, just try it and see for yourself!
Click on the 'Download' button and installation for the CD DVD labeler program is automatic.
Try out one of the designed CD DVD label and covers templates.
Add any of your own design ideas to make the CD and DVD labels even more personal.
Start printing your unique DVD or CD label after clicking the 'Print' button, after selecting your Epson Stylus Photo PX700W as the correct printer being used. Try to use the latest free driver updates.
Have Fun!
The RonyaSoft label making software instantly gives you and your Epson Stylus Photo PX700W printer so much you could want for personalizing so many great CD or DVD gifts.
Have you ever noticed how a personally made gift really matters to someone you like? Why spend money on pricey, presents that anyone can buy, when with the RonyaSoft CD & DVD labels printing software, you can save a fortune on gifts and become ten times more thoughtful?
Try making some of these:
Life is all about memories, and a few of the memorable ones we have are of family days spent together. Everyone has a camera and everyone has their own set of pictures, but what excitement to make a collage of the 'best of' photos from everyone and then print a few copies on to a CD, make your own special labels and covers using the RonySoft label printer for CD's and DVD's and your Epson Stylus Photo PX700W printer and give them as a unique gift to each member of the family who was present.
Use mood photos to make CD, DVD and Blu-ray covers or make disc labels for your compilation CD's - thunder, sunshine, rain, a calm sea, a rainbow...
Opt for a pic of your canine or cat on the cover and CD and DVD label so you can easily spot which CD your pet's photos are all compiled.
It's safer to store all your photos on your computer or a memory stick, but design a fantastic label to put on a CD or create a CD box cover and insert and make a physical library of all your memories.
Keen to stand out from the masses when keenly trying to impress even before you have been offered a job interview? Produce a fantastic looking CD DVD finished off with printed box cover, printed insert and printed label to make a brilliant memorable impression.
How many blank CD's have you got with something on them, though you can't remember what? These days are now long gone when you try the RonyaSoft CD & DVD label make software program to rapidly and easily run off a few labels using your Epson Stylus Photo PX700W printer.
CD DVD label creator software is compartible with Windows System, including Windows XP, Windows Vista, Windows 7 and is compatible with a wide range of CD/DVD/Blu-ray label printers, including: Canon iP4600, Canon iP4970, Canon MG8120, Canon MP750, Epson Artisan 725, Epson PM-980C, Epson Stylus Photo PX800FW, Epson Stylus Photo R265, Epson Stylus Photo RX640, HP Photosmart C5273, HP Photosmart C5380, HP Photosmart D7500 series, Trace Affex CD-Artist and similar.
CD DVD labels maker software supports a wide range of CD/DVD/Blu-ray label providers, including: A1Pro 3-up, APLI 2928, Avery Maxell C95361, Compulabel 312660, CoolBeLa BMS003HIG CD DVD, Herlitz A4, Intcomex Klip Xtreme, Lorenz Bell LB6681, Online Labels O9985, ProLabel CD414, SureThing A4, Zweckform C6074, Zweckform L6117 and similar.