HP Photosmart C5550 printer
HP Photosmart C5550 printer CD DVD tray layout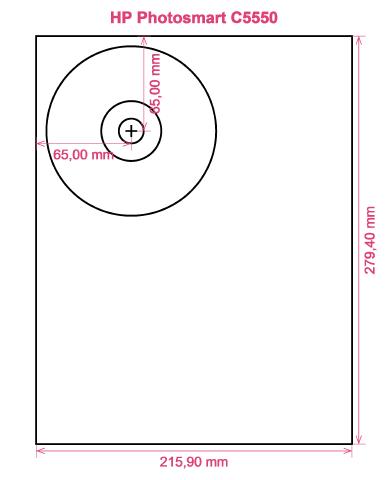 How to print labels on HP Photosmart C5550 printer
After you have used the RonyaSoft CD Label Creator, simplicity will be the word that springs to mind - you can be guaranteed to be thrilled at how simple it is to download the labels creation software program by clicking on the link on this page and within just a couple of minutes you will be producing professional-looking Blu-Ray CD DVD labels on your HP Photosmart C5550 printer.
Whatever you do don't switch off there, as you may be missing the larger picture for our DVD labels design software. RonyaSoft haven't gone to such efforts simply so you can print off a list of tracks on a CD or a film title on a label. No! This CD DVD label creator software will offer you so many choices for CD and DVD label printing to assist you to design professional looking labels. In addition, the CD DVD label creation software can also be used to make CD and DVD covers and box inserts using the brilliant CD and DVD templates.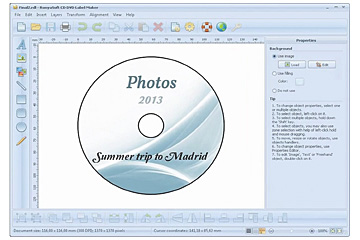 How easy do you like label making to be? A few clicks of a mouse is enough for you to then be producing your own Blu-ray labels, CD/DVD covers and DVD inserts. You don't have to be a tech 'nerd' to 'click' with this simple to download label printing software, just use it and see for yourself!
Download and install CD DVD Label Creator software for free to try.
Choose one of the installed CD DVD label and covers templates.
Alter the design of a label according to your liking.
Print the designed label by clicking the 'Print' button. Do not forget to specify your HP Photosmart C5550 printer during the setup process and to install the latest free version of the driver.
Smile!
All it needs to turn your PC and HP Photosmart C5550 printer in to a fabulous personal gift factory is a touch of imagination.
Have you ever noticed how a personally made gift really matters to someone you like? Why spend money on expensive presents that anyone can buy, when with the RonyaSoft CD label and cover make software, you can save a fortune on gifts and seem ten times more thoughtful?
What about creating some of these:
Life is all about memories, and some of the memorable ones we have are of family days spent together. Everyone has a camera and everyone has their own set of pictures, but what joy to make a collage of the 'best of' photos from everyone and then run off a few copies on to a CD-disc, create your own special labels and covers using the RonySoft label printer for CD's, DVD's and Blu-rays and your HP Photosmart C5550 printer and send them as a surprise gift to each member of the family who was present.
Use jazzy images and snaps to to create CD/DVD covers and create Blu-ray labels to easily identify your CD's and DVD's.
Do you love being practical? Why not create new images for the CD and DVD covers for your collection?
Memories shared can last longer - download your snaps of a do on to a disc and print a label, cover and insert, then send to all who were there!
Make an unique video for job applications and print an attractive box with a smart CD & DVD label to add the finishing touches.
The RonyaSoft CD Label Creator is superb for using with your HP Photosmart C5550 printer, so there's zero to stop you instantly from commencing your own ideal print shop!
CD DVD label printing software is compartible with Windows Platform, including popular Windows 7 and Windows 8 versions and works with a wide range of disc surface printers, including: Canon iP4810, Canon MG5220, Canon MG6140, Canon MP830, Epson Artisan 730, Epson PM-870C, Epson Stylus Photo 1410, Epson Stylus Photo R230, Epson Stylus Photo RX585, EZ CD Print C60, HP Photosmart C5290, HP Photosmart D5445, Yurex MantraJet 1150-XL and others.
CD DVD labels print software supports a wide range of disc label providers, including: Americal 313751, APLI 10328, Boma BMS002HI CD DVD, CD Stomper A4 matt white CD DVD Labels, CoolBeLa LS001, DeskTop Labels 3302CD-GLD CD DVD Labels, Kyso 5511CPM CD DVD, Maxell J8761, Online Labels O5025, ProLabel N4520, TDK, Zweckform L6046, Zweckform L6047 and others.