Canon MP810 printer
Canon MP810 printer CD DVD tray layout
How to print labels on Canon MP810 printer
When you have actually used the RonyaSoft Blu-ray CD DVD Cover Designer you will understand how effective and straightforward it is - 'user friendly' takes on a completely new meaning! Within just a couple of minutes of downloading the Blu-ray CD DVD labels software from the link below, you will be running off great CD and DVD labels using your Canon MP810 printer.
Wait as there's plenty to this CD and DVD label software than instantly meets the eye. Simple and easy to use doesn't produce simple copy, but more professional appearing CD and DVD labels than you would expect. This compact disc label program gives you masses of choices and has so many choices of CD and DVD label and cover templates already installed, not just for creating CD DVD labels, but also CD, DVD & Blu-ray covers and inserts to produce the professional look.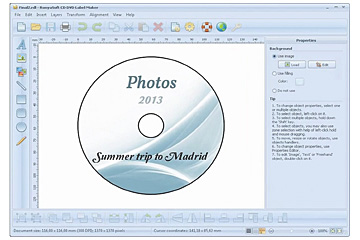 We also indicated this software was great to work with. Well, we understand that if you sense you are not 'tech-smart', when you have tried the RonyaSoft CD and DVD labels creator program, you will feel as smart as any professional graphic artist as you begin making plenty of CD & DVD covers, Blu-ray labels and Blu-Ray/CD/DVD inserts:
Hit the 'Download' button and installation for the Blu-ray/CD/DVD label software program is automatic.
Choose one of the designed Blu-ray/CD/DVD label and covers templates.
Edit the design of the label according to your wishes.
Print the designed label by clicking the 'Print' button. Never forget to indicate your Canon MP810 printer during the printing process and to install the latest free version of the driver.
Smile!
The RonyaSoft label making software instantly gives you and your Canon MP810 printer everything you could want for personalizing so many great CD or DVD surprises.
There is nothing sweeter than getting a gift which demonstrates someone cares enough to make something special for you. Save on costly shop-bought presents and with your first gift to someone special you will have covered the cost of your RonyaSoft CD DVD label program.
How about these for suggestions:
Life is all about memories, and a few of the greatest ones we have are of family days spent together. Everyone has a camera and everyone has their own set of pictures, but what fun to make a collage of the 'best of' photos from everyone and then print a few copies on to a CD, design your own special labels and covers using the RonySoft label printing program for CD's, DVD's and Blu-rays and your Canon MP810 printer and send them as a surprise gift to each member of the family who was there.
Use emotive photos to make CD/DVD/Blu-Ray covers or make Blu-ray labels for your compilation CD's - thunder, sunshine, rain, a calm sea, a rainbow...
Choose a photo of your pooch or cat on the cover and CD and DVD label so you can easily see which CD your pet's photos are all compiled.
What occurs if you have your laptop and memory stick damaged - where are all your photos kept? Make super certain you don't lose all treasured memories of those occasions in your life - just print off some cool CD DVD labels, burn your photos on to a disc and store everything safely where you can see it.
Need to stand out from the masses when anxiously attempting to impress even before you have been offered a job interview? Create a superb looking CD DVD rounded off with printed case cover, printed insert and printed label to make a great impression.
How many blank CD's have you lying around with pictures on them, though you can't remember what? These days are now long gone when you use the RonyaSoft Blu-ray CD DVD label print software program to quickly and easily run off a few labels with your Canon MP810 printer.
CD label make program supports Windows System, including latest Windows 7 and Windows 8 versions and is compatible with a wide range of CD DVD label printers, eg: Brother MFC J835DW, Canon iP4850, Canon MG5330, Canon MP750, Epson Artisan 700, Epson PM890C, Epson PM-G800, Epson Stylus Photo R220, Epson Stylus Photo T50, HP Photosmart C309c, HP Photosmart C5550, HP Photosmart D5463, Trace Affex CD-Artist and similar.
CD labels printing program supports a wide range of CD DVD label papers, eg: Americal EC313854, Avery 8696 CD DVD Jewel Case, Boma BMS001-CLR CD DVD, Compulabel 312748, Compulabel 312750, Herma 5083 CD DVD Label, Imation Sonix CD DVD, LabelGear Bulk CD DVD 81312, MicroApplication 5015 A4, Prism CD DVD Labels, Sanwa LB-CDR003 CD DVD, Worldlabel WL-OL5025, Zweckform L7676 and similar.