Epson Artisan 800 printer
Epson Artisan 800 printer CD DVD tray layout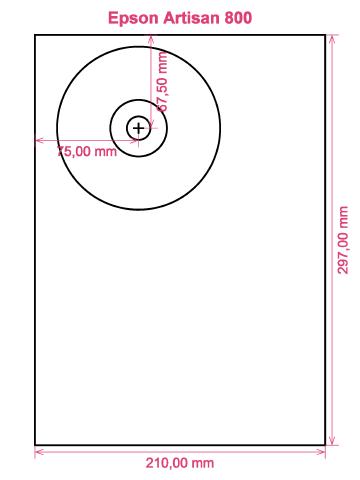 How to print labels on Epson Artisan 800 printer
After you have tried the RonyaSoft CD DVD Label Maker, brilliant! will be the word that springs to mind - you'll be guaranteed to be thrilled at how uncomplicated it is to download the labels creation software by clicking on the link underneath and within just a couple of minutes you will be printing fantastic CD or DVD labels on your Epson Artisan 800 printer.
Whatever you do don't switch off there, as you may not see the bigger point of this CD/DVD labels print software. RonyaSoft haven't gone to such measures purely so you can print off a list of tracks on a CD or a film title on a label. No! This CD & DVD label designer software will provide you so many choices for CD and DVD label making to enable you to make attractive labels. More than that, the CD & DVD label design software can also help to make CD and DVD covers and case inserts utilising the brilliant CD and DVD templates.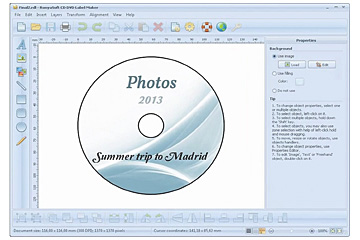 Regarding straightforward to use, well 'user-friendly' just got even more friendly. Just read the instructions to discover how straightforward, yet effective and professional results will be when you start to make CD & DVD case covers, CD labels and DVD case inserts:
To automatically get your CD & DVD labels design software, click on the 'Download' button.
Click on your chosen option from a great choice of preinstalled CD label templates.
Start printing your specially designed DVD or CD label after clicking the 'Print' button, after selecting your Epson Artisan 800 as the proper printer being used. Always download the latest free driver updates.
Smile!
All you need to turn your PC and Epson Artisan 800 printer in to a fabulous personal gift factory is a little imagination.
Have you ever noticed how a personally made gift really matters to someone you adore? Why spend money on costly presents that anyone can buy, when with the RonyaSoft CD DVD label and cover make software, you can save a fortune on gifts and become ten times more thoughtful?
Think about these for possibilities:
You are at your brother or sister's twenty-first birthday. It is an incredibly special day in their life and one they will fondly look back on when they get older. What smarter way to help them reminisce about their special event than for you to take lots of pictures and video clips of the event, from start to finish, set them all on a CD, DVD or Blu-ray and present it to them as your own way of saying how proud you are of them. It will make the day for them and it will have cost you next to nothing, save for a couple bits of paper, a blank CD, DVD or Blu-ray and a dash of ink from your Epson Artisan 800 printer.
Use mood photos to make CD & DVD case covers and make CD labels for your compilation CD's - thunder, sunshine, rain, a calm sea, a rainbow...
Do you love being clever? Why not create new photos for the CD or DVD covers for your collection?
It's easy to store all your snaps on your computer or a memory stick, but print a memorable label to put on a CD or create a CD cover and insert and make a physical library of all your memories.
Want to stand out from the crowd when anxiously trying to impress even before you have been offered a job interview? Produce a superb looking CD DVD finished off with printed case cover, printed insert and printed label to make a brilliant memorable impression.
The RonyaSoft CD DVD Label Maker is ideal for using with your Epson Artisan 800 printer, so there's nobody to stop you today from starting your own little print shop!
Blu-Ray/CD/DVD label create software supports Windows System, including Windows XP, Windows 2003, Windows7 and supports a wide range of disc label printers, eg: Canon iP4000, Canon iP4950, Canon MG6350, Canon MG8240, Canon MX850, Epson PM-950C, Epson Stylus Photo PX720WD, Epson Stylus Photo R310, Epson Stylus Photo RX685, HP Photosmart C309a, HP Photosmart C5540, HP Photosmart D5155, Yurex MantraJet 1050 and others.
Blu-Ray/CD/DVD labels creator software supports a wide range of disc label papers, eg: APLI 10041, Avery 8699, Avery J8776, CD Stomper Pro 2-up CD DVD Core, Data Becker 3-up, Ednet AG CD DVD Labels, Kingdom 3-up, Memorex 3-in-1, Online Labels O5625, Polyline CLCD CLR, Tower, Zweckform 6043, Zweckform L7678 and others.