Canon iP4900 Series printer
Canon iP4900 Series printer CD DVD tray layout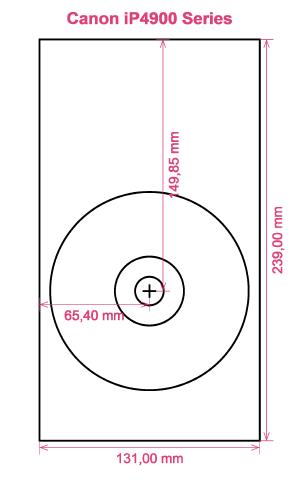 How to print labels on Canon iP4900 Series printer
When you have successfully operated the RonyaSoft DVD Cover Maker, easy will be the word that springs to mind - you will surely be amazed at how quick it is to download the labels printing software program by clicking on the link on this page and within just a couple of minutes you will be running off brilliant CD or DVD labels on your Canon iP4900 Series printer.
Yet that's not all that's on offer with this fantastic CD DVD labels designing software. RonyaSoft may have made everything as simple as possible to use, but the prints would suggest differently when you see the impressiveness of printed CD or DVD labels. This CD, DVD & Blu-ray label creator software has ideas galore for printing impressive labels! Yet for printing CD, DVD & Blu-ray labels isn't all when you know you'll need CD, DVD & Blu-ray case inserts and case covers too and realize RonyaSoft have a batch of templates you can use.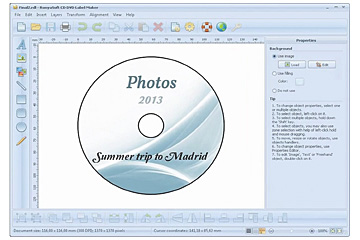 We also mentioned this software was great to work with. Well, we realize that if you feel you are not 'tech-savvy', when you have tried the RonyaSoft CD and DVD labels creator software, you will feel as smart as any professional graphic artist after you begin printing loads of CD & DVD case covers, disc labels and Blu-Ray case inserts:
Download and install CD and DVD Label and Cover Maker software for free to try.
Click on your chosen option from a wide choice of preinstalled CD label templates.
Alter the design of your label according to your liking.
Print the designed label by clicking the 'Print' button. Never forget to put in your Canon iP4900 Series printer during the printing process and to install the latest free version of the driver.
Have Fun!
The RonyaSoft label making software immediately gives you and your Canon iP4900 Series printer all you could need for personalizing so many great CD or DVD gifts.
There is nothing better than getting a gift which demonstrates someone cares enough to make something special for you. Save on costly shop-bought presents and with your first gift to someone special you will have covered the cost of your RonyaSoft CD DVD labeler software.
How about these fantastic suggestions:
You are at your brother or sister's eighteenth. It is an incredibly special day in their life and one they will forever remember when they become older. What more clever way to aid them reminisce about their special occasion than for you to take loads of pictures and video clips of the occasion, from start to finish, put them all on a CD DVD and give it to them as your own way of saying how proud you are of them. It will enhance the day for them and it will have cost you next to nothing, save for a few bits of paper, a blank CD DVD and a dash of ink from your Canon iP4900 Series printer.
Use vibrant images and photos to to design CD & DVD case covers or design disc labels to easily pick out your CD's and DVD's.
Do you like being practical? Why not create new styles for the CD and DVD covers for your collection?
What happens if you have your laptop and memory stick stolen - where are all your photos kept? Make extra sure you don't lose all stored memories of those occasions in your life - just print off some cool CD and DVD labels, burn your snaps on to a disc and store everything sensibly where you can see it.
Are you looking for a novel way to make you stand out when applying for work. Do you want to seem better from the rest of the them. Do you want to impress your potential employers with a presentation of yourself on a DVD with a classy printed DVD label and printed DVD cover designed for each application?
The RonyaSoft DVD Cover Maker is excellent for using with your Canon iP4900 Series printer, so there's zero to stop you today from becoming your own little print shop!
DVD label create software is compartible with Windows Operational System, including Windows XP, Windows 2003, Windows7 and works with a wide range of CD DVD label printers, eg: Canon i905D, Canon iP6000D, Canon MG6240, Canon MP800, Epson Artisan 730, Epson PM-D750, Epson Stylus Photo 1410, Epson Stylus Photo R320, Epson Stylus Photo RX640, Epson Stylus Photo TX720WD, HP Photosmart C5300 series, HP Photosmart D5460, Yurex MantraJet 1150-XL and similar.
DVD labels create software supports a wide range of CD DVD labels, eg: A-One F2A4H-3, 29173, 29174, Armor U11836, Avery L6047, Boma LS001HIG, CoolBeLa LS001HIG, DECAdry OLW-4900, Hisago CJ4846S CD DVD (A5), Lorenz Bell, Online Labels O5625, Polyline CLCDW, Sanwa LB-CDR010 CD DVD, Versatile CD DVD Label LD101, Zweckform L7760 and similar.