Epson Stylus Photo R220 printer
Epson Stylus Photo R220 printer CD DVD tray layout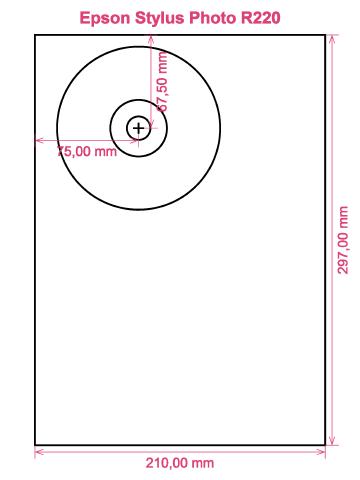 How to print labels on Epson Stylus Photo R220 printer
Once you have only used the RonyaSoft Blu-ray CD DVD Label Creator you will understand how effective and straightforward it is - 'user convenient' takes on a totally new meaning! Within just a couple of minutes of downloading the Blu-ray CD DVD labelling software programme after using the download link, you will be running off brilliant CD or DVD labels with your Epson Stylus Photo R220 printer.
Whatever you do don't turn off there, as you may not see the larger reason behind our Blu-ray/CD/DVD label printing software. RonyaSoft haven't gone to such extremes just so you can print off a list of tracks on a CD or a film title on a label. No! This CD & DVD labels printer software will provide you so many different options for CD and DVD label printing to allow you to print professional looking labels. More than that, the CD & DVD label creation software can also be used to print CD and DVD cases and inserts utilising our CD and DVD templates.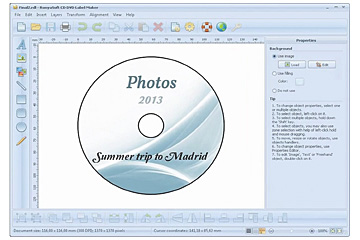 How easy do you need label creation to be? A few clicks of a mouse is enough for you to then be producing your own DVD labels, Blu-ray, CD or DVD box covers and CD box inserts. You don't have to be a tech 'nerd' to 'click' with this simple to download labels making software, just have a go and see for yourself!
Download and install Blu-ray/CD/DVD Label and Cover Creator software for free to try.
Try out one of the installed Blu-ray/CD/DVD label and cover templates.
Alter the design of a label according to your liking.
Click on the 'Print' button to begin your unique CD and DVD printed label after you have entered Epson Stylus Photo R220 in to the print settings dialog. Do not forget to inspect that the latest printer driver is downloaded.
Be proud of yourself for what you have created!
The RonyaSoft label making software immediately gives you and your Epson Stylus Photo R220 printer everything you could desire for personalizing so many great CD or DVD gifts.
There is nothing sweeter than getting a gift which demonstrates someone cares enough to make something individual for you. Save on costly shop-bought presents and with your first gift to someone special you will have covered the cost of your RonyaSoft CD DVD labeller software.
Have a go creating some of these:
Life is all about memories, and several of the greatest ones we have are of family days spent together. Everyone has a camera and everyone has their own set of pictures, but what joy to make a assembly of the 'best of' photos from everyone and then create a few copies on to a compact disc, make your own special labels and box covers using the RonySoft label printer for CD's and DVD's and your Epson Stylus Photo R220 printer and give them as a memorable gift to each member of the family who was there.
Chose your best photos and pictures to print Blu-ray, CD or DVD box covers and print DVD labels.
Do you like being practical? Why not design new images for the CD and DVD covers for your collection?
What happens if you have your laptop and memory stick destroyed - where are all your photos stored? Make super sure you don't lose all stored memories of those great days in your life - just print off some cool CD and DVD labels, burn your photos on to a disc and put everything sensibly where you can see it.
Make an one-off video for work applications and design an appealing case with a smart CD & DVD label to add the finishing touches.
The RonyaSoft Blu-ray CD DVD Label Creator is excellent for using with your Epson Stylus Photo R220 printer, so there's zero to stop you today from starting your own little print shop!
CD DVD label maker software runs on Windows Platform, including Windows XP, Windows 2003, Windows7 and is compatible with a wide range of CD/DVD/Blu-ray surface printers, including: Canon iP4600, Canon iP4910, Canon MG8140, Canon MP600R, Epson Artisan 725, Epson Expression XP-605, Epson Stylus Photo 2100, Epson Stylus Photo R340, Epson Stylus Photo T50, HP Photosmart C309 series, HP Photosmart C5288, HP Photosmart D7500 series, Yurex MantraJet 1150-XL and similar.
CD DVD label print software supports a wide range of CD/DVD/Blu-ray labels, including: Anker CD DVD, APLI 2928, Avery Maxell C96361, Boma LS301-HI CD DVD, CoolBeLa LS001HI, DECAdry OLW-4902, Label+ 2-up CD DVD & ZIP, Lorenz Bell, Neato CD DVD 2-up with core spine, ProLabel N4520, Verbatim CP-3174, Zweckform J8743, Zweckform L7676 and similar.