Epson Artisan 50 printer
Epson Artisan 50 printer CD DVD tray layout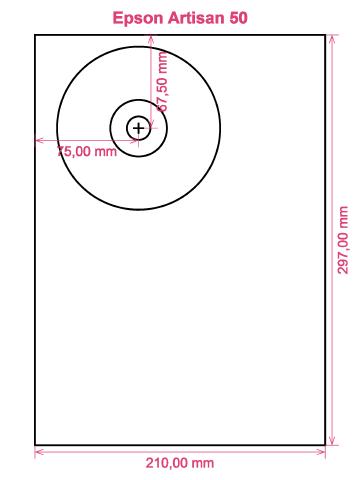 How to print labels on Epson Artisan 50 printer
When you have used the RonyaSoft CD DVD Cover Designer, easy will be the word that springs to mind - you will definitely be amazed at how quick it is to download the labels printing software program by clicking on the link on this page and within just a couple of minutes you will be producing brilliant CD or DVD labels on your Epson Artisan 50 printer.
Wait as there's loads to this CD and DVD labeling software than first meets the eye. Simple and easy to use doesn't mean simple results, but more professional looking CD and DVD labels than you would expect. This compact disc label software gives you a multitude of choices and has plenty of CD and DVD label and cover templates already installed, not just for making CD/DVD/Blu-ray labels, but also Blu-ray, CD or DVD covers and inserts to complete the professional look.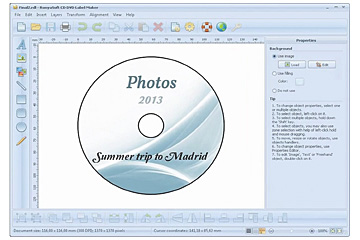 How clever do you want your label making to be? A few clicks of a mouse is enough for you to then be producing your own DVD labels, CD, DVD and Blu-ray covers and CD DVD inserts. You don't need to be a tech 'nerd' to 'click' with this simple to download label making software, just try it and see for yourself!
Download and install CD DVD Label and Cover Designer program for free to try.
Choose one of the installed CD DVD label and cover templates.
Alter the design of a label according to your wishes.
Start printing your specially designed CD label after clicking the 'Print' button, after identifying your Epson Artisan 50 as the correct printer being used. Try to download the latest free driver updates.
Have Fun!
Enhance the potential of your computer and Epson Artisan 50 printer where you can now print a fantastic array of CD DVD labels, inserts and covers, to make lovely presents.
There is nothing sweeter than being given a gift which demonstrates someone cares enough to make something individual for you. Save on costly shop-bought presents and with your first gift to someone special you will have covered the cost of your RonyaSoft CD & DVD labeling software.
Think about these for suggestions:
Life is all about memories, and several of the best ones we have are of family days spent together. Everyone has a camera and everyone has their own set of pictures, but what joy to make a assembly of the 'best of' photos from everyone and then run off a few copies on to a CD-disc, print your own special labels and covers using the RonySoft label printer for CD's, DVD's and Blu-rays and your Epson Artisan 50 printer and send them as a surprise gift to each member of the family who was in attendance.
Use jazzy images and snaps to to make CD, DVD and Blu-ray covers or make DVD labels to easily identify your CD's and DVD's.
Want to keep pics cataloged? Put a topical photo on the CD label or DVD case cover.
It's easy to store all your snaps on your computer or a memory stick, but print a picturesque label to put on a CD or create a CD case cover and insert and create a physical library of all your memories.
Are you looking for a new way to make you stand out when applying for jobs. Do you need to seem superior from the rest of the competition. Do you need to wow your potential employers with a showcase of yourself on a DVD with an excellent printed DVD label and printed DVD cover designed for each application?
The RonyaSoft CD DVD Cover Designer is ideal for using with your Epson Artisan 50 printer, so there's nobody to stop you instantly from starting your own ideal print shop!
Blu-Ray/CD/DVD label create software supports Windows Operational System, including popular Windows 7 and Windows 8 versions and works with a wide range of disc surface printers, eg: Canon i965, Canon iP5200, Canon MG6220, Canon MP830, Canon Pro9500, Epson PM-950C, Epson Stylus Photo PX800FW, Epson Stylus Photo R265, Epson Stylus Photo T50, Epson Stylus Photo TX810FW, HP Photosmart C5393, Primera Signature, Yurex MantraJet 1100 and similar.
Blu-Ray/CD/DVD labels making software supports a wide range of disc label providers, eg: Agipa 118946, APLI 10293, Avery L6043, CD LabelCorp CD DVD (5x10 sheet), CoolBeLa LD001, D-Tech CD DVD, Indie, Micro Application, Neato CD DVD 2-up, ProLabel CD414, Telliton, Xerox 3R6322, Zweckform L7760 and similar.