Canon MP530 printer
Canon MP530 printer CD DVD tray layout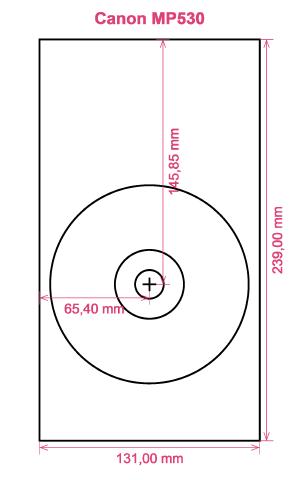 How to print labels on Canon MP530 printer
When you have actually used the RonyaSoft CD Label Maker you will understand how effective and easy it is - 'user friendly' takes on a completely new meaning! Within a few moments of installing the CD labelling software programme by clicking on the link, you can be producing CD and DVD labels on your Canon MP530 printer.
Hold on as there's loads to this CD, DVD and Blu-ray labeller software than first meets the eye. Simple and easy to use doesn't mean simple prints, but more professional appearing CD, DVD and Blu-ray labels than you would expect. This CD label maker software gives you a multitude of choices and has loads of CD, DVD and Blu-ray label and cover templates already installed, not just for creating CD DVD labels, but also CD, DVD & Blu-ray box covers and box inserts to produce the professional look.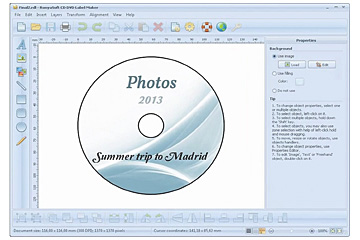 We also indicated this software was simple to work with. Well, we understand that if you sense you are not 'tech-aware', when you have tried the RonyaSoft CD and DVD labels maker software, you will feel as smart as any professional graphic artist when you begin printing loads of CD/DVD box covers, DVD labels and CD box inserts:
Click on the 'Download' button and installation for the CD & DVD labeller software is automatic.
Opt for one of the predesigned CD & DVD label and covers templates.
Add any of your own design ideas to make the CD /DVD/Blu-ray labels really personal.
Click on the 'Print' button to begin your unique DVD or CD printed label after you have entered Canon MP530 in to the print settings dialog. Do not forget to ensure that the latest printer driver is downloaded.
Enjoy!
All you need to turn your PC and Canon MP530 printer in to a fabulous personal gift factory is a touch of imagination.
There is nothing nicer than receiving a gift which demonstrates someone cares enough to make something unique for you. Save on costly shop-bought presents and with your first gift to someone special you will have covered the cost of your RonyaSoft CD & DVD labeller software.
What about these fantastic suggestions:
You're at a wedding and you take lots of un-staged photos or video clips of everyone looking happy and having a great time fun. Pick your best, burn them on to a disc and send it to the bride and groom as a thank you for the invitation to their special day. They will love you for the sweet and personal touch. And what did it cost you to create one of the most kind offerings they will get during their wedding? - The cost of a blank disc, a couple of pieces of paper and a splash of ink from your Canon MP530 printer. Fab huh?
Use funky images and pics to to print CD/DVD/Blu-Ray box covers and print DVD labels to easily pick out your CD's and DVD's.
Want to keep photos cataloged? Put a relevant photo on the CD label or DVD case cover.
What occurs if you have your laptop and memory stick stolen - where are all your photos kept? Make doubly sure you don't lose all stored memories of those occasions in your life - just print off some cool CD DVD labels, burn your photos on to a disc and put everything securely where you can see it.
Make a personal video for job applications and make an appealing case with a smart CD & DVD label to add the final touches.
How many blank CD's have you lying around with music on them, though you can't remember what? These days are now over if you use the RonyaSoft CD label print software program to rapidly and efficiently run off a few labels with your Canon MP530 printer.
Blu-ray label design software supports Microsoft Windows System, including Windows XP, Windows Vista, Windows 7 and works with a wide range of CD/DVD/Blu-ray label printers, including: Canon i9950, Canon iP8500, Canon MG6250, Canon MP640, Canon Pro9000, Epson PM-950C, Epson Stylus Photo 950, Epson Stylus Photo R320, Epson Stylus Photo RX580, EZ CD Print 6500, HP Photosmart C5293, HP Photosmart D5460, Trace Affex CD-Artist and similar.
Blu-ray labels making software supports a wide range of CD/DVD/Blu-ray label providers, including: A-One F2A4H-3, 29173, 29174, Avery 8942, Avery Maxell J87361, Canson 987-283, CoolBeLa LD007 CD DVD, Hisago CJ2847S, Label+ 2-up CD DVD & ZIP, Maxell, Neato CD DVD 2-up with core spine, Printec AnyLabel L3771 L3773, Sanwa Supply, Zweckform 6044, Zweckform L6047 and similar.