Epson Stylus Photo RX560 printer
Epson Stylus Photo RX560 printer CD DVD tray layout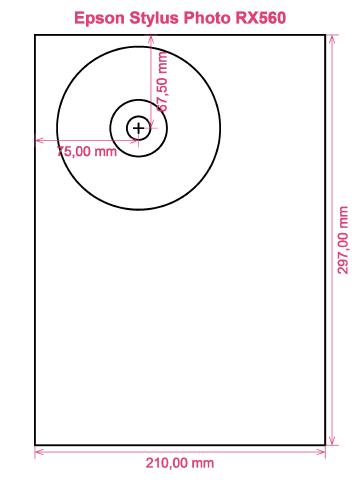 How to print labels on Epson Stylus Photo RX560 printer
It is not until you have had a go with the RonyaSoft DVD Cover Designer that you can realize how incredibly simple it is to operate brilliant results finishes - never again will you have any fears of being unable to make the most of modern technology! Within no time at all of starting to use your DVD labeller software program you should be printing CD and DVD labels and covers on a Epson Stylus Photo RX560 printer.
Wait as there's much more to this Blu-ray, CD or DVD labeler software than initially meets the eye. Simple and easy to use doesn't mean simple copy, but more professional appearing Blu-ray, CD or DVD labels than you would expect. This compact disc labels software gives you a multitude of choices and has huge amounts of of Blu-ray, CD or DVD label and cover templates already installed, not just for creating CD DVD labels, but also CD, DVD & Blu-ray case covers and case inserts to produce the professional look.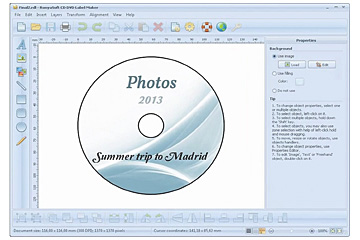 We also indicated this software was great to use. Well, we understand that if you feel you are not 'tech-aware', when you have employed the RonyaSoft CD/DVD label creator software, you will feel as clever as any professional graphic artist as you begin printing lots of CD, DVD and Blu-ray case covers, Blu-ray labels and Blu-Ray case inserts:
To automatically get your CD & DVD label printing software program, click on the 'Download' button.
Click on your chosen option from a wide choice of predesigned CD and DVD label templates.
Change the design of a label according to your liking.
Start printing your specially designed DVD or CD label after clicking the 'Print' button, after identifying your Epson Stylus Photo RX560 as the right printer being used. Try to download the latest free driver updates.
Be proud of yourself for what you have created!
All it needs to turn your PC and Epson Stylus Photo RX560 printer in to a fabulous personal gift factory is a touch of imagination.
Have you ever noticed how a personally made gift really matters to someone you like? Why spend money on costly presents that anyone can buy, when with the RonyaSoft DVD labels printing software, you can save a fortune on gifts and seem ten times more thoughtful?
What about these for possibilities:
Life is all about memories, and a few of the greatest ones we have are of family days spent together. Everyone has a camera and everyone has their own set of pictures, but what joy to make a collage of the 'best of' photos from everyone and then print a few copies on to a compact disc, create your own special labels and case covers using the RonySoft label printing software for CD's, DVD's and Blu-rays and your Epson Stylus Photo RX560 printer and give them as a memorable gift to each member of the family who was there.
Use scenic photos to make CD and DVD case covers or make Blu-ray labels for your compilation CD's - thunder, sunshine, rain, a calm sea, a rainbow...
Do you enjoy being clever? Why not design new images for the CD and DVD covers for your collection?
What occurs if you have your laptop and memory stick stolen - where are all your photos stored? Make doubly certain you don't lose all treasured memories of those occasions in your life - just print off some cool CD labels, burn your photos on to a disc and store everything sensibly where you can see it.
Are you looking for an individual way to make you stand out when applying for jobs. Do you need to seem different from the rest of the them. Do you need to shock your future employers with a demonstration of yourself on a DVD with an excellent printed DVD insert and printed DVD case specifically for each application?
RonyaSoft DVD Cover Designer is the best software addition to employ with your Epson Stylus Photo RX560 printer so download it instantly and get those stylistic juices flowing!
Blu-ray label making software runs on Microsoft Windows Operational System, including popular Windows 7 and Windows 8 versions and works with a wide range of CD/DVD/Blu-ray label printers, eg: Canon iP4200, Canon iP4840, Canon MG5370, Canon MP640, Epson Artisan 50, Epson PM-980C, Epson Stylus Photo PX730WD, Epson Stylus Photo R2880, Epson Stylus Photo TX700W, EZ CD Print Plus, HP Photosmart C5393, Microboards Print Factory, Yurex MantraJet 1150-XL and others.
Blu-ray label making software supports a wide range of CD/DVD/Blu-ray label providers, eg: Ace 60100 series, APLI 10294, Boma BMS002HI CD DVD, CD LabelCorp CD DVD (5x10 sheet), Data Becker XXL, Emtec 345202, IGEPA EA-CD-ROM2Q, Lorenz Bell, Neato CD DVD 2-up with core spine, ProLabel N4520, ProLabel SGW4525, Zweckform 6047, Zweckform L7676 and others.