Canon MG6320 printer
Canon MG6320 printer CD DVD tray layout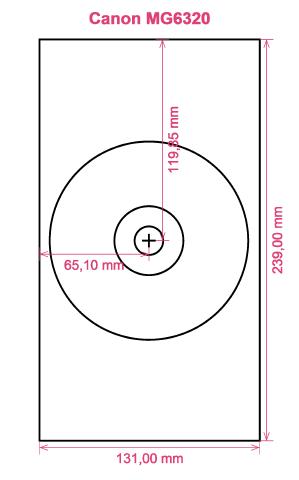 How to print labels on Canon MG6320 printer
Once you have successfully operated the RonyaSoft CD Cover Designer, brilliant! will be the word that comes to mind - you'll surely be blown away at how quick it is to download the label creation software program by clicking on the link below and within just a couple of ticks you will be printing brilliant CD or DVD labels on your Canon MG6320 printer.
Please don't turn off there, as you may be missing the bigger picture for our CD/DVD label print software. RonyaSoft haven't gone to such measures purely so you can print off a list of tracks on a CD or a film title on a label. No! This CD DVD label printer software will give you so many different options for CD and DVD label printing to assist you to make attractive labels. Plus, the CD DVD label making software can also be used to print CD and DVD cases and case inserts utilising predesigned CD and DVD templates.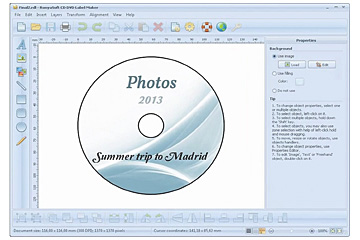 How easy do you want your label making to be? A few clicks of a mouse is enough for you to then be printing your own CD/DVD/Blu-ray labels, CD/DVD/Blu-Ray covers and Blu-Ray DVD inserts. You don't have to be a genius to 'click' with this simple to download label printing software, just have a go and see for yourself!
To automatically get your Blu-ray/CD/DVD label making software, click on the 'Download' button.
Click on your chosen option from a great choice of preinstalled CD label templates.
Print the designed label by clicking the 'Print' button. Never forget to specify your Canon MG6320 printer during the printing process and to use the latest free version of the driver.
Smile!
Maximize the potential of your computer and Canon MG6320 printer where you can now produce a fantastic array of Blu-ray/CD/DVD labels, inserts and covers, to create lovely presents.
Anyone will tell you that a gift with a personal touch, something nice, will normally be appreciated far more than something costly, so you will have more than paid for your CD label and cover print software, when you give someone a present.
How about these wonderful suggestions:
You are at your brother or sister's graduation. It is an incredibly special occasion in their life and one they will always remember when they are older. What more clever way to help them reminisce about their special occasion than for you to take lots of pictures and video clips of the occasion, from start to finish, insert them all on a CD DVD and present it to them as a unique way of demonstrating how proud you are of them. It will enhance the day for them and it will have cost you next to nothing, save for a couple bits of paper, a blank CD DVD and a splash of ink from your Canon MG6320 printer.
Use scenic photos to make CD and DVD covers or make CD/DVD/Blu-ray labels for your compilation CD's - thunder, sunshine, rain, a calm sea, a rainbow...
Want to have pics cataloged? Put a topical photo on the CD label or DVD box cover.
What happens if you have your laptop and memory stick destroyed - where are all your photos stored? Make super certain you don't lose all stored memories of those occasions in your life - just print off some cool CD DVD labels, burn your pics on to a disc and store everything sensibly where you can see it.
Are you seeking an individual way to make you stand out when applying for employment. Do you want to seem superior from the rest of the them. Do you need to shock your prospective employers with a demonstration of yourself on a DVD with an excellent printed DVD insert and printed DVD box designed for each application?
The RonyaSoft CD Cover Designer is excellent for using with your Canon MG6320 printer, so there's zero to stop you instantly from starting your own little print shop!
DVD label making software runs on Microsoft Windows System, including Windows XP, Windows Vista, Windows 7 and works with a wide range of CD/DVD/Blu-ray label printers, including: Canon iP4740, Canon iP4970, Canon MG5340, Canon MP600R, Epson Artisan 710, Epson PM-930C, Epson Stylus Photo PX820FWD, Epson Stylus Photo R340, Epson Stylus Photo RX700, HP Photosmart C5200 series, HP Photosmart C5393, HP Photosmart D5463, Yurex MantraJet 1050 and others.
DVD label creator software supports a wide range of CD/DVD/Blu-ray label providers, including: A-One, Avery 6691, Big W, Boma LS301-HI CD DVD, CoolBeLa LD001-HI, Global Star CD DVD (5x9 sheet), JP CD DVD 2-up, Maxell J8761, Neato CD DVD 2-up with core spine, ProLabel FFGWCD, Sanwa LB-CDR005 CD DVD, Zweckform L6044, Zweckform L6117 and others.