Canon MG5230 printer
Canon MG5230 printer CD DVD tray layout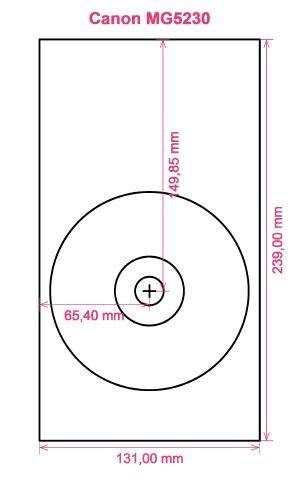 How to print labels on Canon MG5230 printer
When you have only used the RonyaSoft Blu-ray CD DVD Cover Designer you can understand how effective and wonderful it is - 'user convenient' takes on a totally new meaning! Within just a couple of minutes of swiftly downloading the Blu-ray CD DVD labels software programme after using the download link, you will be printing off fantastic CD or DVD labels and covers with your Canon MG5230 printer.
But that's not all that's on offer with this exceptional CD DVD labels making software. RonyaSoft may have made it all as easy as possible to use, but the prints would suggest differently when you see the quality of printed CD or DVD labels. This Blu-ray, CD or DVD label maker software has ideas galore for creating professional and classy labels! But for creating Blu-ray, CD or DVD labels and covers isn't all when you know there are Blu-ray, CD or DVD box inserts and box covers too and discover RonyaSoft have a selection of templates you can use.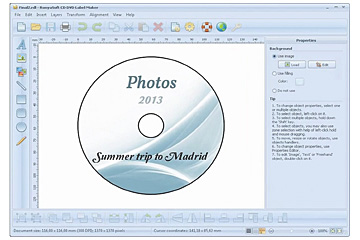 We also said this software was fantastic to use. Well, we realize that if you sense you are not 'tech-savvy', after you have employed the RonyaSoft CD & DVD labels creator software, you will feel as confident as any professional graphic artist when you start making lots of CD and DVD box covers, CD DVD labels and CD/DVD box inserts:
Highlight the 'Download' button and installation for the CD DVD label program is automatic.
Opt for your favorite design from any of the predesigned CD DVD label and covers templates.
Add any of your own design ideas to print the CD and DVD labels really personal.
Start printing your unique CD label after clicking the 'Print' button, after inputting your Canon MG5230 as the proper printer being used. Always download the latest free driver updates.
Be proud of yourself for what you have created!
Improve the potential of your computer and Canon MG5230 printer where you can now produce a fantastic array of CD DVD labels, box inserts and box covers, to make lovely gifts.
There is nothing nicer than getting a gift which shows someone cares enough to make something special for you. Save on costly shop-bought presents and with your first gift to someone special you will have covered the cost of your RonyaSoft CD & DVD label software.
Think about these for possibilities:
Life is all about memories, and some of the memorable ones we have are of family days spent together. Everyone has a camera and everyone has their own set of pictures, but what joy to make a assembly of the 'best of' photos from everyone and then run off a few copies on to a compact disc, print your own special labels and box covers using the RonySoft label printing program for CD's, DVD's and Blu-rays and your Canon MG5230 printer and send them as a surprise gift to each member of the family who was there.
Chose your best photos and snaps to make Blu-ray, CD or DVD box covers or make CD DVD labels.
Do you love being clever? Why not design new styles for the CD & DVD covers for your collection?
It's simple to store all your snaps on your computer or a memory stick, but create a picturesque label to put on a CD or create a CD box cover and insert and make a physical library of all your memories.
Are you looking for a new way to make you stand out when applying for jobs. Do you want to seem different from the rest of the competition. Do you want to impress your prospective employers with a demonstration of yourself on a DVD with an excellent printed DVD insert and printed DVD cover specifically for each application?
RonyaSoft Blu-ray CD DVD Cover Designer is the ideal software add-on to employ with your Canon MG5230 printer so download it today and get those stylistic juices flowing!
CD label maker software supports Windows OS, including Windows XP, Windows 2003, Windows7 and works with a wide range of CD/DVD/Blu-ray label printers, eg: Canon iP4000, Canon iP8500, Canon MG6120, Canon MP810, Canon MP980, Epson PM-950C, Epson Stylus Photo PX820FWD, Epson Stylus Photo R200, Epson Stylus Photo RX610, EZ CD Print 5700, HP Photosmart C5393, Primera Signature, Yurex MantraJet 1150-XL and others.
CD labels making software supports a wide range of CD/DVD/Blu-ray label stocks, eg: Americal 313911, Avery 8931, Avery J8570, CD LabelCorp Custom CD DVD (5x9 sheet), DECAdry DLW-1900, D-Tech CD DVD, Koral A4 CD DVD 2-up, Label+ Offset CD DVD 118, PC Line, Printec AnyLabel L3771 L3773, UBL CD DVD 2-up, Zweckform 6117, Zweckform L7760 and others.