HP Photosmart D5363 printer
HP Photosmart D5363 printer CD DVD tray layout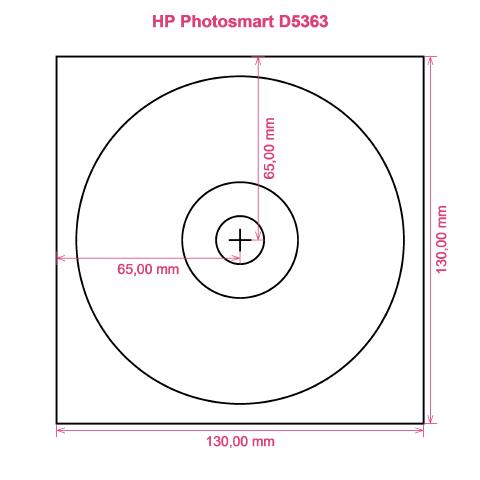 How to print labels on HP Photosmart D5363 printer
When you have only used the RonyaSoft Blu-ray CD DVD Label Designer you can understand how simple and straightforward it is - 'user friendly' takes on a totally new understanding! Within seconds of downloading the Blu-ray CD DVD labeler software program by clicking on the link, you can be making CD and DVD labels with your HP Photosmart D5363 printer.
Hold on as there's much more to this CD, DVD and Blu-ray labeler software than first meets the eye. Simple and easy to use doesn't mean simple copy, but more professional style CD, DVD and Blu-ray labels than you would expect. This disk label printer software gives you masses of choices and has plenty of CD, DVD and Blu-ray label and cover templates already installed, not just for printing CD and DVD labels, but also CD and DVD covers and inserts to round off the professional look.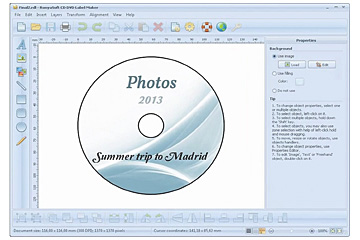 And as for easy to use, well 'user-friendly' became even more friendly. Just use the directions to discover how simple, yet effective and professional results will be when you commence to design Blu-ray, CD or DVD covers, disc labels and Blu-Ray inserts:
To automatically download the CD DVD labels making software, click on the 'Download' button.
Click on your chosen option from a wide choice of predesigned CD label templates.
Alter the design of a label according to your wishes.
Start printing your specially designed CD and DVD label after clicking the 'Print' button, after identifying your HP Photosmart D5363 as the correct printer being used. Try to use the latest free driver updates.
Smile!
Enhance the potential of your computer and HP Photosmart D5363 printer where you can now produce a fantastic array of CD DVD labels, inserts and covers, to make lovely gifts.
There is nothing nicer than receiving a gift which shows someone cares enough to make something individual for you. Save on costly shop-bought presents and with your first gift to someone special you will have covered the cost of your RonyaSoft CD DVD and Blu-ray labeler software.
What about these for suggestions:
You are at your brother or sister's eighteenth. It is an incredibly special moment in their life and one they will always remember when they get older. What smarter way to aid them reminisce about their special day than for you to take hundreds of pictures and video clips of the day, from start to finish, put them all on a CD DVD and present it to them as an individual way of demonstrating how proud you are of them. It will complete the day for them and it will have cost you next to nothing, save for a few bits of paper, a blank CD DVD and a drop of ink from your HP Photosmart D5363 printer.
Use funky images and photos to to design Blu-ray, CD or DVD covers or design disc labels to easily identify your CD's and DVD's.
Need to store photos cataloged? Put a topical photo on the compact disc label or DVD box cover.
What happens if you have your laptop and memory stick damaged - where are all your photos stored? Make super sure you don't lose all treasured memories of those moments in your life - just print off some cool CD labels, burn your photos on to a disc and keep everything securely where you can see it.
Are you looking for an individual way to make you stand out when applying for jobs. Do you need to seem different from the rest of the competition. Do you need to shock your potential employers with a showcase of yourself on a DVD with an excellent printed DVD insert and printed DVD case made for each application?
How many blank CD's have you got with music on them, but you can't remember what? These days are now in the past when you use the RonyaSoft Blu-ray CD DVD label make software program to rapidly and effectively run off a few labels on your HP Photosmart D5363 printer.
CD DVD label print software is compartible with Microsoft Windows Operational System, including latest Windows 7 and Windows 8 versions and supports a wide range of disc surface printers, eg: Canon i905D, Canon iP5000, Canon MG5340, Canon MP800, Canon MP970, Epson Artisan 810, Epson Stylus Photo PX730WD, Epson Stylus Photo R2000, Epson Stylus Photo RX595, HP Photosmart C5275, HP Photosmart C5383, HP Photosmart D5155, Yurex MantraJet 1100 and others.
CD DVD labels creator software supports a wide range of disc label stocks, eg: Agipa 119884, Avery 8832, Avery J8676, Burlington 00495, DECAdry OLW-4824, DeskTop Labels 3303-CD CD DVD Labels, HP CDR3000A 3-up, LabelWhiz 62000, Neato 3-up US, PressIt, Unistat CD DVD 2-up, Worldlabel WL-OL1200WX, Zweckform L6117 and others.