HP Photosmart D5360 printer
HP Photosmart D5360 printer CD DVD tray layout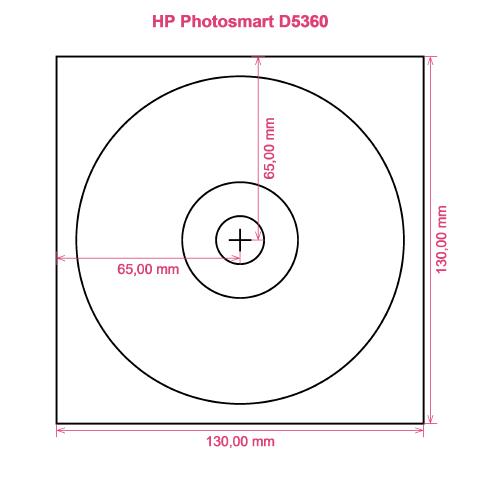 How to print labels on HP Photosmart D5360 printer
Only when you have used the RonyaSoft Blu-ray CD DVD Cover Maker that you should see how really simple it is to use fantastic prints - gone are the days when you worry about not being able to make the most of modern technology! Within no time at all of downloading the Blu-ray CD DVD labeller software programme you will be printing CD or DVD labels and covers on the HP Photosmart D5360 printer.
Yet that's not all that's available with this exceptional CD/DVD labels making software. RonyaSoft may have made this software as obvious as possible to use, but the results would suggest differently when you see the quality of printed CD or DVD labels. This CD, DVD & Blu-ray labels maker software has choices galore for printing top quality labels! Yet for printing CD, DVD & Blu-ray labels isn't all when you know you can make CD, DVD & Blu-ray box inserts and box covers too and discover RonyaSoft have a batch of templates you can use.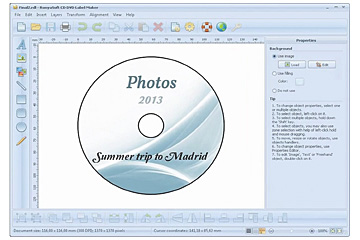 We also said this software was fantastic to employ. Well, we know that if you worry you are not 'tech-smart', once you have tried the RonyaSoft CD/DVD labels creator software, you will feel as confident as any professional graphic artist when you start creation loads of CD and DVD box covers, Blu-ray labels and Blu-Ray/CD/DVD box inserts:
Download and install CD DVD Label & Cover Maker software program for free to try.
Try out one of the installed CD DVD label templates.
Print the designed label by clicking the 'Print' button. Do not forget to indicate your HP Photosmart D5360 printer during the setup process and to install the latest free version of the driver.
Smile!
Maximize the potential of your computer and HP Photosmart D5360 printer where you can now print a fantastic array of CD DVD labels, box inserts and box covers, to create lovely surprises.
There is nothing sweeter than being given a gift which demonstrates someone cares enough to make something unique for you. Save on costly shop-bought presents and with your first gift to someone special you will have covered the cost of your RonyaSoft CD DVD labeling software.
Have a go making some of these:
Life is all about memories, and a few of the greatest ones we have are of family days spent together. Everyone has a camera and everyone has their own set of pictures, but what excitement to make a collage of the 'best of' photos from everyone and then run off a few copies on to a CD-disc, print your own special labels and box covers using the RonySoft label printing software for CD's, DVD's and Blu-rays and your HP Photosmart D5360 printer and send them as a surprise gift to each member of the family who was present.
Use funky images and pics to to design CD and DVD box covers or design Blu-ray labels to easily spot your CD's and DVD's.
Choose a snap of your canine or cat on the cover and CD and DVD label so you can easily spot which CD your pet's photos are all kept on.
What happens if you have your laptop and memory stick destroyed - where are all your photos kept? Make super sure you don't lose all stored memories of those moments in your life - just print off some cool CD labels, burn your pics on to a disc and put everything safely where you can see it.
Want to stand out from the throng when keenly trying to impress even before you have been offered a job interview? Produce a professional looking CD DVD rounded off with printed box cover, printed insert and printed label to make a great impression.
RonyaSoft Blu-ray CD DVD Cover Maker is the ideal software extra to employ with your HP Photosmart D5360 printer so download it instantly and get those imaginative creative juices flowing!
CD DVD label create software is compartible with Microsoft Windows Platform, including Windows XP, Windows Vista, Windows 7 and is compatible with a wide range of CD DVD label printers, eg: Canon iP4740, Canon MG5220, Canon MG5330, Canon MP600, DisqueMate M5000, Epson Artisan 800, Epson Stylus Photo 1410, Epson Stylus Photo R210, Epson Stylus Photo RX610, Epson Stylus Photo TX720WD, HP Photosmart C5290, Systor PrintMaster Plus, Yurex MantraJet 1050 and similar.
CD DVD labels maker software supports a wide range of CD DVD label stocks, eg: A-One, Avery 8941, Avery J8770, Compulabel 312748, Custom Paper, Ferrania Otijet Etiquettes, IBM, LabelWhiz LW61300, Plain Paper 2-up, Plain Paper, Stick-It, Veriad VH585 587, Zweckform L7860 DVD and similar.