Epson PM-950C printer
Epson PM-950C printer CD DVD tray layout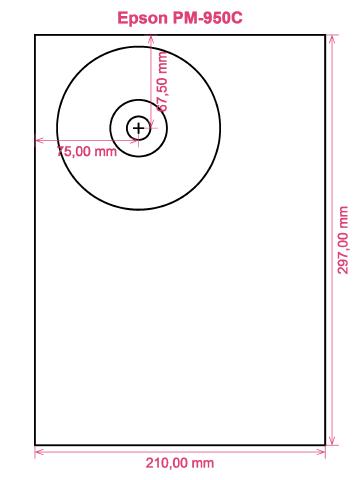 How to print labels on Epson PM-950C printer
It's after you have had a go with the RonyaSoft CD DVD Label Designer that you should realize how really great it is to get brilliant prints - never again will you be afraid of not being able to make the most of modern technology! Within seconds of downloading our CD DVD labeller software programme you should be printing Blu-Ray CD DVD labels on your Epson PM-950C printer.
However don't switch off there, as you may not see the larger point of our CD labels making program. RonyaSoft haven't gone to such extremes simply so you can print off a list of tracks on a CD or a film title on a label. No! This CD labels creator program will provide you so many choices for CD and DVD label creation to enable you to create professional looking labels. In addition, the CD label making software can also help to create CD and DVD cases and box inserts using our CD and DVD templates.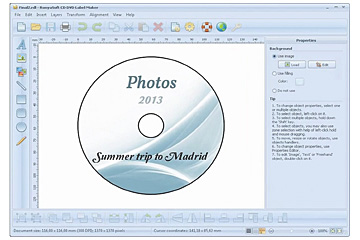 How simple do you need label making to be? A few clicks of a mouse is enough for you to then be printing your own CD/DVD/Blu-ray labels, CD/DVD case covers and Blu-Ray/CD/DVD case inserts. You don't have to be a boffin to 'click' with this simple to download labels design software, just use it and see for yourself!
To automatically get your Blu-ray/CD/DVD labels making software program, click on the 'Download' button.
Choose one of the predesigned Blu-ray/CD/DVD label and covers templates.
Edit the design of your label according to your needs.
Print the designed label by clicking the 'Print' button. Never forget to indicate your Epson PM-950C printer during the design process and to download and use the latest free version of the driver.
Be proud of yourself for what you have produced!
Improve the potential of your computer and Epson PM-950C printer where you can now print a fantastic array of Blu-ray/CD/DVD labels, case inserts and case covers, to make lovely gifts.
Have you ever noticed how a personally made gift really matters to someone you adore? Why spend money on costly presents that anyone can buy, when with the RonyaSoft CD DVD labels create program, you can save a fortune on gifts and appear ten times more thoughtful?
How about these fantastic ideas:
You're at a wedding and you take loads of un-staged photos or video clips of everyone looking happy and having a ball. Pick your finest, burn them on to a disc and give it to the bride and groom as a thank you for the invitation to their wedding. They will remember you for the sweet and personal touch. And what did it cost you to produce one of the most kind presents they will have received during their wedding? - The price of a blank disc, a couple of pieces of paper and a drop of ink from your Epson PM-950C printer. Great huh?
Use emotive photos to make CD, DVD and Blu-ray case covers and make CD/DVD/Blu-ray labels for your compilation CD's - thunder, sunshine, rain, a calm sea, a rainbow...
Have to have photos cataloged? Put a relevant photo on the compact disc label or DVD box cover.
What occurs if you have your laptop and memory stick stolen - where are all your photos put? Make doubly safe you don't lose all recorded memories of those great days in your life - just print off some cool CD and DVD labels, burn your photos on to a disc and store everything securely where you can see it.
Make an one-off video for work applications and design an appealing box with a smart CD DVD label to add the finishing touches.
The RonyaSoft CD DVD Label Designer is ideal for using with your Epson PM-950C printer, so there's zero to stop you now from becoming your own ideal print shop!
CD DVD label making program works on Microsoft Windows System, including latest Windows 7 and Windows 8 versions and works with a wide range of CD DVD surface printers, eg: Brother MFC-J825DW, Canon MG5240, Canon MG5340, Canon MP500, Epson Artisan 700, Epson PM-980C, Epson Stylus Photo P50, Epson Stylus Photo R1900, Epson Stylus Photo R350, Epson Tray Type 1, HP Photosmart D5145, HP Photosmart D5168, Yurex MantraJet 1100 and others.
CD DVD labels maker program supports a wide range of CD DVD labels, eg: Ace 30500 series, APLI 10328, Avery L6046, Canson 987-283, Custom Paper, Herma, Hovat, LabelWhiz LW61200, MultiFlip LD101, Polyline NCD465W, Smart Label Model Q, Zweckform L6015, Zweckform L7678 and others.