Epson Stylus Photo R380 printer
Epson Stylus Photo R380 printer CD DVD tray layout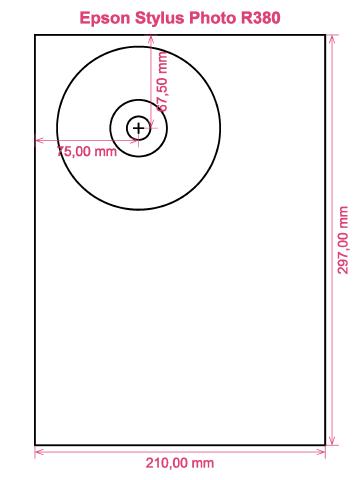 How to print labels on Epson Stylus Photo R380 printer
Once you have used the RonyaSoft Blu-ray CD DVD Cover Creator, brilliant! will be the word that comes to mind - you'll definitely be amazed at how uncomplicated it is to download the label printing software program by clicking on the link on this page and within just a couple of moments you will be printing fantastic CD and DVD labels on your Epson Stylus Photo R380 printer.
However that's not all that's useful with this brilliant DVD label print program. RonyaSoft may have made it all as obvious as possible to use, but the results would suggest differently when you see the standard of printed CD or DVD labels. This CD and DVD labels designer program has choices galore for making professional and classy labels! However for making CD and DVD labels and covers isn't all when you know you'll need CD and DVD box inserts and box covers too and discover RonyaSoft have a selection of templates you can use.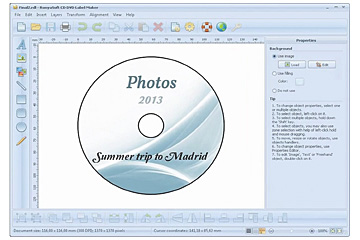 We also mentioned this software was great to work with. Well, we understand that if you feel you are not 'tech-savvy', after you have employed the RonyaSoft CD/DVD label maker program, you will feel as clever as any professional graphic artist after you commence making lots of CD & DVD box covers, CD/DVD/Blu-ray labels and Blu-Ray CD box inserts:
Hit the 'Download' button and installation for the CD and DVD labeler software is automatic.
Opt for one of the installed CD and DVD label and covers templates.
Add any of your own design ideas to make the CD /DVD/Blu-ray label even more personal.
Start printing your specially designed CD and DVD label after clicking the 'Print' button, after inputting your Epson Stylus Photo R380 as the proper printer being used. Always download the latest free driver updates.
Enjoy!
The RonyaSoft label making software instantly gives you and your Epson Stylus Photo R380 printer all you could want for personalizing so many great CD or DVD gifts.
Anyone will tell you that a gift with an unique touch, something nice, will forever be appreciated far more than something bought, so you will have more than paid for your Blu-ray CD DVD label design program, the first time you give someone a present.
Try making some of these:
You are at your brother or sister's graduation. It is an incredibly special occasion in their life and one they will fondly think about when they get older. What more clever way to help them reminisce about their special event than for you to take lots of pictures and video clips of the event, from start to finish, insert them all on a CD DVD and give it to them as an individual way of demonstrating how proud you are of them. It will enhance the day for them and it will have cost you next to nothing, save for a few bits of paper, a blank CD DVD and a drop of ink from your Epson Stylus Photo R380 printer.
Chose your best photos and snaps to make CD & DVD box covers or make CD/DVD/Blu-ray labels.
Want to store pics cataloged? Put a topical photo on the compact disc label or DVD box cover.
What occurs if you have your laptop and memory stick stolen - where are all your photos kept? Make doubly certain you don't lose all recorded memories of those great days in your life - just print off some cool CD and DVD labels, burn your pics on to a disc and store everything securely where you can see it.
Make an unique video for work applications and make an attractive case with a smart CD DVD label to add the perfect touches.
RonyaSoft Blu-ray CD DVD Cover Creator is the best software add-on to operate with your Epson Stylus Photo R380 printer so download it today and get those imaginative creative juices flowing!
Blu-Ray/CD/DVD labeller program runs on Microsoft Windows System, including Windows XP, Windows 2003, Windows7 and is compatible with a wide range of CD DVD label printers, eg: Canon iP4000R, Canon iP6600D, Canon MG6150, Canon MP760, Canon MP950, Epson Artisan 837, Epson Stylus Photo PX810FW, Epson Stylus Photo R300, Epson Stylus Photo R360, HP Photosmart C5240, HP Photosmart D5100 series, HP Photosmart D5155, Trace Affex CD-Artist and others.
Blu-Ray/CD/DVD label make program supports a wide range of CD DVD label papers, eg: Anker CD DVD, APLI 11704, Avery L6047, Boma LD007 CD DVD, Custom Paper, Etiform, Label Angel LB-A400, Lorenz Bell LB6074, Plain Paper 2-up, Polyline CLCD CLR, Verbatim CD DVD 114 mm X 3, Zweckform 6044, Zweckform L7860 DVD and others.