Epson 2100 4000PX CD DVD (US) printer
Epson 2100 4000PX CD DVD (US) printer CD DVD tray layout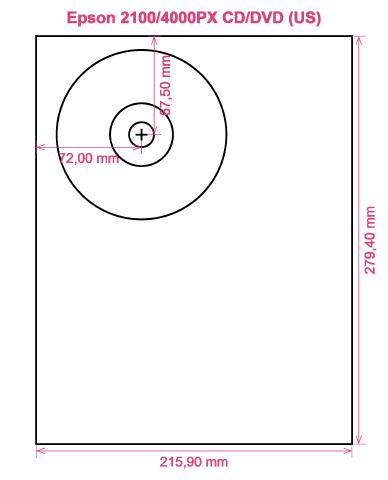 How to print labels on Epson 2100 4000PX CD DVD (US) printer
Once you have used the RonyaSoft Blu-ray CD DVD Label Maker, simplicity will be the word that springs to mind - you'll surely be amazed at how uncomplicated it is to download the labels creation software program by clicking on the link underneath and within just a couple of moments you will be producing brilliant Blu-Ray CD DVD labels and covers on your Epson 2100 4000PX CD DVD (US) printer.
Yet that's not all that's available with this fantastic CD/DVD labels design program. RonyaSoft may have made this software as obvious as possible to use, but the prints would suggest differently when you see the quality of printed CD or DVD labels. This CD, DVD & Blu-ray labels creator program has choices galore for making top quality labels! Yet for making CD, DVD & Blu-ray labels isn't all when you know you can make CD, DVD & Blu-ray inserts and covers too and discover RonyaSoft have a selection of templates you can use.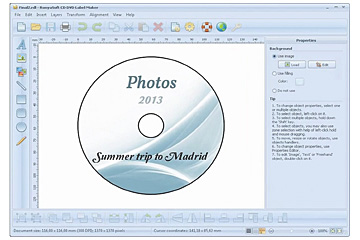 Concerning simple to use, well 'user-friendly' is now even more friendly. Just use the directions to understand how easy, yet clean and professional results will be when you begin to make CD, DVD and Blu-ray covers, DVD labels and Blu-Ray CD inserts:
To automatically download the CD & DVD labels making software program, click on the 'Download' button.
Opt for one of the designed CD & DVD label and cover templates.
Start printing your unique CD and DVD label after clicking the 'Print' button, after selecting your Epson 2100 4000PX CD DVD (US) as the proper printer being used. Try to download the latest free driver updates.
Be proud of yourself for what you have printed off!
All it needs to turn your PC and Epson 2100 4000PX CD DVD (US) printer in to a little personal gift factory is a little imagination.
Have you ever noticed how a personally made gift really matters to someone you like? Why spend money on pricey, presents that anyone can buy, when with the RonyaSoft Blu-ray CD DVD label create program, you can save a fortune on gifts and appear ten times more thoughtful?
How about these for suggestions:
You are at your brother or sister's twenty-first birthday. It is an incredibly special occasion in their life and one they will fondly think about when they get older. What better way to help them reminisce about their special day than for you to take lots of pictures and video clips of the day, from start to finish, set them all on a CD DVD and give it to them as a unique way of saying how proud you are of them. It will enhance the day for them and it will have cost you next to nothing, save for two bits of paper, a blank CD DVD and a dash of ink from your Epson 2100 4000PX CD DVD (US) printer.
Use funky images and pics to to create CD and DVD covers or create DVD labels to easily identify your CD's and DVD's.
Have to store snaps cataloged? Put a relevant photo on the compact disc label or DVD case cover.
Memories shared always last longer - download your snaps of a night out on to a DVD and make a label, cover and insert, then send to all who were attending!
Are you searching a novel way to make you stand out when applying for employment. Do you need to seem better from the rest of the them. Do you need to shock your potential employers with a presentation of yourself on a DVD with a professionally printed DVD insert and printed DVD box specifically for each application?
How many blank CD's have you got with pictures on them, yet you can't remember what? These days are now over when you try the RonyaSoft Blu-ray CD DVD label make software program to swiftly and efficiently run off a few labels using your Epson 2100 4000PX CD DVD (US) printer.
DVD labelling program supports Windows System, including popular Windows 7 and Windows 8 versions and is compatible with a wide range of CD DVD label printers, eg: Aleratec Robojet AutoPrinter 100, Canon iP5000, Canon MG5450, Canon MP610, Epson 2100 4000PX, Epson Artisan 835, Epson Stylus Photo 2200, Epson Stylus Photo R2000, Epson Stylus Photo R350, Epson Stylus Photo TX810FW, HP Photosmart C5283, Primera Signature, Trace Affex CD-Artist and others.
DVD labels printing program supports a wide range of CD DVD labels, eg: Agipa 118946, APLI 10293, Boma BMS002HI CD DVD, CD Stomper Pro 2-up CD DVD Core, DECAdry DLW-1824 CD DVD (old format), DeskTop Labels 3302CD-SLV CD DVD Labels, HP CDX-8040E, LabelWhiz LW60360, Plain Paper, Polyline CLCDW, Uline SP0028, Zweckform J8778, Zweckform L7676 and others.