Canon MP800R printer
Canon MP800R printer CD DVD tray layout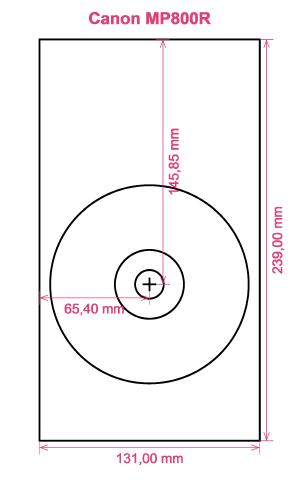 How to print labels on Canon MP800R printer
Once you have correctly used the RonyaSoft CD & DVD Label Designer you can understand how simple and wonderful it is - 'user friendly' takes on a whole new understanding! Within just a couple of minutes of installing the CD & DVD label software after using the download link, you will be printing off great CD and DVD labels with your Canon MP800R printer.
However don't turn off there, as you may not see the bigger reason behind this CD/DVD labels making software. RonyaSoft haven't gone to such measures purely so you can print off a list of tracks on a CD or a film title on a label. No! This CD DVD label creator software will offer you so many choices for CD and DVD label making to allow you to make attractive labels. Plus, the CD DVD label design software can also assist you to make CD and DVD cases and case inserts utilising the brilliant CD and DVD templates.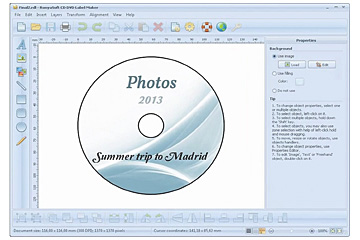 We also indicated this software was great to use. Well, we realize that if you feel you are not 'tech-aware', once you have employed the RonyaSoft CD DVD labels maker software, you will feel as smart as any professional graphic artist as you commence design plenty of CD & DVD box covers, CD labels and CD & DVD box inserts:
To automatically download the CD DVD labels design software program, click on the 'Download' button.
Choose one of the designed CD DVD label templates.
Add any of your own design ideas to make the CD or DVD labels really personal.
Start printing your specially designed DVD or CD label after clicking the 'Print' button, after selecting your Canon MP800R as the proper printer being used. Always download the latest free driver updates.
Be proud of yourself for what you have printed off!
The RonyaSoft label making software immediately gives you and your Canon MP800R printer everything you could desire for personalizing so many great CD or DVD presents.
Have you ever noticed how a personally made gift really matters to someone you adore? Why spend money on costly presents that anyone can buy, when with the RonyaSoft CD & DVD labels making software, you can save a fortune on gifts and appear ten times more thoughtful?
Think about these great options:
You're at a wedding and you take lots of un-staged photos or video clips of attendees looking relaxed and having a great time fun. Choose your finest, burn them on to a disc and send it to the bride and groom as a thank you for the invitation to their marriage. They will love you for the kind and personal touch. And what did it cost you to produce one of the most unique presents they will get during their wedding? - The cost of a blank disc, two pieces of paper and a drop of ink from your Canon MP800R printer. Fab huh?
Use vibrant images and pics to to design CD, DVD and Blu-ray box covers and design CD labels to easily pick out your CD's and DVD's.
Choose a pic of your pooch or cat on the cover and CD or DVD label so you can easily see which CD your pet's photos are all stored.
What a disaster if you have your laptop and memory stick stolen - where are all your photos put? Make super safe you don't lose all treasured memories of those occasions in your life - just print off some cool CD DVD labels, burn your photos on to a disc and put everything securely where you can see it.
Make a personal video for employment applications and make an attractive box with a smart CD & DVD label to add the perfect touches.
The RonyaSoft CD & DVD Label Designer is superb for using with your Canon MP800R printer, so there's nobody to stop you now from becoming your own ideal print shop!
DVD label design software supports Microsoft Windows Operational System, including Windows XP, Windows 2003, Windows7 and is compatible with a wide range of disc label printers, including: Aleratec Robojet AutoPrinter 100, Canon iP5000, Canon MG5370, Canon MP750, Epson Artisan 710, Epson PM-D750, Epson Stylus Photo 960, Epson Stylus Photo R210, Epson Stylus Photo RX700, HP Photosmart C5270, HP Photosmart C5540, HP Photosmart D7500 series, Yurex MantraJet 1150-XL and others.
DVD labels printing software supports a wide range of disc label papers, including: Ace 61100 series, Avery 8832, Avery Maxell C95361, CD Stomper 2-up Slim Sheet CD DVD, CoolBeLa LS001HIG, DeskTop Labels 9902L-CD CD DVD Labels, HP CDR6000A 3-up, Lorenz Bell LB6074, Neato CD DVD Plus, PrintIT 2CDZ CD DVD Label, Sanwa LB-CDR003 CD DVD, Zweckform L6015, Zweckform L7776 and others.