Epson Stylus Photo R270 printer
Epson Stylus Photo R270 printer CD DVD tray layout
How to print labels on Epson Stylus Photo R270 printer
Once you have successfully operated the RonyaSoft CD DVD Label Designer, simplicity will be the word that comes to mind - you will surely be blown away at how simple it is to download the labels creation software programme by clicking on the link below and within just a couple of ticks you will be running off brilliant CD or DVD labels on your Epson Stylus Photo R270 printer.
Please don't turn off there, as you may be missing the bigger point of this CD labels printing software. RonyaSoft haven't gone to such extremes purely so you can print off a list of tracks on a CD or a film title on a label. No! This CD DVD label maker software will provide you so many different options for CD and DVD label making to assist you to design attractive labels. Plus, the CD DVD label creation software can also help to create CD and DVD cases and inserts with the help of our CD and DVD templates.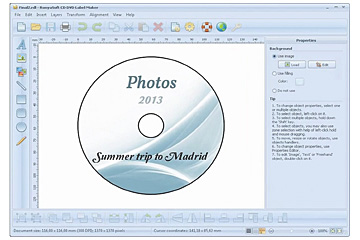 We also indicated this software was fantastic to use. Well, we realize that if you sense you are not 'tech-aware', when you have tried the RonyaSoft CD/DVD labels maker software, you will feel as confident as any professional graphic artist as you begin creation lots of CD, DVD and Blu-ray box covers, disc labels and Blu-Ray CD box inserts:
To automatically download the Blu-ray/CD/DVD labels creation software program, click on the 'Download' button.
Click on your chosen option from a great choice of preinstalled CD and DVD label templates.
Add any of your own design ideas to make the CD and DVD labels even more personal.
Click on the 'Print' button to start running off your unique CD and DVD printed label after you have entered Epson Stylus Photo R270 in to the print settings dialog. Don't forget to ensure that the latest printer driver is used.
Smile!
The RonyaSoft label making software instantly gives you and your Epson Stylus Photo R270 printer all you could desire for personalizing so many great CD or DVD gifts.
Anyone will tell you that a surprise with a personal touch, something thoughtful, will always be appreciated far more than something purchased, so you will have more than paid for your CD DVD label create software, as soon as you give someone a present.
Think about these fantastic options:
You're at a wedding and you take loads of un-staged photos or video clips of everyone looking cheerful and having a ball. Choose your finest, burn them on to a disc and give it to the bride and groom as a thank you for the invitation to their special day. They will remember you for the sweet and personal touch. And what did it cost you to produce one of the most kind gifts they will be given during their wedding? - The cost of a blank disc, two pieces of paper and a dash of ink from your Epson Stylus Photo R270 printer. Great huh?
Chose your best photos and snaps to create CD and DVD box covers and create disc labels.
Need to keep snaps cataloged? Put a topical photo on the compact disc label or DVD box cover.
It's safer to store all your pics on your computer or a memory stick, but create a fantastic label to put on a CD or create a CD case cover and insert and establish a physical library of all your memories.
Are you looking for a novel way to make you stand out when applying for work. Do you need to seem better from the rest of the competition. Do you need to shock your future employers with a showcase of yourself on a DVD with a professionally printed DVD label and printed DVD box designed for each application?
RonyaSoft CD DVD Label Designer is the ideal software add-on to use with your Epson Stylus Photo R270 printer so download it today and get those stylistic juices flowing!
CD DVD label creation software is compartible with Windows Platform, including Windows XP, Windows 2003, Windows7 and is compatible with a wide range of CD/DVD/Blu-ray label printers, including: Canon iP3000, Canon iP5000, Canon MG8140, Canon MG8220, Canon MX850, Epson PM-4000PX, Epson Stylus Photo PX800FW, Epson Stylus Photo R340, Epson Stylus Photo TX650, Epson Stylus Photo TX710W, HP Photosmart C5370, Rimage Everest II, Trace Affex CD-Artist and others.
CD DVD labels design software supports a wide range of CD/DVD/Blu-ray label papers, including: Americal EC313854, APLI 11704, Avery L6117, Boma LS001, Compulabel 375085, DeskTop Labels 3303-CD CD DVD Labels, HP CDX-8040E, LabelWhiz LW60360, Mirage CD DVD, Polyline CD458G, SureThing A4, Veriad VH585 587, Zweckform L7860 DVD and others.