Epson SureColor P400 printer
Epson SureColor P400 printer CD DVD tray layout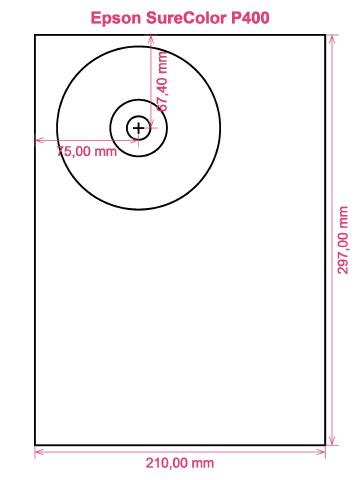 How to print labels on Epson SureColor P400 printer
It's after you have tried the RonyaSoft Blu-ray CD DVD Cover Maker that you should realize how utterly great it is to get fantastic prints - never again will you be afraid of failing to make the most of modern technology! Within no time at all of installing our Blu-ray CD DVD labeler software program you will be printing CD or DVD labels on your Epson SureColor P400 printer.
Whatever you do don't turn off there, as you may be missing the bigger reason behind this Blu-ray/CD/DVD label creation program. RonyaSoft haven't gone to such measures purely so you can print off a list of tracks on a CD or a film title on a label. No! This CD labels program will provide you so many alternatives for CD and DVD label creation to assist you to make attractive labels. More than that, the CD label making software can also assist you to make CD and DVD covers and case inserts utilising predesigned CD and DVD templates.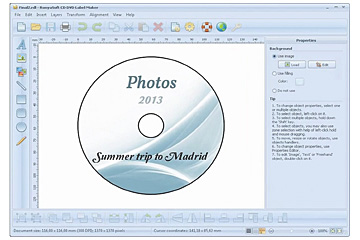 We also mentioned this software was great to work with. Well, we know that if you sense you are not 'tech-smart', after you have used the RonyaSoft CD DVD label maker program, you will feel as smart as any professional graphic artist when you start making loads of CD, DVD and Blu-ray covers, CD DVD labels and CD & DVD inserts:
Hit the 'Download' button and installation for the CD & DVD labeling program is automatic.
Try out one of the installed CD & DVD label and covers templates.
Add any of your own design ideas to print the CD or DVD label extremely personal.
Print the designed label by clicking the 'Print' button. Never forget to indicate your Epson SureColor P400 printer during the setup process and to download and use the latest free version of the driver.
Be proud of yourself for what you have printed off!
The RonyaSoft label making software uniquely gives you and your Epson SureColor P400 printer all you could need for personalizing so many great CD or DVD gifts.
Anyone will tell you that a present with a personal touch, something thoughtful, will normally be appreciated far more than something purchased, so you will have more than paid for your Blu-ray CD DVD label and cover design program, when you give someone a present.
Think about these for suggestions:
You're at a wedding and you take plenty of un-staged photos or video clips of all the guests looking happy and having a ball. Pick your finest, burn them on to a disc and give it to the bride and groom as a thank you for the invitation to their marriage. They will remember you for the thoughtful and personal touch. And what did it cost you to create one of the most kind presents they will be given during their wedding? - The cost of a blank disc, few pieces of paper and a splash of ink from your Epson SureColor P400 printer. Great huh?
Chose your nicest photos and pictures to make CD, DVD and Blu-ray covers or make CD DVD labels.
Do you enjoy being clever? Why not make new photos for the CD and DVD covers for your collection?
Memories shared can last longer - download your pics of a night out on to a disc and create a label, cover and insert, then give a copy to all who were present!
Make an one-off video for job applications and create an appealing case with a smart CD & DVD label to add the final touches.
RonyaSoft Blu-ray CD DVD Cover Maker is the ideal software addition to employ with your Epson SureColor P400 printer so download it now and get those stylistic juices flowing!
Blu-ray label printing program works on Microsoft Windows Operational System, including Windows XP, Windows 2003, Windows7 and is compatible with a wide range of CD/DVD/Blu-ray surface printers, including: Canon iP4000, Canon iP4870, Canon MG5450, Canon MP750, Epson Artisan 710, Epson Expression XP-800, Epson PM-G800, Epson Stylus Photo R260, Epson Stylus Photo RX580, EZ CD Print 4200, HP Photosmart C5580, HP Photosmart D5368, Yurex MantraJet 1100 and others.
Blu-ray label making program supports a wide range of CD/DVD/Blu-ray label providers, including: Americal 313911, APLI 10209, Boma BMS001-CLR CD DVD, Boma LS301-HIG CD DVD, CoolBeLa LS101HIG, Herma 5084 CD DVD Label, Kensington CD DVD 2-up, Label+ Offset CD DVD 118, Online Labels O6775, Printec AnyLabel L3771S L3773S, Veriad JP579 580 VH580-582, Zweckform J8770, Zweckform L7776 and others.