HP Photosmart C5383 printer
HP Photosmart C5383 printer CD DVD tray layout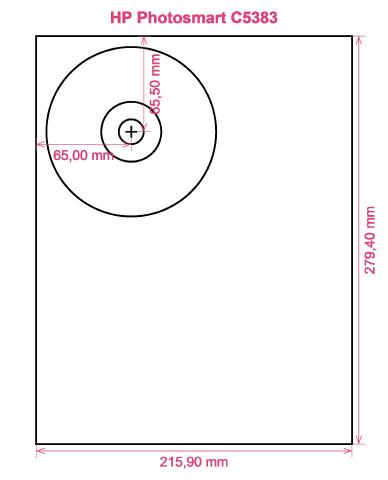 How to print labels on HP Photosmart C5383 printer
After you have only used the RonyaSoft CD & DVD Label Maker you can understand how simple and wonderful it is - 'user friendly' takes on a whole new understanding! Within seconds of swiftly downloading the CD & DVD label software program from the link below, you will be running off great CD and DVD labels using your HP Photosmart C5383 printer.
But that's not all that's useful with this brilliant CD labels design program. RonyaSoft may have made this software as easy as possible to use, but the outcome would suggest differently when you see the quality of printed CD or DVD labels. This CD and DVD label program has choices galore for making impressive labels! But for making CD and DVD labels isn't all when you know there are CD and DVD box inserts and box covers too and discover RonyaSoft have a batch of templates you can use.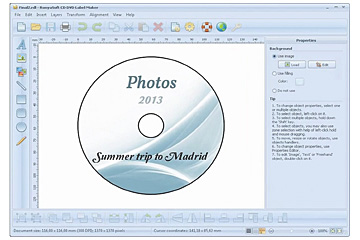 How simple do you need labeling to be? A few clicks of a mouse is enough for you to then be running off your own CD/DVD/Blu-ray labels, Blu-ray, CD or DVD box covers and CD & DVD box inserts. You don't require to be a genius to 'click' with this simple to download label printing software, just have a go and see for yourself!
To automatically get your CD DVD labels printing software program, click on the 'Download' button.
Pick out your favorite design from any of the great CD DVD label templates.
Alter the design of your label according to your wishes.
Print the designed label by clicking the 'Print' button. Don't forget to put in your HP Photosmart C5383 printer during the printing process and to download and use the latest free version of the driver.
Be proud of yourself for what you have printed off!
All it needs to turn your PC and HP Photosmart C5383 printer in to a little personal gift factory is a touch of imagination.
There is nothing sweeter than receiving a gift which demonstrates someone cares enough to make something unique for you. Save on costly shop-bought presents and with your first gift to someone special you will have covered the cost of your RonyaSoft CD DVD labeler program.
How about these wonderful ideas:
Life is all about memories, and several of the best ones we have are of family days spent together. Everyone has a camera and everyone has their own set of pictures, but what joy to make a assembly of the 'best of' photos from everyone and then run off a few copies on to a CD, create your own special labels and box covers using the RonySoft label printing software for CD's and DVD's and your HP Photosmart C5383 printer and post them as a unique gift to each member of the family who was present.
Use mood photos to make CD and DVD box covers or make CD/DVD/Blu-ray labels for your compilation CD's - thunder, sunshine, rain, a calm sea, a rainbow...
Want to keep photos cataloged? Put a appropriate photo on the CD label or DVD box cover.
Memories shared always last longer - download your photos of a party on to a disc and design a label, cover and insert, then give a copy to all who were there!
Make an unique video for employment applications and design an appealing case with a smart CD & DVD label to add the perfect touches.
The RonyaSoft CD & DVD Label Maker is superb for using with your HP Photosmart C5383 printer, so there's zero to stop you today from starting your own little print shop!
DVD labeller program runs on Microsoft Windows OS, including popular Windows 7 and Windows 8 versions and supports a wide range of CD DVD label printers, eg: Canon iP4820, Canon iP6000D, Canon MG5340, Canon MG8240, Epson Artisan 725, Epson Artisan 800, Epson Stylus Photo 1500W, Epson Stylus Photo R265, Epson Stylus Photo RX610, HP Photosmart C309c, HP Photosmart C5300 series, HP Photosmart Premium, Yurex MantraJet 1100 and others.
DVD labels design program supports a wide range of CD DVD label papers, eg: A-One F2A4H-3, 29173, 29174, Avery 8931, Belkin, CD LabelCorp CD DVD (5x10 sheet), CoolBeLa LS001HI, Diamond D7660S, IBM, Meritline, MicroApplication 5015 A4, ProLabel NJG4520, Unistat CD DVD 2-up, Z-Lable 05773, Zweckform L7678 and others.