Canon MP980 printer
Canon MP980 printer CD DVD tray layout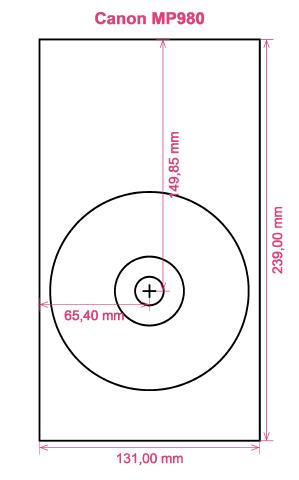 How to print labels on Canon MP980 printer
Once you have tried the RonyaSoft Blu-ray CD DVD Label Designer, simplicity will be the word that comes to mind - you will surely be amazed at how uncomplicated it is to download the labels creation software by clicking on the link below and within just a couple of minutes you will be printing fantastic CD or DVD labels on your Canon MP980 printer.
Whatever you do don't stop there, as you may be missing the bigger reason behind your new CD DVD labels making software. RonyaSoft haven't gone to such extremes just so you can print off a list of tracks on a CD or a film title on a label. No! This CD & DVD label software will provide you so many different options for Blu-ray, CD or DVD label design to assist you to create professional looking labels. More than that, the CD & DVD label making software can also assist you to make Blu-ray, CD or DVD covers and inserts with the help of our Blu-ray, CD or DVD templates.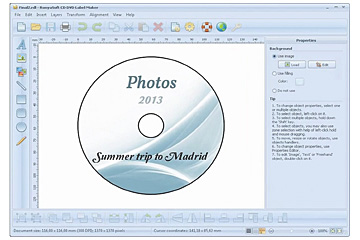 We also indicated this software was simple to use. Well, we realize that if you worry you are not 'tech-aware', once you have employed the RonyaSoft CD DVD labels creator software, you will feel as clever as any professional graphic artist as you start making lots of CD/DVD/Blu-Ray case covers, CD labels and Blu-Ray case inserts:
To automatically receive your CD and DVD labels making program, click on the 'Download' button.
Pick out your favorite design from any of the predesigned CD DVD label and cover templates.
Click on the 'Print' button to commence your unique CD printed labels after you have entered Canon MP980 in to the print settings dialog. Never forget to ensure that the latest printer driver is downloaded.
Be proud of yourself for what you have created!
The RonyaSoft label making software instantly gives you and your Canon MP980 printer so much you could need for personalizing so many great CD or DVD presents.
There is nothing better than being given a gift which demonstrates someone cares enough to make something individual for you. Save on costly shop-bought presents and with your first gift to someone special you will have covered the cost of your RonyaSoft CD DVD labeling software.
Try doing some of these:
Life is all about memories, and a few of the best ones we have are of family days spent together. Everyone has a camera and everyone has their own set of pictures, but what joy to make a collection of the 'best of' photos from everyone and then create a few copies on to a CD, create your own special labels and case covers using the RonySoft label printer for CD's and DVD's and your Canon MP980 printer and send them as a unique gift to each member of the family who was in attendance.
Chose your best photos and pics to create CD/DVD/Blu-Ray case covers or create CD labels.
Opt for a snap of your dog or cat on the cover and CD & DVD label so you can easily see which CD your pet's photos are all kept on.
What happens if you have your laptop and memory stick destroyed - where are all your photos stored? Make doubly certain you don't lose all treasured memories of those great days in your life - just print off some cool CD labels, burn your snaps on to a disc and store everything securely where you can see it.
Make an one-off video for employment applications and print an appealing case with a smart CD and DVD label to add the final touches.
How many blank CD's have you created with something on them, yet you can't remember what? These days are now over if you utilise the RonyaSoft Blu-ray CD DVD label print software program to quickly and effectively run off a few labels using your Canon MP980 printer.
Blu-ray label print software works on Microsoft Windows Operational System, including Windows XP, Windows Vista, Windows 8 and works with a wide range of CD DVD label printers, including: Brother MFC J835DW, Canon iP6700D, Canon MG5270, Canon MG8270, Canon MX850, Epson PM920C, Epson Stylus Photo PX720WD, Epson Stylus Photo R230, Epson Stylus Photo RX700, EZ CD Print 4200, HP Photosmart C5370, HP Photosmart D5155, Yurex MantraJet 1100 and similar.
Blu-ray labels creator software supports a wide range of CD DVD label stocks, including: Ace 61400 series, APLI 10166, Avery J8777, CD Stomper 2-up CD DVD with Center Labels, Data Becker 3-up, Herma, Imation Sonix CD DVD, Meritline, NCR 904067, Printer Creations, ScanMos 960031, Zweckform C6074, Zweckform L7860 DVD and similar.