Canon iP6000D printer
Canon iP6000D printer CD DVD tray layout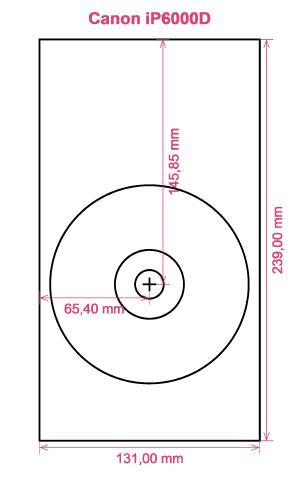 How to print labels on Canon iP6000D printer
It's after you have used the RonyaSoft CD DVD Cover Maker that you will realize how really easy it is to operate great prints - gone are the days when you be afraid of being unable to make the most of modern technology! Within moments of starting to use our CD DVD labels software program you can be printing Blu-Ray CD DVD labels on your Canon iP6000D printer.
However that's not all that's useful with this brilliant CD/DVD labels design software. RonyaSoft may have made this software as obvious as possible to use, but the outcome would suggest differently when you see the standard of printed CD or DVD labels. This Blu-ray, CD or DVD label creator software has choices galore for printing impressive labels! However for printing Blu-ray, CD or DVD labels and covers isn't all when you know you'll need Blu-ray, CD or DVD inserts and covers too and discover RonyaSoft have a load of templates you can use.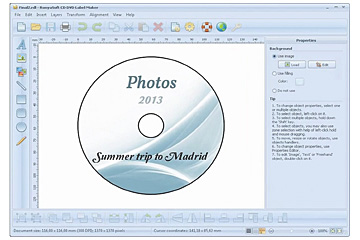 How simple do you like label making to be? A few clicks of a mouse is enough for you to then be printing your own Blu-ray labels, CD, DVD and Blu-ray covers and Blu-Ray CD inserts. You don't need to be a tech 'nerd' to 'click' with this simple to download label printing software, just try it and see for yourself!
To automatically receive your CD DVD labels design program, click on the 'Download' button.
Choose one of the installed CD DVD label and cover templates.
Start printing your specially designed CD and DVD label after clicking the 'Print' button, after identifying your Canon iP6000D as the proper printer being used. Try to download the latest free driver updates.
Be proud of yourself for what you have produced!
Everything you need to turn your PC and Canon iP6000D printer in to a busy personal gift factory is a touch of imagination.
Have you ever noticed how a personally made gift really matters to someone you love? Why spend money on costly presents that anyone can buy, when with the RonyaSoft CD DVD label and cover create software, you can save a fortune on gifts and become ten times more thoughtful?
Try doing some of these:
You are at your brother or sister's eighteenth. It is an incredibly special day in their life and one they will fondly think about when they get older. What more clever way to help them reminisce about their special event than for you to take hundreds of pictures and video clips of the event, from start to finish, put them all on a CD or DVD and present it to them as an individual way of saying how proud you are of them. It will complete the day for them and it will have cost you next to nothing, save for a few bits of paper, a blank CD or DVD and a splash of ink from your Canon iP6000D printer.
Use vibrant images and pics to to design CD, DVD and Blu-ray covers or design Blu-ray labels to easily identify your CD's and DVD's.
Choose a photo of your canine or cat on the cover and CD and DVD label so you can easily spot which CD your pet's photos are all compiled.
Memories shared usually last longer - download your pics of a party on to a DVD and print a label, cover and insert, then present to all who were attending!
Are you seeking a novel way to make you stand out when applying for jobs. Do you need to seem better from the rest of the applicants. Do you have to impress your future employers with a presentation of yourself on a DVD with a classy printed DVD insert and printed DVD cover specifically for each application?
How many blank CD's have you created with music on them, but you can't remember what? These days are now long gone as you utilise the RonyaSoft CD DVD label print software to rapidly and easily run off a few labels on your Canon iP6000D printer.
CD label design software is compartible with Windows OS, including latest Windows 7 and Windows 8 versions and is compatible with a wide range of CD DVD label printers, including: Canon iP4000, Canon iP5200, Canon MG8120, Canon MP780, Canon MP950, Epson PM-900C, Epson Stylus Photo 2200, Epson Stylus Photo R310, Epson Stylus Photo T50, Epson Stylus Photo TX800FW, HP Photosmart C5324, HP Photosmart D5468, Trace Affex CD-Artist and others.
CD labels create software supports a wide range of CD DVD label stocks, including: Ace 61300 series, Avery 8942, Avery Maxell C95361, Boma LS101, CoolBeLa BMS001-CLR CD DVD, Emtec 345202, Kensington CD DVD 2-up, LabelGear Bulk CD DVD 81312, Pelikan 406903 3-up, ProLabel CD458, Smart Label Model Q, Zweckform C6074, Zweckform L7760 and others.