Epson Expression XP-610 printer
Epson Expression XP-610 printer CD DVD tray layout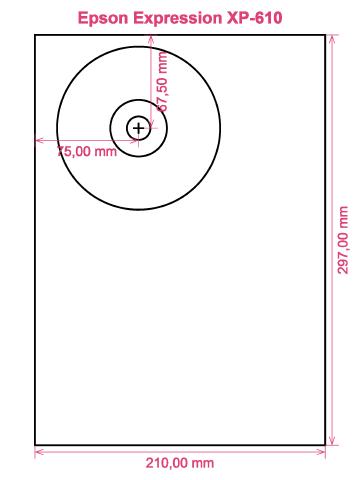 How to print labels on Epson Expression XP-610 printer
After you have tried the RonyaSoft DVD Label Maker, easy will be the word that springs to mind - you'll surely be amazed at how quick it is to download the label design software program by clicking on the link on this page and within just a couple of moments you will be producing brilliant CD or DVD labels on your Epson Expression XP-610 printer.
Wait as there's plenty to this Blu-ray, CD or DVD labeling software than instantly meets the eye. Simple and easy to use doesn't mean simple results, but more professional looking Blu-ray, CD or DVD labels than you would expect. This disk label software gives you masses of choices and has plenty of Blu-ray, CD or DVD label and cover templates already installed, not just for creating CD and DVD labels, but also Blu-ray, CD or DVD covers and inserts to round off the professional look.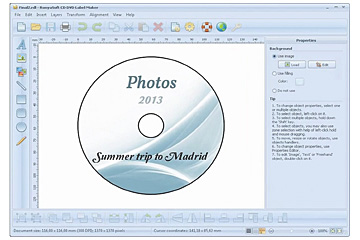 How simple do you want your label making to be? A few clicks of a mouse is enough for you to then be producing your own DVD labels, Blu-ray, CD or DVD covers and CD/DVD inserts. You don't have to be a tech 'nerd' to 'click' with this simple to download label creation software, just try it and see for yourself!
Click on the 'Download' button and installation for the Blu-ray/CD/DVD labeling software is automatic.
Try out one of the predesigned Blu-ray/CD/DVD label and covers templates.
Add any of your own design ideas to make the CD or DVD label even more personal.
Start printing your specially designed DVD or CD label after clicking the 'Print' button, after identifying your Epson Expression XP-610 as the proper printer being used. Always download the latest free driver updates.
Enjoy!
All it needs to turn your PC and Epson Expression XP-610 printer in to a little personal gift factory is a touch of imagination.
Have you ever noticed how a personally made gift really matters to someone you like? Why spend money on costly presents that anyone can buy, when with the RonyaSoft DVD label create software, you can save a fortune on gifts and become ten times more thoughtful?
What about these for ideas:
You are at your brother or sister's twenty-first birthday. It is an incredibly special moment in their life and one they will forever look back on when they become older. What better way to assist them reminisce about their special event than for you to take lots of pictures and video clips of the event, from start to finish, insert them all on a CD DVD and present it to them as a unique way of showing how proud you are of them. It will make the day for them and it will have cost you next to nothing, save for two bits of paper, a blank CD DVD and a dash of ink from your Epson Expression XP-610 printer.
Use scenic photos to make Blu-ray, CD or DVD covers and make DVD labels for your compilation CD's - thunder, sunshine, rain, a calm sea, a rainbow...
Do you like being practical? Why not create new styles for the CD & DVD covers for your collection?
What a disaster if you have your laptop and memory stick damaged - where are all your photos kept? Make extra safe you don't lose all treasured memories of those moments in your life - just print off some cool CD labels, burn your pics on to a disc and store everything securely where you can see it.
Keen to stand out from the throng when anxiously attempting to impress even before you have been offered a job interview? Create a fantastic looking DVD rounded off with printed box cover, printed insert and printed label to make a great impression.
The RonyaSoft DVD Label Maker is superb for using with your Epson Expression XP-610 printer, so there's nobody to stop you today from commencing your own ideal print shop!
CD DVD label creation software supports Windows Platform, including Windows XP, Windows 2003, Windows7 and works with a wide range of CD DVD label printers, including: Canon iP4600, Canon MG5220, Canon MG5370, Canon MG8150, Epson Artisan 1430, Epson PM-870C, Epson Stylus Photo 1500W, Epson Stylus Photo R260, Epson Stylus Photo R350, HP Photosmart C5270, HP Photosmart C5388, HP Photosmart Premium, Yurex MantraJet 1050 and others.
CD DVD label creation software supports a wide range of CD DVD label suppliers, including: Ace 50400 series, APLI 10044, Avery Maxell J87361, CD Stomper A4 matt white CD DVD Labels, CoolBeLa LS101HI, Emerald 5511 650 TC CD DVD, Hisago LP844S, Meritline, Neato CD DVD Complete, ProLabel CD414, Smart Label Model Q, Z-Lable 05773, Zweckform L7860 DVD and others.