Canon MG8130 printer
Canon MG8130 printer CD DVD tray layout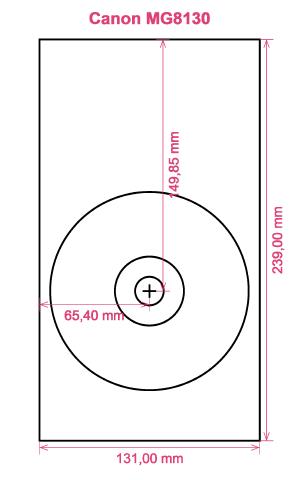 How to print labels on Canon MG8130 printer
When you have only used the RonyaSoft CD DVD Label Maker you can understand how simple and easy it is - 'user convenient' takes on a completely new understanding! Within just a couple of minutes of swiftly downloading the CD DVD label software after using the download link, you will be printing off fantastic Blu-Ray CD DVD labels using your Canon MG8130 printer.
Hold on as there's loads to this Blu-ray, CD or DVD labeling software than instantly meets the eye. Simple and easy to use doesn't produce simple prints, but more professional style Blu-ray, CD or DVD labels than you would expect. This compact disc labels maker software gives you masses of choices and has plenty of Blu-ray, CD or DVD label and cover templates already installed, not just for printing CD and DVD labels, but also Blu-ray, CD or DVD covers and inserts to round off the professional look.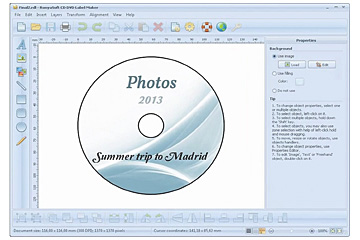 We also indicated this software was great to use. Well, we understand that if you feel you are not 'tech-smart', when you have tried the RonyaSoft CD & DVD labels maker software, you will feel as clever as any professional graphic artist as you begin making plenty of Blu-ray, CD or DVD covers, disc labels and CD DVD inserts:
To automatically download the CD & DVD labels making software, click on the 'Download' button.
Try out one of the designed CD & DVD label and cover templates.
Change the design of a label according to your liking.
Print the new label by clicking the 'Print' button. Do not forget to indicate your Canon MG8130 printer during the design process and to install the latest free version of the driver.
Smile!
The RonyaSoft label making software uniquely gives you and your Canon MG8130 printer so much you could want for personalizing so many great CD or DVD gifts.
Have you ever noticed how a personally made gift really matters to someone you adore? Why spend money on pricey, presents that anyone can buy, when with the RonyaSoft CD DVD label and cover making software, you can save a fortune on gifts and appear ten times more thoughtful?
Think about these great options:
Life is all about memories, and several of the greatest ones we have are of family days spent together. Everyone has a camera and everyone has their own set of pictures, but what excitement to make a collection of the 'best of' photos from everyone and then print a few copies on to a CD, create your own special labels and covers using the RonySoft label printing software for CD's, DVD's and Blu-rays and your Canon MG8130 printer and give them as a memorable gift to each member of the family who was in attendance.
Use vibrant images and photos to to create CD & DVD covers or create disc labels to easily spot your CD's and DVD's.
Opt for a pic of your pooch or cat on the cover and CD or DVD label so you can easily identify which CD your pet's photos are all compiled.
Memories shared can last longer - download your snaps of a do on to a CD and design a label, cover and insert, then present to all who were attending!
Keen to stand out from the crowd when anxiously wanting to impress even before you have been offered a job interview? Make a superb looking DVD rounded off with printed box cover, printed insert and printed label to make a brilliant memorable impression.
How many blank CD's have you created with music on them, but you can't remember what? These days are now in the past as you try the RonyaSoft CD DVD labeling software program to quickly and efficiently run off a few labels on your Canon MG8130 printer.
DVD label creation software supports Windows OS, including popular Windows 7 and Windows 8 versions and works with a wide range of CD/DVD/Blu-ray label printers, eg: Canon iP4720, Canon iP6600D, Canon MG6170, Canon MG8240, Canon MP950, Epson PM-930C, Epson PM-G800, Epson Stylus Photo R2000, Epson Stylus Photo R800, EZ CD Print C60, HP Photosmart C5580, Primera Signature, Yurex MantraJet 1050 and others.
DVD labels creator software supports a wide range of CD/DVD/Blu-ray label papers, eg: Ace 60025 series, Avery 8944, Boma BMS002HI CD DVD, Boma LS301-HIG CD DVD, Data Becker, Hisago CJ2846S CD DVD (A5), JP CD DVD 3-up, Media Food Universal, Online Labels O9325, Polyline MCD450W, ScanMos 960031, Zweckform L6043, Zweckform L7776 and others.