HP Photosmart C5370 printer
HP Photosmart C5370 printer CD DVD tray layout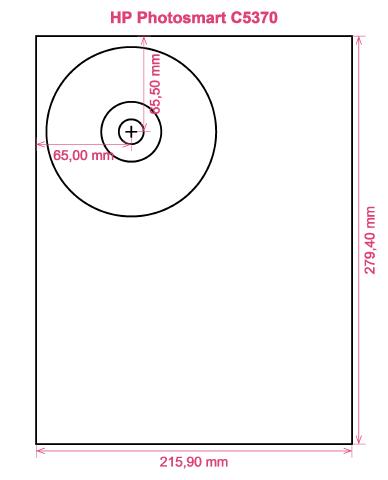 How to print labels on HP Photosmart C5370 printer
It's after you have had a go with the RonyaSoft DVD Label Maker that you will realize how really simple it is to operate brilliant prints - no longer will you have any fears of not being able to make the most of modern technology! Within moments of installing our DVD labeler software program you can be printing CD and DVD labels on the HP Photosmart C5370 printer.
However that's not all that's useful with this fantastic CD/DVD label printing program. RonyaSoft may have made it all as easy as possible to use, but the results would suggest differently when you see the quality of printed CD or DVD labels. This CD and DVD label creator program has choices galore for making impressive labels! However for making CD and DVD labels isn't all when you know you can make CD and DVD box inserts and box covers too and notice RonyaSoft have a selection of templates you can use.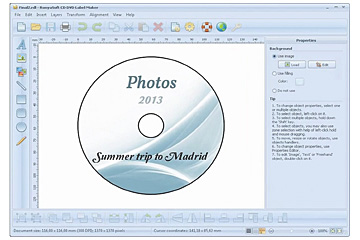 We also mentioned this software was simple to use. Well, we know that if you sense you are not 'tech-savvy', once you have used the RonyaSoft CD & DVD label creator program, you will feel as smart as any professional graphic artist as you start making plenty of CD, DVD and Blu-ray box covers, CD/DVD/Blu-ray labels and Blu-Ray CD box inserts:
Download and install CD and DVD Label & Cover Maker software program for free to try.
Choose one of the predesigned CD and DVD label and covers templates.
Add any of your own design ideas to make the CD or DVD label even more personal.
Start printing your specially designed DVD or CD label after clicking the 'Print' button, after identifying your HP Photosmart C5370 as the proper printer being used. Always use the latest free driver updates.
Smile!
The RonyaSoft label making software instantly gives you and your HP Photosmart C5370 printer everything you could want for personalizing so many great CD or DVD presents.
There is nothing nicer than being given a gift which demonstrates someone cares enough to make something unique for you. Save on costly shop-bought presents and with your first gift to someone special you will have covered the cost of your RonyaSoft CD & DVD labeller program.
What about these fantastic ideas:
You're at a wedding and you take loads of un-staged photos or video clips of everyone looking relaxed and having a ball. Pick your favorites, burn them on to a disc and post it to the bride and groom as a thank you for the invitation to their special day. They will adore you for the kind and personal touch. And what did it cost you to create one of the most unique presents they will get during their wedding? - The money for a blank disc, two pieces of paper and a splash of ink from your HP Photosmart C5370 printer. Great huh?
Chose your nicest photos and pictures to make CD/DVD box covers or make CD/DVD/Blu-ray labels.
Do you like being clever? Why not create new photos for the CD & DVD covers for your collection?
It's safer to store all your snaps on your computer or a memory stick, but create a fantastic label to put on a CD or create a CD case cover and insert and establish a physical library of all your memories.
Make an one-off video for work applications and create a professional looking box with a smart CD and DVD label to add the perfect touches.
How many blank CD's have you got with music on them, yet you can't remember what? These days are now long gone when you utilise the RonyaSoft DVD label create software program to swiftly and efficiently run off a few labels on your HP Photosmart C5370 printer.
CD DVD label printing program supports Windows OS, including latest Windows 7 and Windows 8 versions and is compatible with a wide range of CD/DVD/Blu-ray surface printers, including: Canon iP4000R, Canon iP4910, Canon MG5270, Canon MG8270, Epson Artisan 700, Epson Expression XP-800, Epson Stylus Photo PX710W, Epson Stylus Photo R260, Epson Stylus Photo RX595, HP Photosmart C309c, HP Photosmart D5145, HP Photosmart D5300 series, Trace Affex CD-Artist and similar.
CD DVD label printing program supports a wide range of CD/DVD/Blu-ray labels, including: Allsop DiscID, APLI 10294, Avery Maxell MJ-CD17S-5, CD Stomper Pro 2-up CD DVD Core, DECAdry OLW-4797, Hisago CJ2847S, Hovat, Meritline US CD DVD 2-up with Spines, Office Depot CD DVD Jewel Case, Printer Creations, Tinlex TL-Label-3A, Zweckform J8570, Zweckform L7760 and similar.