Primera Bravo printer
Primera Bravo printer CD DVD tray layout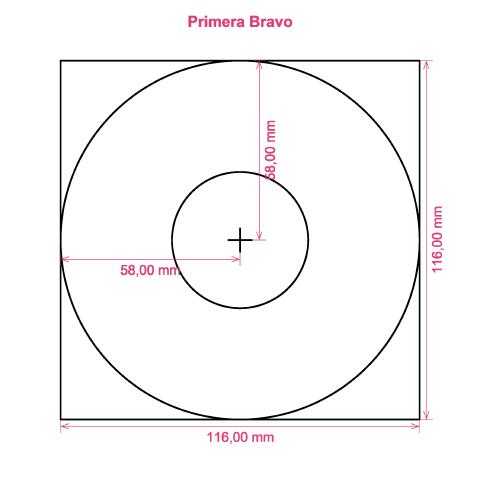 How to print labels on Primera Bravo printer
After you have actually used the RonyaSoft CD & DVD Label Maker you will understand how effective and straightforward it is - 'user convenient' takes on a whole new understanding! Within seconds of installing the CD & DVD labeling software programme after using the download link, you can be making CD or DVD labels and covers with your Primera Bravo printer.
However that's not all that's on offer with this exceptional CD/DVD labels printing program. RonyaSoft may have made this software as simple as possible to use, but the prints would suggest differently when you see the impressiveness of printed CD and DVD labels. This Blu-ray, CD or DVD label printer program has options galore for making professional and classy labels! However for making Blu-ray, CD or DVD labels isn't all when you know there are Blu-ray, CD or DVD case inserts and case covers too and discover RonyaSoft have a selection of templates you can use.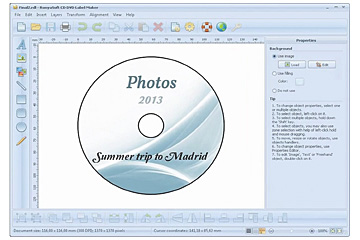 Concerning easy to use, well 'user-friendly' became even more friendly. Just follow the directions to discover how simple, yet effective and professional results will be when you commence to design Blu-ray, CD or DVD case covers, Blu-ray labels and CD DVD case inserts:
Highlight the 'Download' button and installation for the Blu-ray/CD/DVD labeling software program is automatic.
Opt for your favorite design from any of the predesigned CD DVD label templates.
Start printing your individual CD and DVD label after clicking the 'Print' button, after selecting your Primera Bravo as the right printer being used. Always use the latest free driver updates.
Smile!
The RonyaSoft label making software instantly gives you and your Primera Bravo printer all you could desire for personalizing so many great CD or DVD presents.
Have you ever noticed how a personally made gift really matters to someone you adore? Why spend money on costly presents that anyone can buy, when with the RonyaSoft CD & DVD label and cover create program, you can save a fortune on gifts and seem ten times more thoughtful?
How about these for ideas:
You are at your brother or sister's twenty-first birthday. It is an incredibly special moment in their life and one they will fondly remember when they are older. What more clever way to assist them reminisce about their special event than for you to take hundreds of pictures and video clips of the event, from start to finish, set them all on a CD, DVD or Blu-ray and present it to them as your own way of showing how proud you are of them. It will enhance the day for them and it will have cost you next to nothing, save for a couple bits of paper, a blank CD, DVD or Blu-ray and a dash of ink from your Primera Bravo printer.
Use emotive photos to create CD/DVD case covers and create Blu-ray labels for your compilation CD's - thunder, sunshine, rain, a calm sea, a rainbow...
Do you like being creative? Why not design new images for the CD & DVD covers for your collection?
Memories shared always last longer - download your snaps of a do on to a DVD and make a label, cover and insert, then send to all who were there!
Make an one-off video for job applications and make a professional looking box with a smart CD DVD label to add the final touches.
The RonyaSoft CD & DVD Label Maker is excellent for using with your Primera Bravo printer, so there's zero to stop you instantly from commencing your own ideal print shop!
Blu-ray labelling program runs on Microsoft Windows Platform, including Windows XP, Windows Vista, Windows 7 and supports a wide range of CD/DVD/Blu-ray label printers, eg: Canon iP4500, Canon iP4870, Canon MG6350, Canon MP750, Canon MP980, Epson Expression XP-600, Epson Stylus Photo PX720WD, Epson Stylus Photo R290, Epson Stylus Photo RX700, EZ CD Print C60, HP Photosmart C5373, HP Photosmart D5168, Yurex MantraJet 1050 and similar.
Blu-ray labels design program supports a wide range of CD/DVD/Blu-ray label providers, eg: APLI 10042, APLI 10329, Avery L6015, CD Stomper 2-up CD DVD with Center Labels, DECAdry OLW-4824 CD DVD (old format), DeskTop Labels 9902L-CD CD DVD Labels, Label+ 2-up CD DVD & ZIP, Maxell J8761, PC Line, Polyline UZCD458IG, Staples, Zweckform J8570, Zweckform L6117 and similar.