Canon iP4600 printer
Canon iP4600 printer CD DVD tray layout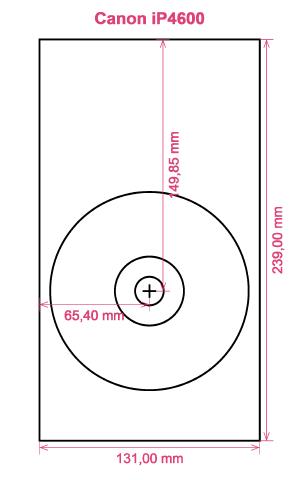 How to print labels on Canon iP4600 printer
Once you have tried the RonyaSoft CD & DVD Label Designer, brilliant! will be the word that springs to mind - you will surely be thrilled at how quick it is to download the labels printing software by clicking on the link on this page and within just a couple of ticks you will be producing professional-looking CD and DVD labels and covers on your Canon iP4600 printer.
Wait as there's plenty to this Blu-ray, CD or DVD label software than first meets the eye. Simple and easy to use doesn't mean simple results, but more professional looking Blu-ray, CD or DVD labels than you would expect. This disk labels creator software gives you loads of choices and has loads of Blu-ray, CD or DVD label and cover templates already installed, not just for making CD and DVD labels, but also CD, DVD & Blu-ray covers and inserts to round off the professional look.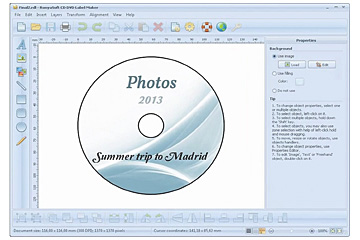 Concerning easy to use, well 'user-friendly' just got even more friendly. Just read the directions to discover how simple, yet clean and professional results will be when you commence to design CD/DVD covers, CD/DVD/Blu-ray labels and Blu-Ray CD inserts:
Click on the 'Download' button and installation for the CD & DVD label software is automatic.
Opt for one of the designed CD & DVD label and cover templates.
Add any of your own design ideas to make the CD /DVD/Blu-ray labels really personal.
Print the designed label by clicking the 'Print' button. Never forget to indicate your Canon iP4600 printer during the setup process and to download and use the latest free version of the driver.
Smile!
All it needs to turn your PC and Canon iP4600 printer in to a little personal gift factory is a little imagination.
There is nothing nicer than getting a gift which indicates someone cares enough to make something unique for you. Save on costly shop-bought presents and with your first gift to someone special you will have covered the cost of your RonyaSoft CD & DVD label software.
Think about these for ideas:
You're at a wedding and you take plenty of un-staged photos or video clips of everyone looking cheerful and having a great time fun. Pick your finest, burn them on to a disc and post it to the bride and groom as a thank you for the invitation to their wedding. They will adore you for the sweet and personal touch. And what did it cost you to produce one of the most kind presents they will have received during their wedding? - The money for a blank disc, a couple of pieces of paper and a drop of ink from your Canon iP4600 printer. Great huh?
Chose your nicest photos and pictures to print CD/DVD covers and print CD/DVD/Blu-ray labels.
Do you enjoy being clever? Why not make new photos for the CD or DVD covers for your collection?
What occurs if you have your laptop and memory stick damaged - where are all your photos stored? Make doubly safe you don't lose all stored memories of those great days in your life - just print off some cool CD and DVD labels, burn your photos on to a disc and keep everything safely where you can see it.
Are you seeking a new way to make you stand out when applying for employment. Do you want to seem better from the rest of the them. Do you want to impress your potential employers with a showcase of yourself on a DVD with a professionally printed DVD label and printed DVD box specifically for each application?
RonyaSoft CD & DVD Label Designer is the perfect software extra to operate with your Canon iP4600 printer so download it now and get those imaginative creative juices flowing!
CD DVD label maker software supports Microsoft Windows Platform, including Windows XP, Windows Vista, Windows 8 and works with a wide range of disc surface printers, including: Canon iP4750, Canon iP6700D, Canon MG5310, Canon MP600, Epson Artisan 730, Epson Expression XP-800, Epson Stylus Photo 960, Epson Stylus Photo R320, Epson Stylus Photo RX685, HP Photosmart C5250, HP Photosmart C5280, Primera Bravo, Trace Affex CD-Artist and similar.
CD DVD labels design software supports a wide range of disc label stocks, including: Americal 313911, Avery 8960, Boma LD001, CD Stomper Pro 2-up CD DVD Core, CoolBeLa LD001-HI, Global Star CD DVD (5x9 sheet), HP CDR6000A 3-up, LabelGear Bulk CD DVD 81312, Plain Paper 2-up, PrintWorks 00495 CD DVD Label, Sanwa LB-CDR010 CD DVD, Zweckform 3654 6015, Zweckform L7760 and similar.