Epson Stylus Photo PX660 printer
Epson Stylus Photo PX660 printer CD DVD tray layout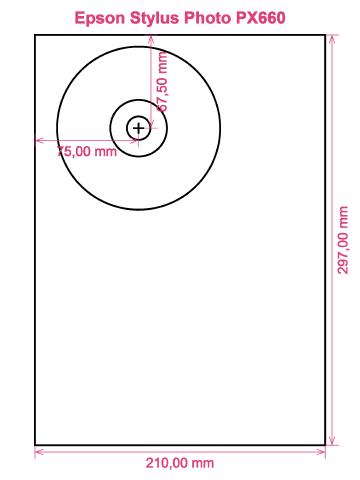 How to print labels on Epson Stylus Photo PX660 printer
After you have correctly used the RonyaSoft CD Label Maker you will willyou realize how effective and easy it is - 'user friendly' takes on a whole new understanding! Within seconds of swiftly downloading the CD labelling software program after using the download link, you can be producing CD and DVD labels and covers on your Epson Stylus Photo PX660 printer.
Yet that's not all that's available with this brilliant DVD labels printing software. RonyaSoft may have made everything as obvious as possible to use, but the outcome would suggest differently when you see the impressiveness of printed CD or DVD labels. This CD, DVD & Blu-ray label software has ideas galore for making professional and classy labels! Yet for making CD, DVD & Blu-ray labels and covers isn't all when you know you can make CD, DVD & Blu-ray box inserts and box covers too and realize RonyaSoft have a load of templates you can use.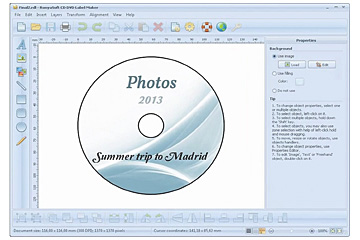 How clever do you want your labeling to be? A few clicks of a mouse is enough for you to then be producing your own CD labels, CD & DVD box covers and DVD box inserts. You don't require to be a genius to 'click' with this simple to download label design software, just try it and see for yourself!
To automatically download the CD DVD labels creation program, click on the 'Download' button.
Choose your favorite design from any of the great CD DVD label and covers templates.
Start printing your individual DVD or CD label after clicking the 'Print' button, after selecting your Epson Stylus Photo PX660 as the correct printer being used. Always download the latest free driver updates.
Be proud of yourself for what you have printed off!
Enhance the potential of your computer and Epson Stylus Photo PX660 printer where you can now run off a fantastic array of CD DVD labels, box inserts and box covers, to make lovely surprises.
There is nothing sweeter than getting a gift which demonstrates someone cares enough to make something special for you. Save on costly shop-bought presents and with your first gift to someone special you will have covered the cost of your RonyaSoft CD & DVD labeling software.
Think about these fantastic ideas:
You are at your brother or sister's graduation. It is an incredibly special moment in their life and one they will always think about when they are older. What more clever way to aid them reminisce about their special day than for you to take lots of pictures and video clips of the day, from start to finish, put them all on a CD DVD and give it to them as a unique way of showing how proud you are of them. It will complete the day for them and it will have cost you next to nothing, save for a few bits of paper, a blank CD DVD and a dash of ink from your Epson Stylus Photo PX660 printer.
Chose your nicest photos and pictures to design CD, DVD and Blu-ray box covers or design CD labels.
Use a pic of your canine or cat on the cover and CD & DVD label so you can easily identify which CD your pet's photos are all compiled.
What happens if you have your laptop and memory stick stolen - where are all your photos kept? Make extra sure you don't lose all stored memories of those moments in your life - just print off some cool CD DVD labels, burn your pics on to a disc and store everything securely where you can see it.
Are you looking for a new way to make you stand out when applying for work. Do you want to seem superior from the rest of the them. Do you need to impress your future employers with a presentation of yourself on a DVD with a classy printed DVD label and printed DVD cover designed for each application?
The RonyaSoft CD Label Maker is excellent for using with your Epson Stylus Photo PX660 printer, so there's nothing to stop you today from becoming your own brilliant print shop!
Blu-ray label printing software works on Microsoft Windows Platform, including Windows XP, Windows Vista, Windows 7 and is compatible with a wide range of CD DVD label printers, eg: Brother MFC J835DW, Canon MG5250, Canon MG5320, Canon MG8240, Canon MP970, Epson Artisan 800, Epson Stylus Photo PX700W, Epson Stylus Photo R230, Epson Stylus Photo R350, HP Photosmart C309 series, HP Photosmart C5540, HP Photosmart D5168, Trace Affex CD-Artist and similar.
Blu-ray labels maker software supports a wide range of CD DVD label providers, eg: Americal EC313854, Avery 5691, Avery Maxell C95361, Compulabel 312636, Custom Paper, DECAdry OLW-4900, HP 3-up, LabelWhiz LW61200, Plain Paper, Printasia, Uline SP0028, Worldlabel WL-OL5050, Zweckform L6117 and similar.