Canon TS9000 Series printer
Canon TS9000 Series printer CD DVD tray layout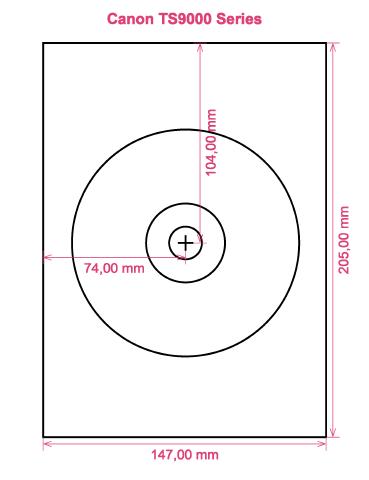 How to print labels on Canon TS9000 Series printer
When you have actually used the RonyaSoft CD Label Maker you will willyou realize how effective and wonderful it is - 'user friendly' takes on a whole new meaning! Within just a couple of minutes of downloading the CD labels software program by clicking on the link, you will be running off fantastic CD and DVD labels on your Canon TS9000 Series printer.
Whatever you do don't turn off there, as you may not see the larger point of this Blu-ray/CD/DVD labels making program. RonyaSoft haven't gone to such extremes purely so you can print off a list of tracks on a CD or a film title on a label. No! This CD DVD labels designer program will provide you so many different options for Blu-ray, CD or DVD label printing to assist you to design attractive labels. More than that, the CD DVD label making software can also assist you to make Blu-ray, CD or DVD covers and box inserts utilising predesigned Blu-ray, CD or DVD templates.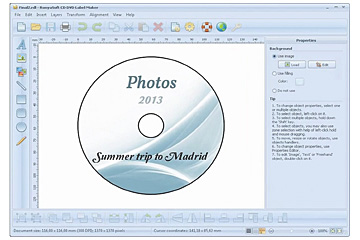 How simple do you want your label creation to be? A few clicks of a mouse is enough for you to then be producing your own Blu-ray labels, CD/DVD/Blu-Ray covers and CD DVD inserts. You don't have to be a boffin to 'click' with this simple to download labels making software, just have a go and see for yourself!
Download and install CD & DVD Label Maker software for free to try.
Choose one of the predesigned CD & DVD label and cover templates.
Start printing your individual DVD or CD label after clicking the 'Print' button, after identifying your Canon TS9000 Series as the proper printer being used. Always download the latest free driver updates.
Smile!
Everything you need to turn your PC and Canon TS9000 Series printer in to a little personal gift factory is a little imagination.
There is nothing sweeter than getting a gift which demonstrates someone cares enough to make something individual for you. Save on costly shop-bought presents and with your first gift to someone special you will have covered the cost of your RonyaSoft CD DVD labeler program.
How about these for possibilities:
You are at your brother or sister's eighteenth. It is an incredibly special moment in their life and one they will fondly look back on when they become older. What smarter way to assist them reminisce about their special day than for you to take loads of pictures and video clips of the day, from start to finish, put them all on a CD or DVD and offer it to them as your own way of demonstrating how proud you are of them. It will complete the day for them and it will have cost you next to nothing, save for two bits of paper, a blank CD or DVD and a splash of ink from your Canon TS9000 Series printer.
Use jazzy images and photos to to create CD/DVD/Blu-Ray covers and create Blu-ray labels to easily identify your CD's and DVD's.
Use a snap of your dog or cat on the cover and CD or DVD label so you can easily identify which CD your pet's photos are all compiled.
It's simple to store all your pics on your computer or a memory stick, but make a picturesque label to put on a CD or create a CD case cover and insert and establish a physical library of all your memories.
Need to stand out from the crowd when anxiously attempting to impress even before you have been offered a job interview? Make a superb looking CD DVD rounded off with printed box cover, printed insert and printed label to make a great impression.
How many blank CD's have you got with pictures on them, yet you can't remember what? These days are now over if you use the RonyaSoft CD label print software to quickly and effectively run off a few labels with your Canon TS9000 Series printer.
CD DVD labeling program supports Microsoft Windows Platform, including Windows XP, Windows 2003, Windows7 and works with a wide range of CD DVD label printers, including: Canon i9950, Canon MG5240, Canon MG6150, Canon MG8240, Epson Artisan 50, Epson Expression XP-605, Epson Stylus Photo 1400, Epson Stylus Photo R280, Epson Stylus Photo R360, Epson Tray Type #2, HP Photosmart C5293, HP Photosmart D5463, Yurex MantraJet 1150-XL and similar.
CD DVD labels maker program supports a wide range of CD DVD labels, including: APLI 10041, Avery 5694, Avery J8776, Compulabel 312636, DECAdry OLW-4824, Herlitz A4, HP CDX-8040A, LabelWhiz LW60460, Neato CD DVD Plus, PressIt, Veriad JP579 580 VH580-582, Zweckform J8776, Zweckform L7760 and similar.