Epson Stylus Photo R285 printer
Epson Stylus Photo R285 printer CD DVD tray layout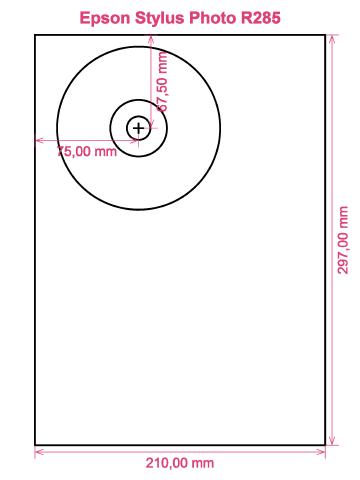 How to print labels on Epson Stylus Photo R285 printer
Only when you have had a go with the RonyaSoft CD DVD Label Designer that you should realize how incredibly easy it is to get fantastic results finishes - no longer will you have any fears of failing to make the most of modern technology! Within moments of installing your CD DVD labels software you should be printing Blu-Ray CD DVD labels on the Epson Stylus Photo R285 printer.
Don't stop there though as there's much more to this CD and DVD labeling software than instantly meets the eye. Simple and easy to use doesn't create simple results, but more professional style CD and DVD labels than you would expect. This CD labels creator software gives you masses of choices and has so many choices of CD and DVD label and cover templates already installed, not just for making CD/DVD/Blu-ray labels, but also Blu-ray, CD or DVD covers and inserts to round off the professional look.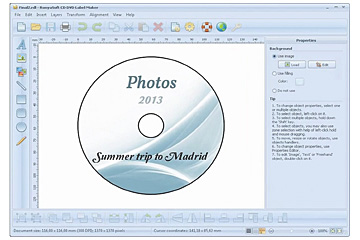 How simple do you want your label creation to be? A few clicks of a mouse is enough for you to then be running off your own CD labels, CD/DVD/Blu-Ray covers and Blu-Ray inserts. You don't need to be a genius to 'click' with this simple to download labels design software, just try it and see for yourself!
To automatically download the CD DVD labels creation software, click on the 'Download' button.
Opt for your favorite design from any of the great CD DVD label and cover templates.
Edit the design of the label according to your needs.
Start printing your specially designed CD and DVD label after clicking the 'Print' button, after selecting your Epson Stylus Photo R285 as the right printer being used. Always use the latest free driver updates.
Be proud of yourself for what you have printed off!
Enhance the potential of your computer and Epson Stylus Photo R285 printer where you can now print a fantastic array of CD DVD labels, inserts and covers, to create lovely presents.
Have you ever noticed how a personally made gift really matters to someone you adore? Why spend money on pricey, presents that anyone can buy, when with the RonyaSoft CD DVD label and cover make software, you can save a fortune on gifts and become ten times more thoughtful?
What about making some of these:
Life is all about memories, and some of the best ones we have are of family days spent together. Everyone has a camera and everyone has their own set of pictures, but what joy to make a collection of the 'best of' photos from everyone and then run off a few copies on to a CD-disc, make your own special labels and covers using the RonySoft label printing software for CD's, DVD's and Blu-rays and your Epson Stylus Photo R285 printer and post them as a unique gift to each member of the family who was present.
Chose your best photos and pictures to make CD and DVD covers and make CD labels.
Use a snap of your dog or cat on the cover and CD & DVD label so you can easily identify which CD your pet's photos are all stored.
What happens if you have your laptop and memory stick damaged - where are all your photos stored? Make super safe you don't lose all treasured memories of those occasions in your life - just print off some cool CD labels, burn your snaps on to a disc and store everything safely where you can see it.
Are you looking for a novel way to make you stand out when applying for employment. Do you want to seem different from the rest of the them. Do you want to impress your future employers with a presentation of yourself on a DVD with a professionally printed DVD label and printed DVD case made for each application?
How many blank CD's have you created with pictures on them, but you can't remember what? These days are now long gone if you try the RonyaSoft CD DVD label create software program to rapidly and efficiently run off a few labels with your Epson Stylus Photo R285 printer.
CD label make software is compartible with Microsoft Windows Platform, including Windows XP, Windows Vista, Windows 8 and supports a wide range of disc label printers, eg: Canon iP4300, Canon iP4850, Canon MG6340, Canon MP750, Canon Pro9500 MarkII, Epson Artisan 810, Epson Stylus Photo PX720WD, Epson Stylus Photo R285, Epson Stylus Photo TX700W, HP Photosmart C5275, HP Photosmart C5280, HP Photosmart D7560, Yurex MantraJet 1050 and similar.
CD labels make software supports a wide range of disc label suppliers, eg: Ace 60400 series, APLI 2928, Avery 8962, Boma LS001, CoolBeLa LD007 CD DVD, D-Tech CD DVD, Kensington CD DVD 2-up, Lorenz Bell LB6681, NCR 904067, Printec AnyLabel L3771S L3773S, Tinlex TL-Label-3A, Zweckform 6045, Zweckform L7860 DVD and similar.