Canon MG5330 printer
Canon MG5330 printer CD DVD tray layout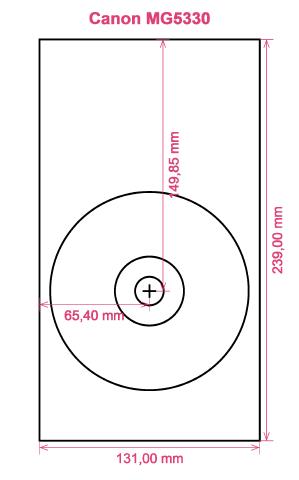 How to print labels on Canon MG5330 printer
After you have actually used the RonyaSoft CD Label Maker you can understand how simple and easy it is - 'user convenient' takes on a totally new understanding! Within a few moments of swiftly downloading the CD labeler software programme from the link below, you can be making CD and DVD labels on your Canon MG5330 printer.
Please don't stop there, as you may miss the best picture for this Blu-ray/CD/DVD label printing software. RonyaSoft haven't gone to such extremes simply so you can print off a list of tracks on a CD or a film title on a label. No! This CD & DVD label software will give you so many different options for Blu-ray, CD or DVD label design to enable you to create attractive labels. Plus, the CD & DVD label printing software can also be used to print Blu-ray, CD or DVD boxes and box inserts utilising the brilliant Blu-ray, CD or DVD templates.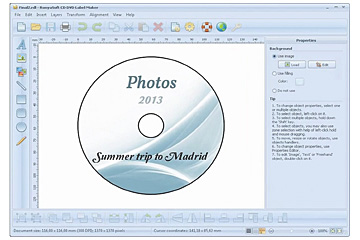 How simple do you like labeling to be? A few clicks of a mouse is enough for you to then be producing your own Blu-ray labels, Blu-ray, CD or DVD case covers and Blu-Ray case inserts. You don't require to be a genius to 'click' with this simple to download label printing software, just try it and see for yourself!
Download and install CD and DVD Label Maker software for free to try.
Opt for one of the installed CD and DVD label and cover templates.
Click on the 'Print' button to commence your unique CD and DVD printed label after you have entered Canon MG5330 in to the print settings dialog. Don't forget to ensure that the latest printer driver is used.
Smile!
Improve the potential of your computer and Canon MG5330 printer where you can now print a fantastic array of CD and DVD labels, case inserts and case covers, to create lovely presents.
Have you ever noticed how a personally made gift really matters to someone you like? Why spend money on expensive presents that anyone can buy, when with the RonyaSoft CD label printing software, you can save a fortune on gifts and seem ten times more thoughtful?
How about these fantastic ideas:
Life is all about memories, and some of the memorable ones we have are of family days spent together. Everyone has a camera and everyone has their own set of pictures, but what fun to make a collection of the 'best of' photos from everyone and then create a few copies on to a CD-disc, create your own special labels and case covers using the RonySoft label printing program for CD's, DVD's and Blu-rays and your Canon MG5330 printer and send them as a unique gift to each member of the family who was present.
Use scenic photos to make Blu-ray, CD or DVD case covers or make Blu-ray labels for your compilation CD's - thunder, sunshine, rain, a calm sea, a rainbow...
Do you love being practical? Why not design new photos for the CD or DVD covers for your collection?
What occurs if you have your laptop and memory stick damaged - where are all your photos put? Make doubly certain you don't lose all stored memories of those moments in your life - just print off some cool CD labels, burn your pics on to a disc and keep everything safely where you can see it.
Are you looking for a new way to make you stand out when applying for work. Do you have to seem superior from the rest of the competition. Do you have to shock your prospective employers with a presentation of yourself on a DVD with a classy printed DVD insert and printed DVD case specifically for each application?
The RonyaSoft CD Label Maker is excellent for using with your Canon MG5330 printer, so there's zero to stop you instantly from starting your own brilliant print shop!
CD DVD label printing software works on Windows OS, including Windows XP, Windows 2003, Windows7 and works with a wide range of CD/DVD/Blu-ray label printers, eg: Canon iP3000, Canon iP6600D, Canon MG6240, Canon MG8250, Canon Pro9500 MarkII, Epson Expression XP-800, Epson Stylus Photo PX800FW, Epson Stylus Photo R3000, Epson Stylus Photo R350, HP Photosmart C5250, HP Photosmart D5145, HP Photosmart D5460, Yurex MantraJet 1050 and similar.
CD DVD label make software supports a wide range of CD/DVD/Blu-ray label stocks, eg: Anker CD DVD, APLI 10328, Boma BMS001-CLR CD DVD, CD Stomper CD DVD Label Insert Combo, DECAdry DLW-1796, DeskTop Labels 3303-CD CD DVD Labels, HP 3-up, Maxell, Neato CD DVD 2-up with core spine, Plain Paper, Tinlex TL-Label-3A, Worldlabel WL-OL5050, Zweckform L7776 and similar.