Canon iP5000 printer
Canon iP5000 printer CD DVD tray layout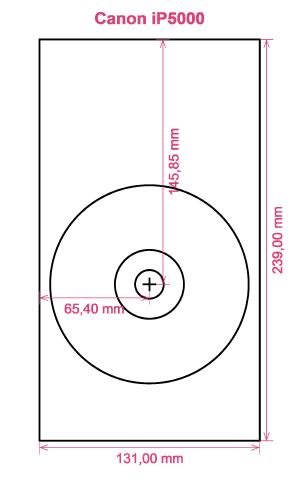 How to print labels on Canon iP5000 printer
When you have tried the RonyaSoft CD Label Designer, simplicity will be the word that comes to mind - you can surely be amazed at how uncomplicated it is to download the label printing software programme by clicking on the link on this page and within just a couple of moments you will be producing fantastic CD and DVD labels on your Canon iP5000 printer.
Don't stop there though as there's much more to this CD and DVD label software than instantly meets the eye. Simple and easy to use doesn't mean simple results, but more professional looking CD and DVD labels than you would expect. This disk labels maker program gives you a multitude of choices and has plenty of CD and DVD label and cover templates already installed, not just for creating CD DVD labels, but also Blu-ray, CD or DVD covers and inserts to produce the professional look.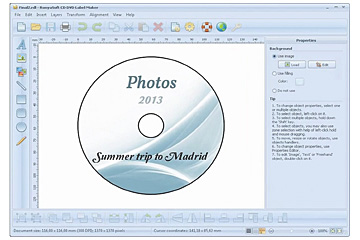 Regarding straightforward to use, well 'user-friendly' is now even more friendly. Just read the instructions to realize how easy, yet effective and professional results will be when you start to design Blu-ray, CD or DVD covers, CD labels and CD inserts:
To automatically download the CD DVD label printing program, click on the 'Download' button.
Click on your chosen option from a fantastic choice of predesigned CD label and cover templates.
Start printing your unique CD and DVD label after clicking the 'Print' button, after inputting your Canon iP5000 as the right printer being used. Try to use the latest free driver updates.
Have Fun!
Everything you need to turn your PC and Canon iP5000 printer in to a busy personal gift factory is a little imagination.
There is nothing better than getting a gift which demonstrates someone cares enough to make something special for you. Save on costly shop-bought presents and with your first gift to someone special you will have covered the cost of your RonyaSoft CD DVD and Blu-ray label program.
What about these for suggestions:
You're at a wedding and you take lots of un-staged photos or video clips of everyone looking cheerful and having a ball. Choose your favorites, burn them on to a disc and send it to the bride and groom as a thank you for the invitation to their special day. They will love you for the kind and personal touch. And what did it cost you to make one of the most individual gifts they will be given during their wedding? - The cost of a blank disc, two pieces of paper and a dash of ink from your Canon iP5000 printer. Great huh?
Use mood photos to print CD & DVD covers and print CD labels for your compilation CD's - thunder, sunshine, rain, a calm sea, a rainbow...
Choose a photo of your pooch or cat on the cover and CD or DVD label so you can easily spot which CD your pet's photos are all kept on.
What happens if you have your laptop and memory stick destroyed - where are all your photos kept? Make extra sure you don't lose all stored memories of those occasions in your life - just print off some cool CD DVD labels, burn your pics on to a disc and store everything safely where you can see it.
Are you searching an individual way to make you stand out when applying for jobs. Do you have to seem better from the rest of the competition. Do you have to wow your prospective employers with a showcase of yourself on a DVD with an excellent printed DVD insert and printed DVD case designed for each application?
The RonyaSoft CD Label Designer is excellent for using with your Canon iP5000 printer, so there's nothing to stop you instantly from commencing your own ideal print shop!
CD DVD label printing program works on Windows Operational System, including popular Windows 7 and Windows 8 versions and supports a wide range of CD DVD surface printers, eg: Aleratec Robojet AutoPrinter 100, Canon MG5240, Canon MG6170, Canon MG8250, Canon Pro9000 MarkII, Epson Expression XP-605, Epson Stylus Photo PX710W, Epson Stylus Photo R3000, Epson Stylus Photo R360, EZ CD Print 5700, HP Photosmart C5370, HP Photosmart D5460, Yurex MantraJet 1150-XL and similar.
CD DVD label design program supports a wide range of CD DVD labels, eg: Americal 313911, Avery 8941, Avery Maxell M87361, CD Stomper CD DVD Label Insert Combo, Compulabel 375052, DeskTop Labels 3303-CD CD DVD Labels, HP 3-up, LabelWhiz LW61400, MultiFlip LD001, Polyline CLCD CLR, ProLabel SGW4525, Versatile CD DVD Label LD101, Zweckform L6047 and similar.