Epson Stylus Photo TX700W printer
Epson Stylus Photo TX700W printer CD DVD tray layout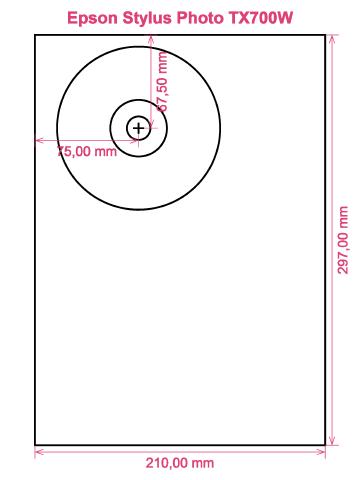 How to print labels on Epson Stylus Photo TX700W printer
It's after you have had a go with the RonyaSoft CD & DVD Label Creator that you should realize how incredibly easy it is to get great prints - gone are the days when you be afraid of failing to make the most of modern technology! Within moments of downloading the CD & DVD labels software you will be printing CD and DVD labels on a Epson Stylus Photo TX700W printer.
Wait as there's loads to this Blu-ray, CD or DVD labeling software than initially meets the eye. Simple and easy to use doesn't mean simple prints, but more professional style Blu-ray, CD or DVD labels than you would expect. This CD label maker software gives you loads of choices and has huge amounts of of Blu-ray, CD or DVD label and cover templates already installed, not just for creating CD/DVD/Blu-ray labels, but also CD and DVD covers and inserts to produce the professional look.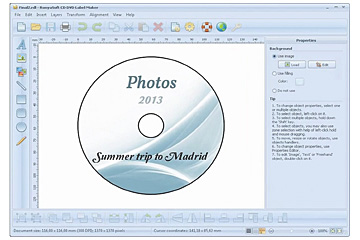 Concerning straightforward to use, well 'user-friendly' just got even more friendly. Just follow the directions to realize how simple, yet effective and professional results will be when you start to design CD, DVD and Blu-ray covers, CD labels and CD inserts:
Download and install CD and DVD Label Creator software for free to try.
Choose one of the predesigned CD and DVD label and covers templates.
Start printing your specially designed CD label after clicking the 'Print' button, after identifying your Epson Stylus Photo TX700W as the proper printer being used. Always use the latest free driver updates.
Smile!
All you need to turn your PC and Epson Stylus Photo TX700W printer in to a busy personal gift factory is a touch of imagination.
Anyone will tell you that a present with a personal touch, something nice, will forever be appreciated far more than something costly, so you will have more than paid for your CD & DVD label and cover design software, when you give someone a present.
What about these wonderful options:
You are at your brother or sister's eighteenth. It is an incredibly special day in their life and one they will always remember when they become older. What smarter way to help them reminisce about their special day than for you to take hundreds of pictures and video clips of the day, from start to finish, put them all on a CD or DVD and offer it to them as your own way of showing how proud you are of them. It will make the day for them and it will have cost you next to nothing, save for a few bits of paper, a blank CD or DVD and a splash of ink from your Epson Stylus Photo TX700W printer.
Use funky images and snaps to to make CD, DVD and Blu-ray covers or make CD labels to easily spot your CD's and DVD's.
Want to keep photos cataloged? Put a relevant photo on the CD label or DVD case cover.
What occurs if you have your laptop and memory stick stolen - where are all your photos stored? Make extra sure you don't lose all recorded memories of those occasions in your life - just print off some cool CD labels, burn your photos on to a disc and keep everything securely where you can see it.
Are you seeking an individual way to make you stand out when applying for work. Do you need to seem superior from the rest of the them. Do you have to wow your future employers with a showcase of yourself on a DVD with a professionally printed DVD label and printed DVD cover specifically for each application?
How many blank CD's have you got with pictures on them, though you can't remember what? These days are now over when you utilise the RonyaSoft CD & DVD labeling software to swiftly and easily run off a few labels using your Epson Stylus Photo TX700W printer.
CD label print software is compartible with Windows Operational System, including Windows XP, Windows Vista, Windows 8 and is compatible with a wide range of CD DVD label printers, including: Canon i965, Canon iP6700, Canon MG5450, Canon MP610, Canon MP990, Epson PM-950C, Epson Stylus Photo PX710W, Epson Stylus Photo R260, Epson Stylus Photo RX580, Epson Stylus Photo TX800FW, HP Photosmart C5388, HP Photosmart D5168, Trace Affex CD-Artist and similar.
CD labels create software supports a wide range of CD DVD label stocks, including: Americal 313901 3-up, Avery 5691, Avery J8777, CD Stomper 2-up Slim Sheet CD DVD, Data Becker 3-up, Herma, Intcomex Klip Xtreme, Lorenz Bell LB6080, NCR 904067, ProLabel FFJGCD, Verbatim CP-3174, Zweckform L6015, Zweckform L7760 and similar.