EZ CD Print 4200 printer
EZ CD Print 4200 printer CD DVD tray layout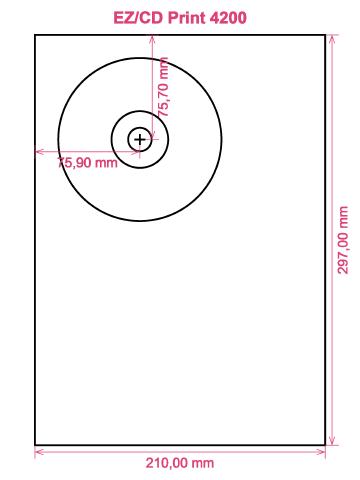 How to print labels on EZ CD Print 4200 printer
After you have only used the RonyaSoft DVD Label Maker you can understand how effective and easy it is - 'user friendly' takes on a whole new meaning! Within just a couple of minutes of downloading the DVD labels software after using the download link, you can be producing Blu-Ray CD DVD labels with your EZ CD Print 4200 printer.
Hold on as there's much more to this CD, DVD and Blu-ray labeler software than instantly meets the eye. Simple and easy to use doesn't produce simple results, but more professional style CD, DVD and Blu-ray labels than you would expect. This CD labels maker program gives you loads of choices and has plenty of CD, DVD and Blu-ray label and cover templates already installed, not just for making CD and DVD labels, but also CD, DVD & Blu-ray case covers and case inserts to round off the professional look.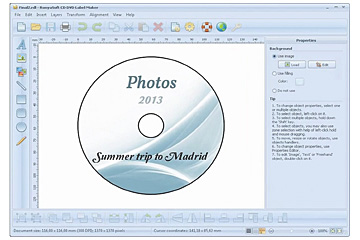 Concerning straightforward to use, well 'user-friendly' became even more friendly. Just read the text to discover how simple, yet sharp and professional results will be when you begin to make CD/DVD/Blu-Ray case covers, DVD labels and Blu-Ray case inserts:
Click on the 'Download' button and installation for the CD DVD labeler program is automatic.
Click on your chosen option from a fantastic choice of predesigned Blu-ray/CD/DVD label and cover templates.
Add any of your own design ideas to make the CD /DVD/Blu-ray label really personal.
Click on the 'Print' button to begin your unique CD printed labels after you have entered EZ CD Print 4200 in to the print settings dialog. Never forget to ensure that the latest printer driver is downloaded.
Smile!
Maximize the potential of your computer and EZ CD Print 4200 printer where you can now run off a fantastic array of CD DVD labels, case inserts and case covers, to make lovely gifts.
Anyone will tell you that a present with a personal touch, something nice, will forever be appreciated far more than something purchased, so you will have more than paid for your DVD label create program, when you give someone a present.
How about these fantastic ideas:
You are at your brother or sister's twenty-first birthday. It is an incredibly special moment in their life and one they will forever look back on when they become older. What smarter way to aid them reminisce about their special occasion than for you to take lots of pictures and video clips of the occasion, from start to finish, put them all on a CD, DVD or Blu-ray and present it to them as your own way of demonstrating how proud you are of them. It will enhance the day for them and it will have cost you next to nothing, save for two bits of paper, a blank CD, DVD or Blu-ray and a drop of ink from your EZ CD Print 4200 printer.
Chose your favourite photos and pictures to print CD/DVD/Blu-Ray case covers and print DVD labels.
Need to store snaps cataloged? Put a relevant photo on the compact disc label or DVD box cover.
Memories shared can last longer - download your snaps of a do on to a DVD and design a label, cover and insert, then send to all who were present!
Are you seeking a novel way to make you stand out when applying for jobs. Do you need to seem superior from the rest of the them. Do you have to wow your prospective employers with a presentation of yourself on a DVD with an excellent printed DVD label and printed DVD cover specifically for each application?
How many blank CD's have you got with pictures on them, though you can't remember what? These days are now long gone as you utilise the RonyaSoft DVD label create software program to quickly and effectively run off a few labels on your EZ CD Print 4200 printer.
Blu-ray labeller program works on Windows Operational System, including Windows XP, Windows Vista, Windows 8 and is compatible with a wide range of CD DVD label printers, including: Canon iP4200, Canon iP6700D, Canon MG6120, Canon MP810, Canon Pro9000 MarkII, Epson Artisan 810, Epson Stylus Photo 2100, Epson Stylus Photo R300, Epson Stylus Photo RX585, Epson Tray Type 1, HP Photosmart C5380, Rimage Everest II, Yurex MantraJet 1100 and others.
Blu-ray label design program supports a wide range of CD DVD label papers, including: Ace 60100 series, Avery 8695, Avery C9660, CD Stomper CD DVD Label Insert Combo, CoolBeLa LS001, Etiform, Hisago CJ4843S CD DVD (A5), LabelWhiz LW50400 3-up, Neato CD DVD Complete, PrintIT 2CDZ CD DVD Label, UBL SP0028 CD DVD, Zweckform C9780 DVD, Zweckform L7776 and others.