Epson Stylus Photo R390 printer
Epson Stylus Photo R390 printer CD DVD tray layout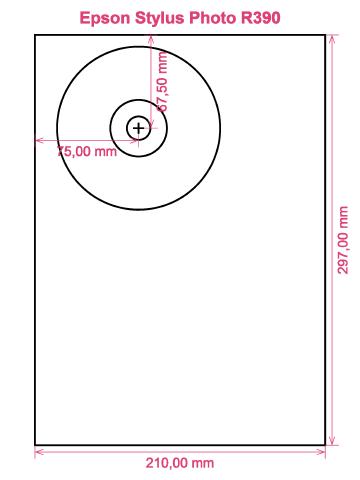 How to print labels on Epson Stylus Photo R390 printer
It's after you have had a go with the RonyaSoft Blu-ray CD DVD Cover Creator that you should realize how really simple it is to get brilliant results finishes - gone are the days when you have any fears of not being able to make the most of modern technology! Within no time at all of downloading our Blu-ray CD DVD label software programme you should be printing CD or DVD labels and covers on the Epson Stylus Photo R390 printer.
Hold on as there's much more to this CD, DVD and Blu-ray labeling software than first meets the eye. Simple and easy to use doesn't create simple copy, but more professional appearing CD, DVD and Blu-ray labels than you would expect. This CD label software gives you masses of choices and has so many choices of CD, DVD and Blu-ray label and cover templates already installed, not just for printing CD/DVD/Blu-ray labels, but also CD and DVD covers and inserts to produce the professional look.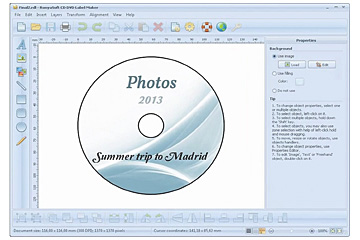 We also indicated this software was great to employ. Well, we realize that if you feel you are not 'tech-smart', when you have tried the RonyaSoft CD and DVD label creator software, you will feel as clever as any professional graphic artist as you start creation loads of CD and DVD covers, Blu-ray labels and Blu-Ray inserts:
To automatically download the CD & DVD label creation software, click on the 'Download' button.
Pick out your favorite design from any of the preloaded CD label and cover templates.
Add any of your own design ideas to make the CD or DVD label really personal.
Click on the 'Print' button to start running off your unique DVD or CD printed label after you have entered Epson Stylus Photo R390 in to the print settings dialog. Do not forget to ensure that the latest printer driver is downloaded.
Have Fun!
The RonyaSoft label making software uniquely gives you and your Epson Stylus Photo R390 printer so much you could desire for personalizing so many great CD or DVD gifts.
Have you ever noticed how a personally made gift really matters to someone you like? Why spend money on pricey, presents that anyone can buy, when with the RonyaSoft Blu-ray CD DVD labels printing software, you can save a fortune on gifts and appear ten times more thoughtful?
Try making some of these:
You're at a wedding and you take plenty of un-staged photos or video clips of all the guests looking cheerful and having a great time fun. Select your finest, burn them on to a disc and post it to the bride and groom as a thank you for the invitation to their wedding. They will love you for the sweet and personal touch. And what did it cost you to make one of the most kind presents they will get during their wedding? - The money for a blank disc, two pieces of paper and a splash of ink from your Epson Stylus Photo R390 printer. Cool huh?
Use funky images and pics to to make CD, DVD and Blu-ray covers or make Blu-ray labels to easily pick out your CD's and DVD's.
Choose a snap of your pooch or cat on the cover and CD & DVD label so you can easily spot which CD your pet's photos are all compiled.
What occurs if you have your laptop and memory stick stolen - where are all your photos put? Make super certain you don't lose all stored memories of those moments in your life - just print off some cool CD labels, burn your pics on to a disc and keep everything sensibly where you can see it.
Are you searching a new way to make you stand out when applying for jobs. Do you want to seem superior from the rest of the competition. Do you have to impress your prospective employers with a presentation of yourself on a DVD with a classy printed DVD insert and printed DVD box made for each application?
How many blank CD's have you got with music on them, but you can't remember what? These days are now long gone as you try the RonyaSoft Blu-ray CD DVD label print software program to quickly and easily run off a few labels using your Epson Stylus Photo R390 printer.
CD DVD label maker software runs on Windows System, including Windows XP, Windows Vista, Windows 8 and supports a wide range of CD/DVD/Blu-ray label printers, eg: Canon i9950, Canon iP4870, Canon MG6340, Canon MG8270, DYMO DiscPainter, Epson Expression XP-605, Epson Stylus Photo 1410, Epson Stylus Photo R2880, Epson Stylus Photo T50, HP Photosmart C5200 series, HP Photosmart C5540, HP Photosmart D5445, Yurex MantraJet 1050 and similar.
CD DVD label create software supports a wide range of CD/DVD/Blu-ray label papers, eg: After Burner, Armor U11836, Avery C9660, Boma LS101HIG, CoolBeLa LD002-CL, Herma 5086 CD DVD Label, JP CD DVD FullFace 2-up, Meritline, Neato CD DVD 2-up, ProLabel NJG4520, Unistat CD DVD 2-up, Worldlabel WL-OL1200WX, Zweckform L6117 and similar.