Canon iP4000R printer
Canon iP4000R printer CD DVD tray layout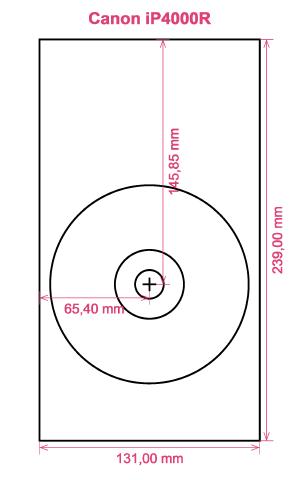 How to print labels on Canon iP4000R printer
Only when you have had a go with the RonyaSoft CD Label Maker that you can discover how utterly simple it is to get brilliant prints - gone are the days when you worry about being unable to make the most of modern technology! Within seconds of installing our CD labeller software you can be printing CD and DVD labels on your Canon iP4000R printer.
Hold on as there's plenty to this CD, DVD and Blu-ray labeller software than initially meets the eye. Simple and easy to use doesn't produce simple prints, but more professional appearing CD, DVD and Blu-ray labels than you would expect. This CD label program gives you masses of choices and has huge amounts of of CD, DVD and Blu-ray label and cover templates already installed, not just for making CD DVD labels, but also CD and DVD case covers and case inserts to round off the professional look.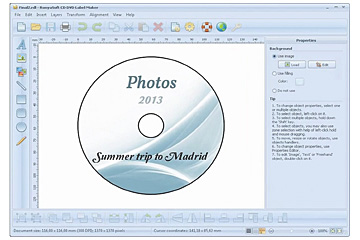 How simple do you need label creation to be? A few clicks of a mouse is enough for you to then be running off your own CD/DVD/Blu-ray labels, CD & DVD case covers and CD DVD case inserts. You don't need to be a tech 'nerd' to 'click' with this simple to download label printing software, just use it and see for yourself!
Highlight the 'Download' button and installation for the Blu-ray/CD/DVD labeller software is automatic.
Try out one of the installed Blu-ray/CD/DVD label templates.
Edit the design of your label according to your needs.
Start printing your individual DVD or CD label after clicking the 'Print' button, after inputting your Canon iP4000R as the proper printer being used. Try to download the latest free driver updates.
Smile!
All you need to turn your PC and Canon iP4000R printer in to a fabulous personal gift factory is a bit of imagination.
Anyone will tell you that a surprise with a personal touch, something sweet, will always be appreciated far more than something purchased, so you will have more than paid for your CD labels make program, as soon as you give someone a present.
What about these great options:
You are at your brother or sister's twenty-first birthday. It is an incredibly special day in their life and one they will fondly think about when they get older. What more clever way to help them reminisce about their special event than for you to take hundreds of pictures and video clips of the event, from start to finish, put them all on a CD or DVD and present it to them as your own way of showing how proud you are of them. It will complete the day for them and it will have cost you next to nothing, save for a few bits of paper, a blank CD or DVD and a drop of ink from your Canon iP4000R printer.
Use jazzy images and snaps to to print CD & DVD case covers and print CD/DVD/Blu-ray labels to easily identify your CD's and DVD's.
Want to store pics cataloged? Put a relevant photo on the CD label or DVD case cover.
Memories shared usually last longer - download your pics of a do on to a disc and print a label, cover and insert, then send to all who were attending!
Make an one-off video for employment applications and print a professional looking case with a smart CD & DVD label to add the finishing touches.
How many blank CD's have you got with something on them, but you can't remember what? These days are now long gone if you use the RonyaSoft CD labeling software program to swiftly and effectively run off a few labels using your Canon iP4000R printer.
Blu-ray label print program is compartible with Windows OS, including Windows XP, Windows 2003, Windows7 and works with a wide range of disc surface printers, including: Canon i965, Canon iP6700D, Canon MG5330, Canon MP600, Canon MP960, Epson Expression XP-600, Epson Stylus Photo PX720WD, Epson Stylus Photo R1900, Epson Stylus Photo RX640, EZ CD Print Plus, HP Photosmart D5145, HP Photosmart D5463, Yurex MantraJet 1150-XL and similar.
Blu-ray labels creator program supports a wide range of disc label stocks, including: Americal 313936N, APLI 10292, Avery J8770, Chenbro, DECAdry OLW-4744, Herma 5084 CD DVD Label, Hisago CJ4843S CD DVD (A5), LabelGear Bulk CD DVD 81312, Online Labels O5050, Polyline CLCDW, Sanwa LB-CDR003 CD DVD, Veriad VH577 JP582, Zweckform L6117 and similar.