Canon MG6310 printer
Canon MG6310 printer CD DVD tray layout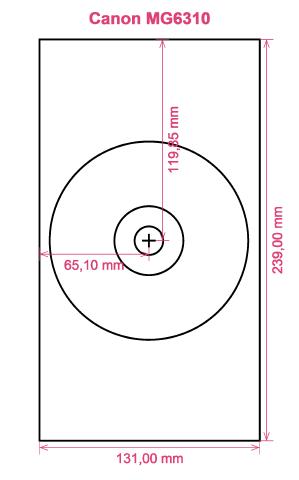 How to print labels on Canon MG6310 printer
When you have used the RonyaSoft CD Label Maker, brilliant! will be the word that springs to mind - you'll be guaranteed to be thrilled at how quick it is to download the labels design software programme by clicking on the link underneath and within just a couple of minutes you will be producing brilliant CD or DVD labels and covers on your Canon MG6310 printer.
Wait as there's loads to this CD, DVD and Blu-ray labeling software than first meets the eye. Simple and easy to use doesn't create simple results, but more professional style CD, DVD and Blu-ray labels than you would expect. This compact disc label software gives you a multitude of choices and has loads of CD, DVD and Blu-ray label and cover templates already installed, not just for making CD/DVD/Blu-ray labels, but also CD and DVD box covers and box inserts to produce the professional look.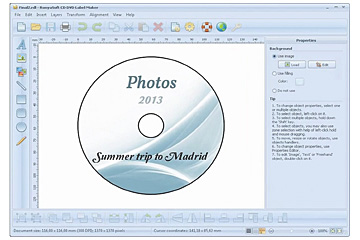 We also said this software was simple to employ. Well, we understand that if you worry you are not 'tech-savvy', after you have tried the RonyaSoft CD and DVD labels designer software, you will feel as smart as any professional graphic artist after you begin making plenty of CD and DVD box covers, Blu-ray labels and Blu-Ray box inserts:
Download and install CD & DVD Label Maker software for free to try.
Click on your chosen option from a great choice of preinstalled CD and DVD label and cover templates.
Edit the design of the label according to your wishes.
Print the created label by clicking the 'Print' button. Do not forget to put in your Canon MG6310 printer during the printing process and to use the latest free version of the driver.
Smile!
All you need to turn your PC and Canon MG6310 printer in to a busy personal gift factory is a little imagination.
Anyone will tell you that a present with an unique touch, something sweet, will always be appreciated far more than something purchased, so you will have more than paid for your CD label create software, as soon as you give someone a present.
What about doing some of these:
You're at a wedding and you take loads of un-staged photos or video clips of everyone looking happy and having a great time fun. Select your best, burn them on to a disc and post it to the bride and groom as a thank you for the invitation to their marriage. They will love you for the thoughtful and personal touch. And what did it cost you to make one of the most kind offerings they will get during their wedding? - The price of a blank disc, two pieces of paper and a drop of ink from your Canon MG6310 printer. Cool huh?
Use funky images and snaps to to make Blu-ray, CD or DVD box covers and make Blu-ray labels to easily pick out your CD's and DVD's.
Need to keep snaps cataloged? Put a topical photo on the compact disc label or DVD box cover.
What occurs if you have your laptop and memory stick stolen - where are all your photos put? Make extra certain you don't lose all stored memories of those great days in your life - just print off some cool CD and DVD labels, burn your snaps on to a disc and put everything securely where you can see it.
Are you seeking a novel way to make you stand out when applying for jobs. Do you have to seem better from the rest of the competition. Do you have to shock your prospective employers with a demonstration of yourself on a DVD with a classy printed DVD insert and printed DVD cover specifically for each application?
The RonyaSoft CD Label Maker is superb for using with your Canon MG6310 printer, so there's zero to stop you now from becoming your own brilliant print shop!
DVD label creation software works on Microsoft Windows OS, including popular Windows 7 and Windows 8 versions and works with a wide range of CD DVD label printers, including: Canon iP3000, Canon iP4850, Canon MG6270, Canon MP750, Canon MP980, Epson EP-704A, Epson Stylus Photo 1400, Epson Stylus Photo R265, Epson Stylus Photo RX580, Epson Tray Type 1, HP Photosmart C5290, HP Photosmart D5460, Yurex MantraJet 1050 and similar.
DVD labels making software supports a wide range of CD DVD labels, including: A-One, Avery 5696 CD DVD Jewel Case, Avery J8570, CD Stomper 2-up CD DVD with Center Labels, DECAdry OLW-4744, DeskTop Labels 3303-CD CD DVD Labels, Hisago CJ4843S CD DVD (A5), Lorenz Bell, Plain Paper 2-up, ProLabel FFCD, Sanwa LB-CDR005 CD DVD, Zweckform L6046, Zweckform L7860 DVD and similar.