Epson Stylus Photo TX710W printer
Epson Stylus Photo TX710W printer CD DVD tray layout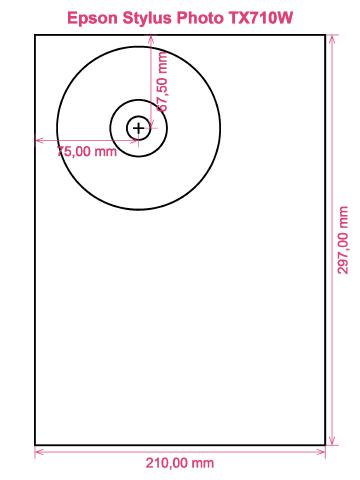 How to print labels on Epson Stylus Photo TX710W printer
It's after you have tried the RonyaSoft Blu-ray CD DVD Label Maker that you will see how incredibly simple it is to get fantastic results finishes - no longer will you be afraid of failing to make the most of modern technology! Within no time at all of downloading your Blu-ray CD DVD labeler software program you should be printing Blu-Ray CD DVD labels on your Epson Stylus Photo TX710W printer.
Hold on as there's much more to this CD, DVD and Blu-ray labeling software than first meets the eye. Simple and easy to use doesn't mean simple results, but more professional style CD, DVD and Blu-ray labels than you would expect. This compact disc label maker software gives you masses of choices and has loads of CD, DVD and Blu-ray label and cover templates already installed, not just for creating CD/DVD/Blu-ray labels, but also CD, DVD & Blu-ray box covers and box inserts to produce the professional look.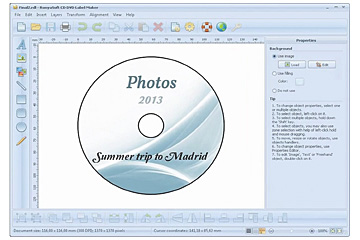 Regarding easy to use, well 'user-friendly' is now even more friendly. Just follow the instructions to discover how easy, yet clean and professional results will be when you start to make CD & DVD box covers, Blu-ray labels and Blu-Ray/CD/DVD box inserts:
Click on the 'Download' button and installation for the CD and DVD labeling software program is automatic.
Click on your chosen option from a wide choice of predesigned CD and DVD label templates.
Add any of your own design ideas to make the CD /DVD/Blu-ray label even more personal.
Print the created label by clicking the 'Print' button. Never forget to specify your Epson Stylus Photo TX710W printer during the printing process and to download and use the latest free version of the driver.
Be proud of yourself for what you have produced!
Maximize the potential of your computer and Epson Stylus Photo TX710W printer where you can now run off a fantastic array of CD and DVD labels, box inserts and box covers, to make lovely surprises.
Have you ever noticed how a personally made gift really matters to someone you like? Why spend money on costly presents that anyone can buy, when with the RonyaSoft Blu-ray CD DVD labels making software, you can save a fortune on gifts and appear ten times more thoughtful?
How about these great suggestions:
Life is all about memories, and some of the greatest ones we have are of family days spent together. Everyone has a camera and everyone has their own set of pictures, but what excitement to make a assembly of the 'best of' photos from everyone and then create a few copies on to a CD-disc, design your own special labels and box covers using the RonySoft label printer for CD's and DVD's and your Epson Stylus Photo TX710W printer and give them as a unique gift to each member of the family who was in attendance.
Use jazzy images and pics to to design CD, DVD and Blu-ray box covers or design Blu-ray labels to easily identify your CD's and DVD's.
Do you enjoy being creative? Why not design new images for the CD and DVD covers for your collection?
Memories shared usually last longer - download your photos of a party on to a DVD and make a label, cover and insert, then give a copy to all who were attending!
Are you seeking a new way to make you stand out when applying for employment. Do you want to seem better from the rest of the competition. Do you want to shock your prospective employers with a demonstration of yourself on a DVD with a classy printed DVD insert and printed DVD cover designed for each application?
The RonyaSoft Blu-ray CD DVD Label Maker is superb for using with your Epson Stylus Photo TX710W printer, so there's nobody to stop you today from becoming your own little print shop!
Blu-ray labeller software supports Windows Operational System, including popular Windows 7 and Windows 8 versions and supports a wide range of CD DVD surface printers, including: Canon iP4500, Canon MG5240, Canon MG8120, Canon MP530, Canon Pro9000, Epson PM890C, Epson Stylus Photo 2200, Epson Stylus Photo R280, Epson Stylus Photo T50, Epson Stylus Photo TX710W, HP Photosmart C5283, HP Photosmart D5368, Yurex MantraJet 1050 and similar.
Blu-ray label create software supports a wide range of CD DVD label stocks, including: APLI 10041, Armor U11836, Boma BMS002HI CD DVD, Boma LS001, Compulabel 375052, DECAdry OLW-4900, Kyso 5511 CD DVD, Lorenz Bell, Neato CD DVD 2-up with core spine, PrintIT 2CDZ CD DVD Label, Unistat CD DVD 2-up, Zweckform 6117, Zweckform L6047 and similar.