Epson Stylus Photo PX650 printer
Epson Stylus Photo PX650 printer CD DVD tray layout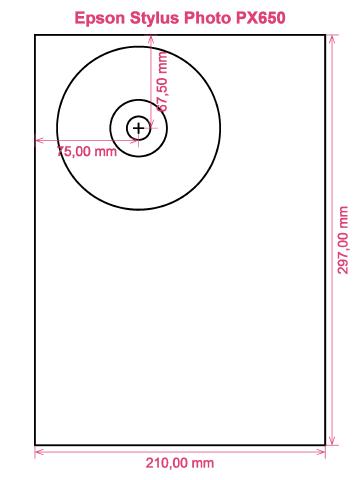 How to print labels on Epson Stylus Photo PX650 printer
Once you have only used the RonyaSoft CD DVD Label Maker you will understand how simple and wonderful it is - 'user friendly' takes on a completely new meaning! Within seconds of swiftly downloading the CD DVD labeling software program by clicking on the link, you can be printing Blu-Ray CD DVD labels and covers with your Epson Stylus Photo PX650 printer.
Hold on as there's much more to this CD, DVD and Blu-ray labeller software than initially meets the eye. Simple and easy to use doesn't mean simple results, but more professional style CD, DVD and Blu-ray labels than you would expect. This CD labels creator program gives you a multitude of choices and has so many choices of CD, DVD and Blu-ray label and cover templates already installed, not just for making CD and DVD labels, but also CD, DVD & Blu-ray case covers and case inserts to complete the professional look.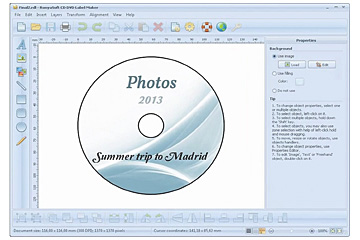 How simple do you like labeling to be? A few clicks of a mouse is enough for you to then be printing your own CD labels, CD & DVD case covers and CD & DVD case inserts. You don't need to be a boffin to 'click' with this simple to download labels printing software, just try it and see for yourself!
To automatically receive your CD DVD labels creation software, click on the 'Download' button.
Click on your chosen option from a wide choice of predesigned CD DVD label and cover templates.
Start printing your specially designed DVD or CD label after clicking the 'Print' button, after identifying your Epson Stylus Photo PX650 as the right printer being used. Try to download the latest free driver updates.
Be proud of yourself for what you have printed off!
The RonyaSoft label making software immediately gives you and your Epson Stylus Photo PX650 printer so much you could want for personalizing so many great CD or DVD presents.
There is nothing nicer than getting a gift which indicates someone cares enough to make something special for you. Save on costly shop-bought presents and with your first gift to someone special you will have covered the cost of your RonyaSoft CD & DVD labeller program.
Think about these wonderful options:
You're at a wedding and you take lots of un-staged photos or video clips of attendees looking relaxed and having a great time fun. Choose your best, burn them on to a disc and post it to the bride and groom as a thank you for the invitation to their marriage. They will adore you for the thoughtful and personal touch. And what did it cost you to make one of the most individual presents they will be given during their wedding? - The price of a blank disc, two pieces of paper and a splash of ink from your Epson Stylus Photo PX650 printer. Fab huh?
Use funky images and photos to to create CD & DVD case covers or create CD labels to easily pick out your CD's and DVD's.
Want to keep photos cataloged? Put a relevant photo on the CD label or DVD case cover.
What occurs if you have your laptop and memory stick stolen - where are all your photos kept? Make doubly certain you don't lose all recorded memories of those great days in your life - just print off some cool CD labels, burn your photos on to a disc and put everything securely where you can see it.
Make a personal video for employment applications and design a professional looking case with a smart CD DVD label to add the perfect touches.
How many blank CD's have you lying around with music on them, though you can't remember what? These days are now in the past when you try the RonyaSoft CD DVD labeling software program to quickly and efficiently run off a few labels on your Epson Stylus Photo PX650 printer.
CD DVD label creator program is compartible with Windows Platform, including Windows XP, Windows Vista, Windows 8 and works with a wide range of CD/DVD/Blu-ray label printers, eg: Canon iP4820, Canon MG5240, Canon MG6170, Canon MP530, Epson Artisan 1430, Epson PM-D750, Epson Stylus Photo PX650, Epson Stylus Photo R260, Epson Stylus Photo RX610, Epson Stylus Photo TX800FW, HP Photosmart C5580, HP Photosmart D5463, Trace Affex CD-Artist and similar.
CD DVD labels maker program supports a wide range of CD/DVD/Blu-ray label papers, eg: Allsop DiscID, APLI 2001, Boma LD001-HI, Boma LS101HI, Compulabel 375052, Esyink CD DVD, Indie, Maxell J8761, Online Labels O9985, ProLabel CD458B, Verbatim CD DVD 114 mm X 3, Worldlabel WL-OL5000, Zweckform L7678 and similar.