Epson Stylus Photo R1900 printer
Epson Stylus Photo R1900 printer CD DVD tray layout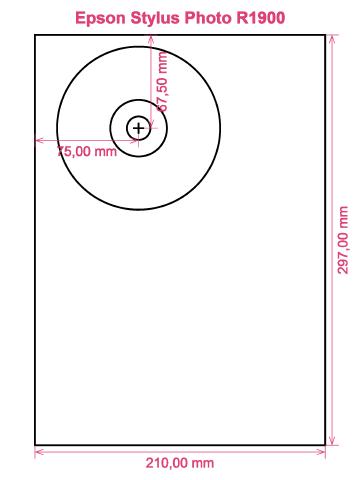 How to print labels on Epson Stylus Photo R1900 printer
Only when you have had a go with the RonyaSoft CD & DVD Cover Creator that you will realize how incredibly easy it is to operate brilliant results finishes - gone are the days when you be afraid of not being able to make the most of modern technology! Within seconds of starting to use your CD & DVD labeling software you should be printing CD and DVD labels and covers on your Epson Stylus Photo R1900 printer.
However that's not all that's on offer with this brilliant CD label making software. RonyaSoft may have made this software as easy as possible to use, but the prints would suggest differently when you see the standard of printed CD and DVD labels. This CD, DVD & Blu-ray labels creator software has options galore for creating professional and classy labels! However for creating CD, DVD & Blu-ray labels and covers isn't all when you know you can make CD, DVD & Blu-ray box inserts and box covers too and discover RonyaSoft have a batch of templates you can use.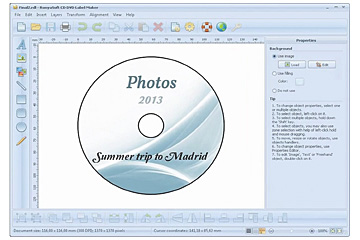 How clever do you need label making to be? A few clicks of a mouse is enough for you to then be producing your own CD DVD labels, CD/DVD box covers and Blu-Ray CD box inserts. You don't need to be a boffin to 'click' with this simple to download labels creation software, just try it and see for yourself!
Download and install Blu-ray/CD/DVD Label and Cover Creator software for free to try.
Click on your chosen option from a fantastic choice of predesigned CD and DVD label and cover templates.
Add any of your own design ideas to make the CD or DVD label extremely personal.
Start printing your individual CD label after clicking the 'Print' button, after identifying your Epson Stylus Photo R1900 as the right printer being used. Try to download the latest free driver updates.
Be proud of yourself for what you have created!
All it needs to turn your PC and Epson Stylus Photo R1900 printer in to a fabulous personal gift factory is a little imagination.
Anyone will tell you that a surprise with an unique touch, something thoughtful, will always be appreciated far more than something costly, so you will have more than paid for your CD & DVD label and cover design software, as soon as you give someone a present.
How about these wonderful ideas:
You're at a wedding and you take plenty of un-staged photos or video clips of attendees looking cheerful and having a great time fun. Select your best, burn them on to a disc and post it to the bride and groom as a thank you for the invitation to their wedding. They will love you for the thoughtful and personal touch. And what did it cost you to make one of the most unique presents they will have received during their wedding? - The cost of a blank disc, two pieces of paper and a splash of ink from your Epson Stylus Photo R1900 printer. Cool huh?
Use vibrant images and snaps to to design CD/DVD box covers and design CD DVD labels to easily identify your CD's and DVD's.
Do you love being practical? Why not make new images for the CD & DVD covers for your collection?
It's safer to store all your pics on your computer or a memory stick, but create a fantastic label to put on a CD or create a CD case cover and insert and create a physical library of all your memories.
Need to stand out from the masses when anxiously trying to impress even before you have been offered a job interview? Make a professional looking CD rounded off with printed case cover, printed insert and printed label to make a brilliant memorable impression.
RonyaSoft CD & DVD Cover Creator is the ideal software extra to operate with your Epson Stylus Photo R1900 printer so download it instantly and get those stylistic juices flowing!
Blu-ray label creation software works on Microsoft Windows Platform, including Windows XP, Windows Vista, Windows 7 and supports a wide range of CD DVD surface printers, eg: Brother MFC-J825DW, Canon iP4910, Canon MG6120, Canon MP760, Canon Pro9000 MarkII, Epson PM-900C, Epson Stylus Photo 1500W, Epson Stylus Photo R265, Epson Stylus Photo RX595, Epson Stylus Photo TX810FW, HP Photosmart D5100 series, HP Photosmart D7560, Trace Affex CD-Artist and similar.
Blu-ray label make software supports a wide range of CD DVD label providers, eg: Ace 60300 series, APLI 10044, Boma BMS001-CLR CD DVD, Boma LS301-HI CD DVD, Compulabel 375052, DeskTop Labels 9902L-CD CD DVD Labels, Kyso US, Meritline US CD DVD 2-up with Spines, Online Labels O5025, ProLabel CD458B, SureThing US CD DVD 2-up, Zweckform L6015, Zweckform L7678 and similar.