Canon iP5200 printer
Canon iP5200 printer CD DVD tray layout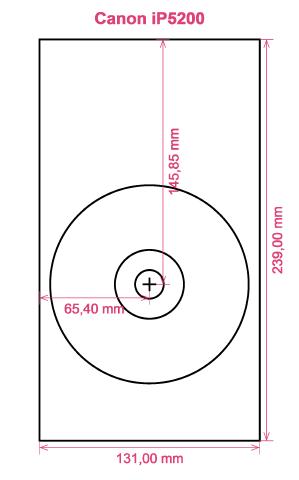 How to print labels on Canon iP5200 printer
When you have successfully operated the RonyaSoft CD Cover Maker, simplicity will be the word that springs to mind - you can definitely be amazed at how simple it is to download the labels creation software by clicking on the link below and within just a couple of moments you will be running off brilliant CD and DVD labels on your Canon iP5200 printer.
Please don't turn off there, as you may miss the larger reason behind this CD DVD labels making software. RonyaSoft haven't gone to such measures just so you can print off a list of tracks on a CD or a film title on a label. No! This CD & DVD label maker software will give you so many different options for CD and DVD label creation to allow you to create attractive labels. More than that, the CD & DVD label printing software can also assist you to print CD and DVD cases and inserts using the brilliant CD and DVD templates.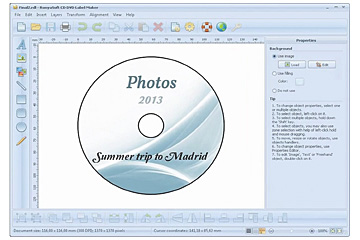 Concerning straightforward to use, well 'user-friendly' is now even more friendly. Just use the instructions to realize how simple, yet clean and professional results will be when you begin to create CD & DVD covers, CD DVD labels and CD DVD inserts:
To automatically receive your CD DVD labels printing software, click on the 'Download' button.
Click on your chosen option from a great choice of brilliant CD label and cover templates.
Change the design of your label according to your needs.
Start printing your unique CD label after clicking the 'Print' button, after selecting your Canon iP5200 as the proper printer being used. Always download the latest free driver updates.
Be proud of yourself for what you have created!
All you need to turn your PC and Canon iP5200 printer in to a little personal gift factory is a little imagination.
Anyone will tell you that a gift with a personal touch, something nice, will normally be appreciated far more than something costly, so you will have more than paid for your CD labels create software, as soon as you give someone a present.
Think about these wonderful options:
You're at a wedding and you take loads of un-staged photos or video clips of attendees looking cheerful and having a great time fun. Choose your finest, burn them on to a disc and give it to the bride and groom as a thank you for the invitation to their wedding. They will love you for the kind and personal touch. And what did it cost you to produce one of the most unique presents they will be given during their wedding? - The money for a blank disc, few pieces of paper and a dash of ink from your Canon iP5200 printer. Fab huh?
Use mood photos to design CD & DVD covers and design CD DVD labels for your compilation CD's - thunder, sunshine, rain, a calm sea, a rainbow...
Have to have pics cataloged? Put a topical photo on the CD label or DVD box cover.
What happens if you have your laptop and memory stick destroyed - where are all your photos put? Make extra safe you don't lose all treasured memories of those great days in your life - just print off some cool CD labels, burn your pics on to a disc and store everything securely where you can see it.
Are you looking for an individual way to make you stand out when applying for employment. Do you want to seem superior from the rest of the competition. Do you have to wow your future employers with a demonstration of yourself on a DVD with a classy printed DVD label and printed DVD case specifically for each application?
RonyaSoft CD Cover Maker is the perfect software add-on to operate with your Canon iP5200 printer so download it now and get those imaginative creative juices flowing!
Blu-Ray/CD/DVD labeling software is compartible with Windows System, including Windows XP, Windows Vista, Windows 8 and supports a wide range of disc label printers, eg: Canon iP3000, Canon iP5200R, Canon MG8140, Canon MG8170, Canon MP990, Epson Artisan 800, Epson Stylus Photo 1500W, Epson Stylus Photo R340, Epson Stylus Photo RX595, EZ CD Print 5700, HP Photosmart D5145, HP Photosmart D5300 series, Yurex MantraJet 1050 and similar.
Blu-Ray/CD/DVD labels print software supports a wide range of disc label providers, eg: Americal 313900 3-up, APLI 10294, Avery Maxell C96361, CD Stomper 2-up CD DVD with Center Labels, CoolBeLa LS101HIG, Herma 5086 CD DVD Label, JP CD DVD FullFace 3-up, Micro Application, Pelikan 406903 3-up, ProLabel CD414, Tower, Veriad VH567 JP568, Zweckform L7678 and similar.