Epson Expression XP-720 printer
Epson Expression XP-720 printer CD DVD tray layout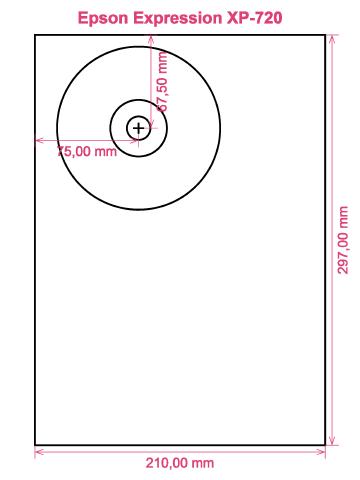 How to print labels on Epson Expression XP-720 printer
It's after you have had a go with the RonyaSoft DVD Cover Maker that you should realize how incredibly easy it is to get brilliant prints - never again will you worry about being unable to make the most of modern technology! Within seconds of downloading the DVD labelling software program you can be printing CD or DVD labels on a Epson Expression XP-720 printer.
However that's not all that's on offer with this exceptional Blu-ray/CD/DVD label print software. RonyaSoft may have made this software as obvious as possible to use, but the results would suggest differently when you see the standard of printed CD and DVD labels. This Blu-ray, CD or DVD labels maker software has options galore for creating professional and classy labels! However for creating Blu-ray, CD or DVD labels isn't all when you know there are Blu-ray, CD or DVD box inserts and box covers too and discover RonyaSoft have a selection of templates you can use.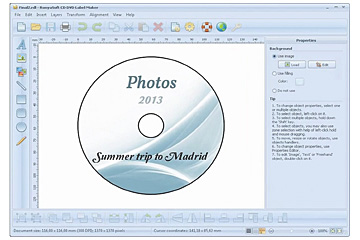 We also mentioned this software was great to work with. Well, we know that if you worry you are not 'tech-savvy', when you have tried the RonyaSoft CD/DVD label maker software, you will feel as clever as any professional graphic artist after you commence design loads of CD, DVD and Blu-ray box covers, disc labels and Blu-Ray DVD box inserts:
Download and install CD & DVD Label & Cover Maker software program for free to try.
Opt for your favorite design from any of the predesigned CD label templates.
Add any of your own design ideas to print the CD or DVD label extremely personal.
Click on the 'Print' button to start running off your unique DVD or CD printed label after you have entered Epson Expression XP-720 in to the print settings dialog. Don't forget to inspect that the latest printer driver is installed.
Smile!
Maximize the potential of your computer and Epson Expression XP-720 printer where you can now produce a fantastic array of CD & DVD labels, box inserts and box covers, to make lovely presents.
Anyone will tell you that a present with a personal touch, something nice, will normally be appreciated far more than something purchased, so you will have more than paid for your DVD label create software, as soon as you give someone a present.
What about these for ideas:
You're at a wedding and you take loads of un-staged photos or video clips of attendees looking cheerful and having a ball. Pick your best, burn them on to a disc and post it to the bride and groom as a thank you for the invitation to their special day. They will adore you for the kind and personal touch. And what did it cost you to produce one of the most unique offerings they will be given during their wedding? - The price of a blank disc, few pieces of paper and a dash of ink from your Epson Expression XP-720 printer. Great huh?
Use funky images and snaps to to make CD, DVD and Blu-ray box covers and make disc labels to easily spot your CD's and DVD's.
Do you enjoy being practical? Why not make new photos for the CD & DVD covers for your collection?
What happens if you have your laptop and memory stick stolen - where are all your photos kept? Make extra certain you don't lose all stored memories of those occasions in your life - just print off some cool CD labels, burn your pics on to a disc and keep everything safely where you can see it.
Want to stand out from the throng when desperately wanting to impress even before you have been offered a job interview? Create a professional looking DVD finished off with printed case cover, printed insert and printed label to make a brilliant memorable impression.
How many blank CD's have you lying around with something on them, yet you can't remember what? These days are now over if you utilise the RonyaSoft DVD label make software program to quickly and effectively run off a few labels using your Epson Expression XP-720 printer.
Blu-Ray/CD/DVD label maker software is compartible with Microsoft Windows OS, including Windows XP, Windows 2003, Windows7 and works with a wide range of CD DVD label printers, including: Canon iP4500, Canon iP6600D, Canon MG5350, Canon MP780, Canon MP970, Epson PM-D750, Epson Stylus Photo 1410, Epson Stylus Photo R220, Epson Stylus Photo R360, Epson Stylus Photo TX810FW, HP Photosmart C5388, Primera Signature, Trace Affex CD-Artist and similar.
Blu-Ray/CD/DVD label design software supports a wide range of CD DVD label papers, including: Ace 60025 series, APLI 10166, Avery J8770, Boma LS301-HI CD DVD, Data Becker 3-up, Hisago CJ2843S CD DVD (A5), HP 3-up, LabelWhiz LW61300, Online Labels O5025, PressIt, SureThing A4, Zweckform J8777, Zweckform L7678 and similar.