Epson Stylus Photo RX585 printer
Epson Stylus Photo RX585 printer CD DVD tray layout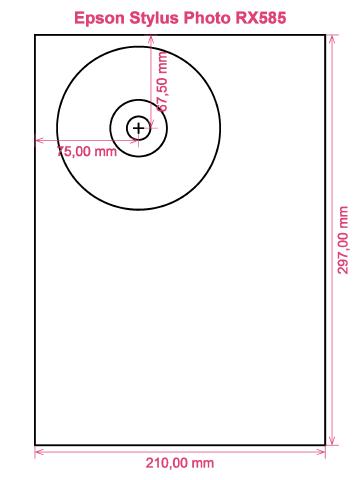 How to print labels on Epson Stylus Photo RX585 printer
Once you have successfully operated the RonyaSoft CD DVD Label Maker, simplicity will be the word that springs to mind - you'll be guaranteed to be amazed at how simple it is to download the labels creation software program by clicking on the link on this page and within just a couple of minutes you will be running off brilliant CD and DVD labels and covers on your Epson Stylus Photo RX585 printer.
However don't turn off there, as you may miss the bigger picture for this CD labels creation software. RonyaSoft haven't gone to such extremes simply so you can print off a list of tracks on a CD or a film title on a label. No! This CD & DVD label software will offer you so many different options for CD and DVD label making to allow you to make professional looking labels and covers. More than that, the CD & DVD label printing software can also assist you to make CD and DVD cases and inserts utilising the brilliant CD and DVD templates.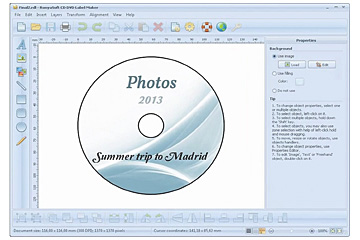 How simple do you need label creation to be? A few clicks of a mouse is enough for you to then be running off your own Blu-ray labels, CD/DVD covers and CD/DVD inserts. You don't require to be a tech 'nerd' to 'click' with this simple to download label design software, just use it and see for yourself!
Hit the 'Download' button and installation for the Blu-ray/CD/DVD labels software is automatic.
Pick out your favorite design from any of the preloaded CD DVD label templates.
Add any of your own design ideas to make the CD or DVD labels extremely personal.
Click on the 'Print' button to start running off your unique CD and DVD printed labels after you have entered Epson Stylus Photo RX585 in to the print settings dialog. Never forget to ensure that the latest printer driver is installed.
Smile!
Maximize the potential of your computer and Epson Stylus Photo RX585 printer where you can now run off a fantastic array of Blu-ray/CD/DVD labels, inserts and covers, to create lovely surprises.
Have you ever noticed how a personally made gift really matters to someone you like? Why spend money on pricey, presents that anyone can buy, when with the RonyaSoft CD DVD label create software, you can save a fortune on gifts and seem ten times more thoughtful?
Think about these wonderful suggestions:
You're at a wedding and you take loads of un-staged photos or video clips of everyone looking happy and having a great time fun. Select your favorites, burn them on to a disc and send it to the bride and groom as a thank you for the invitation to their wedding. They will remember you for the sweet and personal touch. And what did it cost you to make one of the most individual gifts they will have received during their wedding? - The price of a blank disc, few pieces of paper and a dash of ink from your Epson Stylus Photo RX585 printer. Fab huh?
Use jazzy images and snaps to to design CD/DVD covers or design Blu-ray labels to easily spot your CD's and DVD's.
Use a photo of your pooch or cat on the cover and CD and DVD label so you can easily spot which CD your pet's photos are all kept on.
Memories shared can last longer - download your snaps of a do on to a CD and create a label, cover and insert, then send to all who were there!
Make an unique video for employment applications and create an attractive box with a smart CD and DVD label to add the final touches.
The RonyaSoft CD DVD Label Maker is ideal for using with your Epson Stylus Photo RX585 printer, so there's nothing to stop you now from becoming your own little print shop!
CD DVD label creator software runs on Windows Platform, including Windows XP, Windows Vista, Windows 8 and works with a wide range of CD DVD surface printers, eg: Canon iP4500, Canon iP4950, Canon MG5350, Canon MP800, Custom Printer, Epson PM-900C, Epson Stylus Photo PX800FW, Epson Stylus Photo R3000, Epson Stylus Photo RX640, EZ CD Print 6500, HP Photosmart C5550, HP Photosmart D5155, Yurex MantraJet 1050 and others.
CD DVD labels printing software supports a wide range of CD DVD labels, eg: Ace 60300 series, APLI 2928, Boma LD001-HI, Burlington 00495, CoolBeLa LD002-CLR, Herma 5086 CD DVD Label, Label Angel LB-A400, Media Food Universal, Pimaco, Printec AnyLabel L3771 L3773, SureThing A4, Zweckform 6082, Zweckform L7776 and others.